Please select your dates to see prices:
---
Terme di Saturnia Spa & Golf Resort in Saturnia, Tuscany, Italy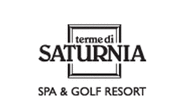 Built around the bubbling, sulphurous formations of spring water with fabled beginnings, Terme di Saturnia Spa & Golf Resort pays homage to the culture, history, and beauty of Italy's renowned Manciano province. Embracing the concept of "habitat philosophy,"—a constant striving for harmony with one's surroundings, Terme di Saturnia inspires rejuvenation, wellness, and synchronicity with the natural world. Elegant, yet simple, each of Terme di Saturnia's exquisitely appointed guestrooms boasts its own unique charm, including views of the verdant Tuscan Hills or the resort's manicured gardens, lavish linens, and plush bedding. The hotel's 140 expansive rooms feature names like Comfort, Deluxe, and Grand. No matter what size fits your needs, each space boasts preferred amenities such as complimentary wireless Internet access, mini-bar, air conditioning, and swimming pool kit with large towel, bathrobe, and slippers, so your mind is free to ponder the depths of relaxation instead of the details of your stay.
The innovative spirit of the resort continues into "The Ultimate" spa experience, an aptly named retreat within a retreat whose "careful choice of treatments creates experiences and sensations" that transcend traditional perceptions of a spa. Every facet of the spa, from the smooth black oak paneling to the tranquil traces of blue light and the hint of essential oils sends guests on a journey of transformation. The resort features two delectable on-site eateries, including Restaurant Aqualuce. Described as using "fresh, natural, and 'zero kilometre' ingredients", this exceptional bistro boasts delectable low-calorie meals that do not sacrifice flavor or flair. During downtime, unwind in the resort's placid "pool park", including four thermal water pools, Jacuzzi, and calming waterfalls. On your next vacation do not just get away, truly escape at Terme di Saturnia Spa & Golf Resort.
Location of Terme di Saturnia Spa & Golf Resort
Terme di Saturnia Spa & Golf Resort
Loc. Follonata
58050
Saturnia, Tuscany, Italy
Nearest Airport: FCO
Amenities for Terme di Saturnia Spa & Golf Resort
General Information
140 Rooms and Suites
Pet Amenities
Pet Friendly
Connecting/Adjoining Rooms
Ecologically Sustainable Practices
Dining
Outdoor Dining
2 Restaurants
Cafe
Spa Cuisine
Organic Cuisine
Healthy Cuisine
Juice Bar
Lounge
On-Site Amenities
Beauty Salon
Spa on Property
Laundry Service
Gift Shop
Sauna
High-Speed Internet Access
Valet Parking
Art Collection
Boutique
Gardens
Personal Trainers
4 Pools
Driving Range
Steam Room
Outdoor Spa Treatments
Outdoor Whirlpools
Nutrition Programs
18-Hole Golf Course
Water Park
Pitch & Putt Golf Course
In-Room Amenities
Air Conditioning
Direct Dial Telephones
Hair Dryers
In-Room Safes
Mini Bar
Satellite Television
Flat-Screen Televisions
Walk-In Closets
En-Suite Bathrooms
Work Desks
Bathrobes & Slippers
High-Speed Internet Access
Activities
Cultural Classes
Excursions
Hiking
Pilates
Nature Walks
Golf Lessons
Fitness Classes
Cultural Tours
Meditation
Sightseeing
Golf
Nature Hikes
Business
Meeting Rooms
Conference Facilities
Nearby
Historic Sites
Shopping
Restaurants
Golf
Beaches
Antique Shopping
Parks
Marina
Market
Hot Springs
Reviews for Terme di Saturnia Spa & Golf Resort
---
Such a let-down was hard to imagine when we arrived recently. We had booked for the Thermal Baths which are part of this hotel and we therefore drove up the gated hotel entrance. I buzzed and explained, the person who responded said something which could not be heard as the sound quality was dreadful. When I questioned their response they opened the gate and slammed the phone down. Nice. We then asked a hotel car park man and he directed us, we needed another road as the baths have a different road. So we followed his directions and with alot of difficulty we found the right place. NO signposts. We parked in the alloted car park and then it took us 15 minutes to find the right door!!!! Having debated leaving we stuck with it and phoned reception for help, she came out and showed us the way. Well luckily the pool was FANTASTIC and an amazing experience but the structure seems to be falling apart and really needs alot of repair as well as some new and trained staff. Despite the water I vowed never to return. Shame.
---
I do travel a lot and stay very often at LHW Hotels. Unfortunately I was not fully satisfied. I guess because I came with higher expectations to this hotel (before we stayed at Hotel Royal, Sanremo and Golf Resort Monte Argentario) . Rooms and bath rooms are ok but not more. Breakfasts delivered to room were excellent. The style of the hotel is not mine ... Good standard but in my opinion too boring. Difficulties (massive) delays at check-out (car service (we were in hurry to leave). Golf course is good and handling of reservation was good and efficient. The Concierge (old school) Alessandro is excellent! Together with the pool the highlight at the hotel, we received fantastic restaurant recommendations from him! The price level is (a bit) too high, for what the guests gets delivered.
---
My husband booked a one night stay for my birthday in December. I have been to the spa hotel around 6 or 7 times over the years sometimes alone and sometimes with my family, i love the water its very healing and the food is good too, when booking my husband did mention it was my birthday , however on arrival the receptionist manager who did see I was a return guest and recognised me was I thought quite aloof and cold , I am a business owner myself and would record a return customers birthday or make a note at the time of booking and at least greet them with a happy birthday I think this is good business practice. Its was quite empty the night we stayed so it did not take a lot to acknowledge guests especially guests who have paid thousands of euro to stay at the hotel over the years. Like I mentioned the water is amazing and rooms are nice, but this time round was a bit disappointed.
---
Just an amazing place .I have been going to the Terme for many many years and I can only recommend it. THE WATER is magical , you will understand what I mean once you are in it ,believe me you will even get used to the sulfur smell .I drive a few hundred miles to get to the Terme and each time a swim in Ā«Ā the pool Ā«is the first thing i do . The hotel staff is professional and kind with a touch ā€œ Ć  L Italienneā€ . A special + for Davide the bar tender and the concierge desk . As for the spa , it just is :) They have a large range of products and beauty treatments a well as holistic treatments (my favorite ).You should absolutely book a treatment with the dottoressa Laura Quinti , it is an absolute must . Last but certainly not least , the Hotel is very dog friendly so you can bring your pet along ,I always do .I guess that it is also one of the reasons I love this place so much . I often try to go there alone ( with my dog) for 2 or 3 days to really rest & de stress:) You will get a room on the ground floor with a big garden to let your pet run around , and you can go for longer walks with your dog on the hotel grounds , between treatments .
---
Iā€™ve been visiting this hotel now for eight years and have never been disappointed. However... there are now a few things that need fixing. Although the hotel is immaculate it probably needs a refurbishment. The rooms albeit comfortable are in need of updating as do the public areas. They need desperately to put in a cold water swimming pool.. itā€™s very annoying when the weather is hot and there is nothing to cool down in or swim in. Hopefully in the very near future this might appear. Now the good bits. The staff are warm and welcoming, the treatments are amazing and the spa side is very well run. The hotel is surrounded by a golf course which is beautifully kept. The few villages that are near the hotel such as Saturnia and Monte Mariano are lovely and there are restaurants there if you fancy a change from the fairly formal dining room at the hotel. Overall, this hotel is lovely and full of Italian charm not old school style and perhaps once given the facelift it deserves it will Iā€™m sure be absolutely gorgeous.
---