Please select your dates to see prices:
---
Cavallo Point Lodge in Sausalito, California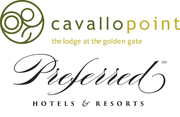 Panoramic views of the sparkling San Francisco Bay and verdant Marin headlands are the centerpiece of Cavallo Point Lodge – part of the LVX collection of Preferred Hotels & Resorts. Entrenched in rolling hilltops bordering the Pacific ocean, this former US Army post harbors an exclusive location with unique amenitites. Originally built as Fort Baker in the early 1900s, historic lodgings were once military barracks during World War II. Ideally located at the northern tip of the Golden Gate Bridge, minutes to San Francisco hot spots, the quaint town of Sausalito, and incredible national parks; enjoy the ease of exploring the bay from the center of it all. Not only are accommodations beautiful and rare, this hotel is also a LEED Gold certified eco-resort.
After a day of leisurely hikes, beach combing, sailing, or wine tasting, renowned amenities will warm you up and nurture the soul. An inspiring melange of yoga classes are offered for active pursuits. The spa is a serene oasis, welcoming guests to authentic, organic, and soothing treatments. Whether lingering by the fireplace, or tasting a concoction at the tea bar, signature traditions at Cavallo Point will put you in vacation mode. Under a Michelin star, culinary artistry is effortlessly presented at Murray Circle Restaurant. The freshest local ingredients paired with stunning views of Gold Gate Bridge is inspiring and breathtaking. Following an intimate meal, allow the seductive nature of the rolling fog to enhance your mystique location and it's restorative spirit.
Location of Cavallo Point Lodge
Cavallo Point Lodge
601 Murray Circle
94965
Sausalito, California
Nearest Airport: SFO
Amenities for Cavallo Point Lodge
General Information
142 Guest Rooms
Pet Friendly
Dining
Outdoor Dining
Restaurant
Wine Cellar
Bar
Organic Cuisine
Afternoon Tea
On-Site Amenities
Concierge
Pool
Spa on Property
Gift Shop
WiFi
Wellness Center
Terrace
In-Room Amenities
Turndown Service
Ceiling Fans
Fireplaces
iPod Docks
Iron/Ironing Boards
Flat-Screen Televisions
Luxury Linens
Coffee & Tea Facilities
Mini Refrigerators
Activities
Cooking Classes
Hiking
Yoga
Business
Meeting Rooms
Conference Facilities
Nearby
Historic Sites
Shopping
Art Galleries
Museums
Restaurants
Golf
Marina
National Park
Nature Reserve
Interests
Active & Adventure
Beach
City
Family
Reviews for Cavallo Point Lodge
---
We live about 30 min drive away, and this is our perfect getaway location for a day spa or a weekend relax. We've been a few times, and have never had a bad experience. The hotel, spa and restaurant/bar are all wonderful. The staff are extremely competent and friendly. Although it's a top hotel, in no way is it snobby or pretentious. You can go there and just relax... As to the location... You can't beat it. You can visit both San Francisco and Sausalito very easily.... Or, like us, not leave the location!
---
Apparently there was a shift of some kind within the past 6 months - 1 year, and it shows. In every way. The rooms have issues upon issues (the last 3 rooms had fireplaces that weren't functioning correctly). The staff has slowly left as they've become unhappier, those that have stayed.. show signs of stress. The food? has gone downhill fast. You used to be able to get different food at the bar vs. the restaurant vs. room service. But now? It's all the same. Trying too hard to make something unique and they've forgotten what it's like to make something good. On the last trip, they moved me in to the wrong room (they've actually done this many times - pay for a suite with a bridge view? get a room in the historic buildings, or a room with two queens tucked away from everything - certainly NOT a suite or a room with a view), moved someone else's gift basket/birthday welcome in to my new room, and managed to put my luggage in someone else's room entirely. And after all that? The burden was put on me... for having the same last name and not being clear when checking in. Seriously? You put my valuables in someone else's room? Then on top of that they removed EVERY single item from the car we dropped off at Valet, and put it in the new room - even though we didn't ask them to do that. (I mean every item, 3 jackets, some dirty socks, papers from work) They'll put you on the first floor, even when you've requested the second, and THEN they'll place the couple with kids above you, or the family with dogs. So they're running up and down at all hours, the dogs barking when their people have gone out for too long. It's not relaxing or convenient. And the spa? is disgusting. Literally, disgusting. The water often has an odd taste and the mold in the showers is thick. (and this is after they closed it for a sprucing up) When we asked room service why they stopped carrying certain key items, they said they had no good reason but it had been happening, a lot. The new management style from the investment group has taken this from a place I longed to return to, to a place I don't know that I'll ever return. I can drive in to the park if I want a great view of the bridge. It's free.
Lila H - Seattle, Washington
---
What an amazing hotel. Incredible location, great service, very special atmosphere and energy. One of the best places I've ever been. Food and drink expensive, sausalito is 5 minutes away for more reasonable options. Amazing place.
JM P - London, United Kingdom
---
I thought this place was great & just friendly enough to make me want to come back. Not sure if I would have paid over $500+ (I used free night points from Hotels.com) so paid around $300 including the resort fee. We had a contemporary room with bridge view, although similar to what another reviewer said, the large tree in front of unit 1561 does block half of the golden gate bridge. But nonetheless, it's easy enough to walk around and enjoy the view of the golden gate bridge and surrounding area from all different angles. I enjoyed the complimentary wine hour from 4:00-6:00 PM from the viewing deck. We also toured the spa facility although didn't use it (the outdoor pool is heated and looked amazing). The hotel definitely has the location going for it - behind Cavallo Point is the Chapel Steps Trail, leading you to an incredible scenic area that felt more private and less touristy compared to Fort Baker and other trails in Marin Headlands. The views were on point! We also enjoyed the fresh pastries in the lobby the next day, a wonderful touch - just enough to keep me going for another short hike. Overall, I would stay here again and try to use the spa next time (it's included in the resort fee).
ttsou23 - Fremont, California
---
Cavallo Point Hotel is a nice property. He grounds are beautiful. The history is deep and the location is great but just because you say your a luxury hotel, that doesn't make you one. To start, we attend a wedding at the chapel on the property. The ceremony started at 4 and we were given a 4 check in. So I called to ask for an "early" check in. Even left a message requesting a call back. That call never came. ( To be clear asking for 2 isn't early. It's pretty standard) I called twice trying to speak to a human but couldn't get through. The 3rd call I got a person who, very politely let me know that they could not secure an early check in until the day of the wedding. So that was a little too late. Thankfully, we just arrived at noon and we secured our room. The room as was the contemporary two story buildings to the back of the property. Room 2610. An end room upstairs. The views are wonderful. The room was nice and comfortable but not lux. The sheets were very nice and yes, luxurious. But I everything else was just - nice. The ceremony was lovely. The reception was at the at the Precedio yacht club and it was beautiful. Again, the views were amazing. Back to the hotel, the following morning we woke up to their breakfast offering. Oh my - what a let down. And the location of it is in a hallway. Yes- advoid that at all cost. We didn't stay for a proper breakfast but I've had breakfast there before and it was good. In all, our room was over $450 ( I don't know the exact amount or I would tell you all for sure) for that cost we stayed less than 20 hours, couldn't get a call back from the staff and breakfast was to be advoided. Sorry to be harsh.
jojojoye - Half Moon Bay, Ca
---