Please select your dates to see prices:
---
Mansion on Forsyth Park in Savannah, Georgia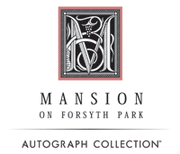 Savannah, Georgia, is one of America's most interesting cities. Its series of squares, coupled with its superstitious nature, makes it a fascinating find. In the heart of the city's Historic District is the magnificently restored 1888 Mansion on Forsyth Park, a AAA Four-Diamond property. Mansion on Forsyth Park gives southern comfort new meaning with its collection of lavish guest rooms, an extensive art collection featuring more than 400 original pieces, and opulent public rooms including a lobby cloaked in onyx marble. Classic décor along with modern conveniences create a historic and indulgently luxurious hideaway.
Mansion on Forsyth Park's restaurant, 700 Drayton, is a stunning dining destination with a menu of savory specialties and an extensive wine list. There is also Casimir's Lounge, located on the second level of the restaurant and featuring live jazz and blues on the weekends, as well as the Bosendorfer Lounge. You can also visit the Poseidon Spa, hone your culinary skills by enrolling in one of the Mansion's cooking classes, or relax poolside. There is never a shortage of things to see in "America's Most Haunted City" - do a little ghost busting on a haunted history tour, or take a trek on foot to admire the splendid architecture, with many door frames, porches and window sills coated in "Haint Blue" to ward off evil spirits. More conventional activities might include shopping along the riverfront, slipping into a jazz club, or dining at The Pirates House, named for long-ago patrons who frequented the eatery in the late 1700s, which was the inspiration for Robert Lewis Stevenson's novel Treasure Island.
Location of Mansion on Forsyth Park
Mansion on Forsyth Park
700 Drayton Street
31401
Savannah, Georgia
Nearest Airport: SAV
Amenities for Mansion on Forsyth Park
General Information
125 Guest Rooms
Dining
Restaurant
2 Bars
Wine Cellar
Room Service
On-Site Amenities
Concierge
Spa on Property
Complimentary Newspaper
Laundry Service
Fitness Center
WiFi
Live Entertainment
High-Speed Internet Access
Art Collection
Rooftop Terrace
Outdoor Heated Pool
Culinary School
In-Room Amenities
Direct Dial Telephones
In-Room Safes
Mini Bar
Satellite Television
Marble Bathrooms
Flat-Screen Televisions
Whirlpool Bathtubs
Luxury Linens
Luxury Bath Amenities
Radio & CD Players
Activities
Cooking Classes
Business
Business Center/Services
Meeting Rooms
Nearby
Historic Sites
Shopping
Restaurants
Golf
Beaches
Parks
Interests
Culture & Arts
Summer Getaways
Reviews for Mansion on Forsyth Park
---
The level of service from the staff exceeded all of my expectations. Armethia went the extra mile to help our group enjoy the best of Savannah. Her tips and good humor were enjoyed by all. The shuttle to River Street was very convenient.Great choice! I will be back.
dfunk52432 - Mansfield, Ohio
---
My mom and I recently visited Savannah and my boss highly recommended the Kessler Cooking Class. We participated in the Farmer's Market Tour. It was the best experience I have had in Savannah and I have been to Savannah about 20 times. Our Chef, Shahin Afsharian, was so helpful and really entertaining. My mom and I learned a lot about different foods and how to make things much more easily! The next day we went for breakfast at the Mansion and the food was delicious. I was really impressed by the service from all staff and the quality of food. It will be a new tradition!
Lisa H - Atlanta, Georgia
---
Great staff! Rooms were nice. Concierge level could have been better with more snacks options and a variety in daily breakfast choices - at least on the weekend. Bar and appetizers were fantastic. Dinner at restaurant was nice. Pool furniture needs replaced. It was so uncomfortable you didn't want to stay long. It was like sitting on boxes. Fantastic location to everything, including markets and cafes. Thank you for a great time.
jamiedG5420DF - Arvada, United States
---
My wife, daughter and I stayed here Fri, May 11 2018 - Sun, May 13 2018 for a birthday/Mother's day trip for my wife. First night was great. It's a nice looking hotel, and nice looking rooms. It's a nice location as well. Second night was a different story, with a wedding happening at the hotel. Late in to the night a live band starts playing music on the 3rd floor of the restaurant/bar located within the hotel. We stayed in room 328 which was right next to the 3rd floor of that restaurant. Around 11:15pm I walked outside to see what was going on. I talked to an employee who said they'd be playing until 12am. I talked to the front desk and they said the band was supposed to be done at that point, and they were working on getting them out. I believed this person for some reason and returned to my room. 30 minutes later the band is still playing. Our family has been trying to go to sleep for about an hour at this point, but the music is so loud that's not going to happen. I walked back downstairs and at the front desk is a security guard and employee. The security guard asks how I'm doing. I start talking and he turns his attention to another guest. Weird. The other employee picks up the conversation, I explain we can't sleep because of the noise, they give half hearted apologies, and say they're going to take care of the situation now. Just before midnight the music finally stops. We check out the next day and I'm asked how my stay was. I explain I didn't appreciate the noise and being lied to. Again, another half hearted apology, and an excuse that they're working on soundproofing. This place is nice, but not worth the money, especially if there's an event that makes everyone else a lower priority all of a sudden. I really don't appreciate the employee who said at 11:15pm that they were working on getting the band out. They clearly had no intention of doing that, and straight up lied about it.
Pete_Winstead - Winter Garden, Florida
---
I had about 3 days of meetings at this property and what surprised me the most was the warm and friendly energy I received from everyone. All tried to make my day the best that they could. They have the best valet service you could ask for. Cedric went over and above to make sure I got my car as quickly as possible. Melissa at front desk was so kind and helpful. You don't often find someone who always looks up from the front desk and connects with each person walking through the lobby anymore. And to Jackie in banquets, I couldn't have gotten through my day without her. She was always ready for my requests. Thank you Mansion on Forsyth Park for taking care of my clients.
---