Please select your dates to see prices:
---
Mansion on Forsyth Park in Savannah, Georgia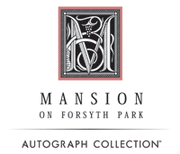 Savannah, Georgia, is one of America's most interesting cities. Its series of squares, coupled with its superstitious nature, makes it a fascinating find. In the heart of the city's Historic District is the magnificently restored 1888 Mansion on Forsyth Park, a AAA Four-Diamond property. Mansion on Forsyth Park gives southern comfort new meaning with its collection of lavish guest rooms, an extensive art collection featuring more than 400 original pieces, and opulent public rooms including a lobby cloaked in onyx marble. Classic décor along with modern conveniences create a historic and indulgently luxurious hideaway.
Mansion on Forsyth Park's restaurant, 700 Drayton, is a stunning dining destination with a menu of savory specialties and an extensive wine list. There is also Casimir's Lounge, located on the second level of the restaurant and featuring live jazz and blues on the weekends, as well as the Bosendorfer Lounge. You can also visit the Poseidon Spa, hone your culinary skills by enrolling in one of the Mansion's cooking classes, or relax poolside. There is never a shortage of things to see in "America's Most Haunted City" - do a little ghost busting on a haunted history tour, or take a trek on foot to admire the splendid architecture, with many door frames, porches and window sills coated in "Haint Blue" to ward off evil spirits. More conventional activities might include shopping along the riverfront, slipping into a jazz club, or dining at The Pirates House, named for long-ago patrons who frequented the eatery in the late 1700s, which was the inspiration for Robert Lewis Stevenson's novel Treasure Island.
Location of Mansion on Forsyth Park
Mansion on Forsyth Park
700 Drayton Street
31401
Savannah, Georgia
Nearest Airport: SAV
Amenities for Mansion on Forsyth Park
General Information
125 Guest Rooms
Dining
Restaurant
2 Bars
Wine Cellar
Room Service
On-Site Amenities
Concierge
Spa on Property
Complimentary Newspaper
Laundry Service
Fitness Center
WiFi
Live Entertainment
High-Speed Internet Access
Art Collection
Rooftop Terrace
Outdoor Heated Pool
Culinary School
In-Room Amenities
Direct Dial Telephones
In-Room Safes
Mini Bar
Satellite Television
Marble Bathrooms
Flat-Screen Televisions
Whirlpool Bathtubs
Luxury Linens
Luxury Bath Amenities
Radio & CD Players
Activities
Cooking Classes
Business
Business Center/Services
Meeting Rooms
Nearby
Historic Sites
Shopping
Restaurants
Golf
Beaches
Parks
Interests
Culture & Arts
Summer Getaways
Reviews for Mansion on Forsyth Park
---
We just got back from a weekend visit with our daughter's in-laws on Dutch Island. We love the Mansion! Location is fantastic on Forsyth Park; and we were a short Uber anywhere. The staff was outstanding and we couldn't have been happier! We will be back!
Mark F - Montgomery, Alabama
---
Executive Chef Shahin Afsharian (famous from Chopped Season 31) was the star of the day! From the very start of the 4 hour experience we felt at home and could tell it was going to be an unbelievably fun, educational, and memorable time. We had a light snack and then headed to the farmers market across the street to buy most of the food we would cook for brunch. We made a mixed greens salad, grits with poached eggs and hollandaise. For dessert we had a banana bread with flambeed bananas, strawberries and famous Leonard's ice cream. From start to finish Chef Shahin was professional, personal, knowledgeable, and welcoming. Would highly recommend this amazing cooking school for couples, girlfriends, or even a singles event. We met all of the above at our class and enjoyed getting to know them.
---
We booked our stay at The Mansion at Forsyth Park because we were in town for a wedding and the reception was being held at the hotel, so we figured it easiest to just stumble back to our room afterwards. It was our first time in Savannah and we stayed a few extra days to explore. The hotel was located right across the street from Forsyth Park, one of the great attractions in town, however if you want to explore the rest of town, this location isn't the most convenient. We like to walk, so we did a lot of that, but we found that most things we wanted to see were at least 15-30min walk from the hotel. The hotel does offer a shuttle to their sister hotel in a more prime area, and it's one we took advantage of a few times. I think next time, we'll stay in a more central area. That being said, the hotel is beautiful, modeled after the mansion next to it. We booked a concierge level room and were given a top level corner room (our room was one of the turrets you see from outside). The room was huge, with a big bathroom with separate areas for the toilet and shower, it also featured a whirlpool tub, with the weird feature of having doors that opened out to the rest of the room - I'm guessing this is so you could walk TV from the tub? The room had a nice king size bed, ample closet space, and sitting area. Given the extra space of the room, the A/C occasionally had trouble keeping up with the hot & humid weather during our stay. We booked the concierge level room as we've done at many Marriott-brand properties for the added bonus of the concierge lounge. I have to tell you that at this hotel, the concierge lounge was SUCH a disappointment! Breakfast is served each morning in the lounge, with usually one person working there. On all but out final morning there, the poor person was totally overwhelmed by people at breakfast. There would often be no clean plates, or food missing - and this would be 30min-1hr before the end of breakfast, not at the last minute. The person working there changed several times, so it seems that people didn't know what was supposed to happen. On the first day, there was bacon, it ran out before the end of breakfast - we asked about getting more and were told it had ran out, we'll have more the next day. The next two morning, no bacon saying oh, we're waiting for more to come. On I think the fourth morning, I asked again about the bacon and was told that bacon was a 'special treat' and not available daily - not at all what we were told other mornings. Then you'd have yogurt running out, fruit running out -- I don't know if they didn't realize how many people were on the concierge floors or what, but it was depressing. Then during the day, all you had was a fridge with soda and water (which ran out of both multiple times during our trip and we had to make a few calls down to get it restocked, also they totally ran out of Diet Coke for a couple days). Food options were basically trail mix or granola bars. At all other Marriott owned properties I've been to with a concierge lounge, they've had a evening reception with some sort of hors d'oeuvres, that was totally missing here - no reception at all! I guess having been to several before, this was a huge disappointment, and I probably would not have opted for the concierge level and saved myself some aggravation. Outside of the lounge, everyone at the hotel was very friendly and helpful. On a few occasions taking the shuttle, the driver dropped us off at a location other than the sister hotel since we were the only people on the bus - that saved us some backtracking. The room was clean and comfortable. The hotel only offers valet parking at an expensive rate. Street parking is generally easy to find, except if you're there when there's an event at Forsyth Park, then it's not so easy. We ended up not using our car at all until the last day. While I enjoyed the hotel, I'm unsure if I'd stay here again, I'd probably opt for a location closer to other attractions and then just walk to Forsyth Park when I wanted to visit it rather than the other way around. If you want something a little more out of the way, and generally quiet, except when there's something going on at the park - one day there was a big event at the park and we could hear all the speakers and concerts from our room - otherwise it was calm and quiet.
---
My mom, aunt and I spent three nights at this hotel in April 2018. We each paid close to $1,000 for our rooms alone. If this were truly a 4-star hotel, we wouldn't have minded, but we all felt we had overpaid for a less-than-excellent experience. My general complaints: There is no turndown service. The pool is the size of a postage stamp. The decor is overly rococo and just plain ugly. The paintings hanging everywhere - all violent impressionist-ish works by the same untalented and seemingly deranged artist - are ugly and disturbing. The restaurant seemed understaffed both times I ate there. My specific complaints about my room include anemic water pressure in the shower, a sink with no stopper, a toilet seat that wiggled and was unstable, and a view of a gigantic air conditioning unit despite having booked well in advance. All that said, there are positives: great quiet location, a free shuttle to the more touristy river area, nice staff, beautiful historic building across from a park. The hotel is clean and well-maintained. For $200 a night I would have been satisfied. But this hotel does not live up to either its vaunted reputation or its 4-star ranking.
---
Maybe because we are in the hospitality industry we notice more than most but I was surprised to see dead flowers in merky water in the elevators and on the property. Our bathroom toilet was only cleaned twice during our 4 night stay, the room was not consistently vacuumed and one light bulb was out for our stay. Table lamp. Two private functions made part of the hotel in accessible for parts of the stay. Location was good. Beautiful area.
---