Please select your dates to see prices:
---
Scrub Island Resort, Spa & Marina in Scrub Island, British Virgin Islands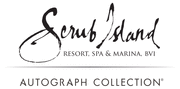 Scrub Island Resort, Spa & Marina greets boats arriving from Tortola with hills of thick vegetation and unspoiled beaches, offering guests the opportunity to either get involved in a host of water-based activities or get lost in their own tropical fantasies. Bamboo fans cool cozy guest rooms outfitted in dark hardwoods and understated Caribbean décor. Villas at the top of the hill grant a crow's nest view of the surrounding islands.
Walk to quiet North Beach to sunbathe in seclusion. Swim out to the coves and lagoons that foster rare sea life such as the yellow frogfish and golden-faced coney. Don a snorkel and join them in their crystal-clear habitat. Catch an afternoon yacht to Tortola and gaze down on original Dutch settlements from a mountaintop. Feast on Anegada lobster and conch at an open-air restaurant overlooking Pavilion Beach.
Location of Scrub Island Resort, Spa & Marina
Scrub Island Resort, Spa & Marina
VG1120
Scrub Island, British Virgin Islands
Nearest Airport: EIS
Amenities for Scrub Island Resort, Spa & Marina
General Information
52 Guest Rooms and Suites
Non-Smoking Property
Handicap Accessible Rooms
Pets Not Permitted
Dining
Outdoor Dining
Private Dining
2 Restaurants
Pool Bar
3 Bars
Swim-Up Bar
Cafe
Room Service
Bar & Lounge
Market
On-Site Amenities
Concierge
Shuttle Service
Spa on Property
Hiking Trails
Gift Shop
Live Entertainment
Boutiques
Private Island
Beach Access
Lounge
Beach Amenities
Outdoor Pools
Jogging Path
3 Private Beaches
24-Hour Fitness Center
Marina
Infinity Pool
Complimentary WiFi
In-Room Amenities
Private Patios or Balconies
Air Conditioning
Bathrobes
Ceiling Fans
Direct Dial Telephones
In-Room Safes
Fully-Equipped Kitchen
Iron/Ironing Boards
Flat-Screen Televisions
Luxury Linens
Coffee & Tea Facilities
Luxury Bath Amenities
Mini Refrigerators
Private Terraces
Work Desks
Activities
Deep Sea Fishing
Excursions
Fishing
Hiking
Kayaking
Sailing
Windsurfing
Scuba Diving
Snorkeling
Sunset Cruises
Nature Walks
Yoga
Whale Watching
Yachting
Wildlife Viewing
Cultural Tours
Boating
Business
Business Center/Services
Meeting Rooms
Conference Facilities
Nearby
Historic Sites
Restaurants
Beaches
Interests
Beach
Honeymoons & Romance
Pack For A Purpose
Spa & Wellness
Reviews for Scrub Island Resort, Spa & Marina
---
We are on a 7 day charter and had to stop here to have a generator fixed. Not a bad place to be stuck. They are just working to rebuild and the common grounds are in great shape considering all they have been through. There is not currently electric on the dock but they are working on it as we sit here. Our kids loved the pool with the little slide and we had it all to ourselves. Be patient when you come to the islands and don't expect everything to be perfect. This was a great little unexpected bonus stop and we can't complain. We look forward to coming back when it is bustling with people.
---
Although no electricity for boaters, we really enjoyed our overnight stay. The hotel is not at capacity, and repairs are still happening, but staff is friendly and facilities are better than most. The pools and hot tub was great, the only ones we found while cruising. There is a limited menu, but food was good and drinks were excellent. Location is great in close proximity to other islands/things to do. There is great snorkeling in a dingy boat ride. Small ferries departing & arriving frequently. A/C was not working in common areas, but really not needed, the open air environment was much more enjoyable. Water was available for boaters (rarer in the region than it used to be). Aside from the pools there was also a rope off beach area.
NEDENISE - Portsmouth, Virginia
---
Unbelievable Caribbean experience .. glad to see the Resort getting back on its feet .. and cannot wait to return when it is fully opened again ., restaurant and service are very good as is Tera Tera ..house keeping is to a high standard ..good to also see the Deli up and running and that boats can be provisioned from the on site commissary ....things can only get better !!
audzman - Lanark, United Kingdom
---
We chartered with Marine Max through VI Sailing (Melody). The resort is relatively good condition given the damage it sustained from last years storms. Dinner was good and service adequate. Our debriefing went well. Simon was thorough. The other young man was very polite (can't remember his name - I think it was Ace) and very responsive when we needed help. Anytime he saw us doing something, he would be right there to lend a hand. A few little 'misses' that were promptly addressed. We were perfectly prepared for some 'bumps' since it's our first time back post-storm. Great place. Glad to see them back on their feet!
Brad N - Tuscaloosa, Alabama
---
Flying from Toronto to BVI is not easy. I had to connect in Charlotte to St. Maarten, then take a Winair flight, a 12-hour journey. Arriving at Beef Island airport was easy, and the dock for ferry service to Scrub Island was just a short walk, though the hotel did arrange a shuttle for me. The ferry ride was just over 10 minutes and quite scenic, and it was quite a way to arrive at the island. Walking pass the yachts, you reach the main building, where the reception, activity booking desks and the restaurants are. My room was HUGE. I was at the furthest building from the main, and being in the corner room, I had a 270-degree view of the sea and the surrounding islands. The view was stunning no matter the time of day. It has a separate bedroom and living space area, with a huge bathroom and wardrobe, and a full kitchen. There was even a washer and dryer. It had more amenities than many downtown condo apartments. There is a general store downstairs where you can buy food, drinks and other daily items. For a store serving only the residents and guests at a private island, I think the price was quite reasonable by North American standards. It means you can easily prepare full meals inside your suite. It was full moon when I arrived, and there was a fire festival on Beef Island. it was fun! Fire throwers, beach side DJS, lots of food - a real Caribbean-style party. I was there by myself, and I felt safe. Do try some chicken and pork jerk from the stalls. The price is great and the flavour is bursting. They are serious about lobsters at Scrub Island. BVI is famous for their lobsters, and one of the islands, Anegada, has an annual lobster festival in November. As I said, I went there in June, but I intend to eat some lobster. I am quite happy to find that they have a cage of live lobsters by the marina to make sure there is a supply of fresh, local catch. And it was delicious! You must also try the spa. I had a foot revistalizing massage, where they used a combo of minty herbs for a massage and wrap. i could feel my legs get lighter and lighter, and it was an amazing feeling. As I laid there for the wrap, the attendant gave me a light shoulder and facial massage, and then she braided my hair and decorated it with a frangipani flower. It was such a sweet thing to do! I loved the environment on Scrub Island, where you can enjoy the BVi scenery and weather in a serene, and secure environment. It is a luxury property, but it wasn't stuck up. Going to town meant a bit of effort, but they can order a driver for you, and help you negotiate a fair price for your outing. I would stay at Scrub Island again when I return to BVI.
AWineADay - Toronto, Canada
---