Please select your dates to see prices:
---
The Cloister at Sea Island in Sea Island, Georgia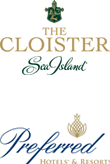 For a peachy escape to Georgia's golden coastline, spend some splendid time at The Cloister at Sea Island. Five miles of private beach house this inviting Preferred Hotels & Resorts property, part of the established and service-oriented Preferred Hotel Group. A distinct part of the Sea Island Resorts, The Cloister features 175 elegant rooms along the Black Banks River and Atlantic shore that provide ample space and comfort for sophisticated travelers looking for a dose of rest and relaxation. In addition to its mesmeric natural splendor, the hotel boasts a spectacular array of activities catering to all ages, ensuring everyone can truly indulge in this marvelous destination.
Discover a gourmand's dream at the resort's collection of restaurants, including the Forbes Travel Guide Five Star Award-winning Georgian Room. Opt for something casual at the friendly, club-style ambiance of River Bar and Oak Room, each with splendid views of the water. The hallmark of all of the resort's amazing cuisine is the freshest regional ingredients. From shopping to horseback riding, marsh kayaking to sea turtle walks, and world-renowned golf and spa facilities, you will find all of the action or quiet you desire during leisurely days at The Cloister at Sea Island.
Location of The Cloister at Sea Island
The Cloister at Sea Island
100 Cloister Drive
31561
Sea Island, Georgia
Nearest Airport: JAX
Amenities for The Cloister at Sea Island
General Information
175 Guest Rooms
Connecting/Adjoining Rooms
Dining
Outdoor Dining
3 Restaurants
Ice Cream Parlor
Wine Cellar
Bar
Snack Bar
On-Site Amenities
Beauty Salon
Concierge
Spa on Property
Laundry Service
Gift Shop
Private Beach
WiFi
24-Hour Butler Service
Bicycle Rental
Boutiques
2 Golf Courses
High-Speed Internet Access
Pool & Beach Cabanas
Valet Parking
Tennis Courts
Personal Trainers
Beach Club
Putting Green
Driving Range
Outdoor Pools
In-Room Amenities
Flat-Screen Televisions
Rain Showers
Activities
Bicycling
Cooking Classes
Excursions
Fishing
Kayaking
Sailing
Tennis
Pilates
Scuba Diving
Snorkeling
Nature Walks
Yoga
Clay Bird Shooting
Golf Lessons
Yachting
Fitness Classes
Wildlife Viewing
Squash
Volleyball
Boating
Business
Meeting Rooms
Business Services
Family
Kids Club
Children's Menus
Teen Spa Treatments
Teen Activities
Nearby
Shopping
Restaurants
Golf
Beaches
Interests
Active & Adventure
Beach
Golf
Reviews for The Cloister at Sea Island
---
But that's what you'd expect from a five-star and "expensive" place to stay, eat, and play but they don't skimp on the amenities from the rooms, to restaurants, lounges, and pools. Appreciated the adult's pool area while I'm sure parents enjoyed the kid's pool area. Service is attentive and generally plentiful and helpful. Didn't think the signage around the property was very good or always intuitive but after a few tries you could find your way from place to place.
BarryandJackie - Berkeley, California
---
My husband had to go to the Cloister for a business conference. We stayed a week to give us some romantic time alone. He surprised me for my birthday with this trip but when we pulled into the INN not the Cloister I said I thought we were staying at the Cloister? Turns out they were all booked up & he had to book at the Inn. When we went to check in I asked the lovely lady at the front desk if there was any way possible to get a room at the Cloister and she called over to Nicole at the front desk in the Cloister. Nicole made my birthday wish/dream come true that I was practically in tears. She went above & beyond to make it happen. She told us that we would be able to stay at the Cloister but we will have to move 4 times during our stay. We were perfectly fine with that because we came all the way to Sea Island & how could you come here & not stay at the Cloister? Staying at the Cloister this time may not have happened if not for my husbands business conference. I love Nicole & your staff. We were made to feel like family & felt so welcomed. The restaurants/room service is delicious and when you arrive late at night having 24hr room service comes in handy! The first 2 nights we stayed in an Ocean Residence suite. Absolutely beautiful, quiet & huge! On our second night Nicole & the front desk staff had a bottle of champagne, box of chocolate truffles & birthday card set up in our room! What a wonderful birthday surprise and We ended up moving just once more on our 3rd day to a suite/room at the Beach Club. Again beautiful, quiet & huge with a fabulous view of the ocean. Nicole called me on our forth day to tell me some great news. We only have to move once more instead of the 4 times as previously told and we could go back to the Ocean Residence suite we originally had for the rest of our stay. We were so please & happy about this. I cannot rave about Nicole & your staff enough!! The restaurants are all delicious as was the catering for the conference events. I so enjoyed the excursions at your hotel that my husband set up through his conference. Hobie cat ride to the sandbar searching for shells, horseback riding on the beach (I did this twice!) & a dolphin cruise. I can go on & on but I'm running out of space. It is such a big resort that on our first night I decided I wanted to take a walk around & go back to the main building to thank Nicole once again however I got a little lost due to it being somewhat dark and really no signs telling you which way to go so thankfully an engineer drove by with his golf cart and asked if I needed assistance. He took me to the main building & waited for me even though I insisted I walk back & he took me all the way back to the residences. I wish I'd remember his name. he deserves a huge thank you! This is the best resort I have ever stay at. Thank you EVERYONE at the Cloister for making our stay fabulous!! Hoping to come again :)
---
This hotel is beautiful. The staff is welling to help in anything you may need. The rooms are clean and spaces. We had a room with a view of their river and it was wonderful to wake up to a beautiful view. We will be returning with our grown up kids.
Stella S - Diamond Bar, California
---
My room overlooked the river and it was so peaceful and relaxing. I even spotted 2 porpoises swimming by in the river one morning. The food is amazing and the staff is the best that I've ever encountered at a resort. The chef's from each restaurant are top notch. There's 2 adults pools, a kids pool, a fun fountain for kids, waterslide and a beautiful beach area. Bikes are available upon request. The gym was better than any membership gym.
meanskabrina - Miami, Florida
---
Outstanding in every respect. Architecture, cleanliness, service, activities, the spa. There is a clear emphasis on friendly, professional service, from the gentleman who opens the front door for you to the maid staff. The grounds are meticulously kept. The rooms are spotless, large, and beautifully furnished. I was with a conference, but I would like to return with my family. The resort is appropriate for couples and also families. This place is lavish and special.
1Connaught - New York City, New York
---