Please select your dates to see prices:
---
Grand Hyatt Seattle in Seattle, Washington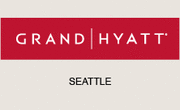 Grand Hyatt Seattle, is a new classic. Contemporary, fresh and urbane, this downtown hotel combines Seattle's vivacious spirit with its passion for excellence amid a setting of extraordinary natural beauty. Enjoy commanding views of downtown Seattle, the Cascade and Olympic Mountains, and Elliott Bay from your elegantly appointed room or sample eclectic Northwest cuisine at 727 Pine, the hotel's signature restaurant. With impeccable service and a brilliant location in the vibrant heart of the city, the Grand Hyatt presents guests with the best of Seattle.
A cosmopolitan city alive with culture and entertainment, Seattle is an exciting town with something for everyone. Ride to the top of the Space Needle, drop in at The Seattle Art Museum for a glimpse of Asian art, or visit the Aquarium, which displays fascinating specimens of Puget Sound life. Spend time shopping at the well-known Westlake, Pioneer Place and City Centre shopping centers. Take the monorail to Seattle Center or spend some time at the world-famous Pike Place Market and the nearby ferry terminal and waterfront.
Location of Grand Hyatt Seattle
Grand Hyatt Seattle
721 Pine Street
98101
Seattle, Washington
Nearest Airport: SEA
Reviews for Grand Hyatt Seattle
---
I stayed with my OH at the Grand Hyatt for 6 nights. We booked a corner suite room, which provided nice views of the city skyline, but we weren't on a high enough floor to get a good view of the bay. The room was actually smaller than I had expected (not much room to move around the bed), but it was well furnished and comfortable. The hotel itself was quite quiet, and didn't have the same vibe that I had noticed at the Grand Hyatt San Diego. However, the location was very convenient, as it is only a short walk to the downtown shopping and restaurant district.
Paul P - Leicester, United Kingdom
---
This hotel is quiet, centrally located, always clean, and offers the amenities I need when I travel for work. The staff is courteous and the attached food establishments are great! Overall I recommend to any of those traveling to Seattle
Jacqueline O - Boise, Idaho
---
Spent the weekend here and had a great time. Huge full amenity hotel located in the heart of downtown. Great for business or pleasure. Good sized room and huge bathroom. Very clean and well serviced. The room has all the amenities including fridge, electric blinds, etc. Staff were super helpful with directions, etc. One small suggestion - increase the street presence of the hotel. Granted there was construction in the area, but we circled three times using Google Maps to find the location (and it's not a small hotel so it should be easy to spot). In the end we phoned the hotel to get directions to the parkade (they were very helpful). Overall a 5 Star experience and recommended.
---
This hotel is amazing. Great location, with only about 5 min walk to pike market. Located on a main street and well lit, so welcoming at night. The rooms are spacious and offer a view of the harbor, and the hotel staff are friendly. What more can I ask for? :)
dangu - London, United Kingdom
---
Traveled to Seattle for a business trip and stayed a few more days for pleasure. Could not have asked for a better place to stay. Hotel was centrally located with an easy walk to anyplace in the downtown area with quick, nearby access to public transportation. Staff were all kind, helpful and professional. Plus we had a great view of the harbor and Pike's Market. Would certainly stay here again.
---