Please select your dates to see prices:
---
Enchantment Resort in Sedona, Arizona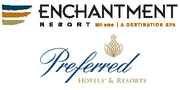 The enthralling natural beauty of Arizona's Red Rocks sets the backdrop for an exceptional Southwestern vacation destination: welcome to Enchantment Resort! Sprawled across 70 acres of pristine, panoramic natural terrain, this Preferred Hotels & Resorts property, part of the Preferred Hotel Group, welcomes guests to experience the captivating character of nature as well as the exclusive indulgences of five-star luxury. Taking cues and hues from the surrounding natural wonders of Boynton Canyon, and the world-famous Grand Canyon, Enchantment Resort embraces the unspoiled attributes of the surrounding environment and boasts a resort like no other. The hacienda-style layout of the resort offers a variety of versatile accommodations from cozy Casitas to impressive Casas, each outfitted with charming Spanish and Native American-style embellishments befitting of the desert locale.
Each day at Enchantment Resort is teeming with possibilities. Each of the resort's acclaimed eateries takes advantage of the breathtaking views, while alternately offering indoor seating that ranges from cool and casual at Tii Gavo to the simple, sophisticated atmosphere of Che-Ah-Chi. The region's revered indigenous culture comes alive with Enchantment's Native American Program: a compilation of activities and events that will thrill every enthusiast. The ultimate guest experience does not end there; guests of Enchantment have full access to Mii Amo—the resort's world class, award-winning destination spa. Honoring rejuvenation and self-discovery, Mii Amo employs the age-old techniques and treatments of the region and local culture to begin each guest on their own journey of transformation. For those who prefer indulging in the simple pleasures, hiking, biking, swimming, and much more await amidst the Red Rocks.
Location of Enchantment Resort
Enchantment Resort
525 Boynton Canyon Road
86336
Sedona, Arizona
Nearest Airport: PHX
Amenities for Enchantment Resort
General Information
220 Guest Rooms
Dining
Outdoor Dining
3 Restaurants
Room Service
Healthy Cuisine
Juice Bar
On-Site Amenities
Concierge
Spa on Property
Fitness Center
Wellness Center
Boutique
Outdoor Pool
Tennis Courts
Outdoor Whirlpool
Putting Green
Lap Pool
Complimentary High-Speed Internet Access
In-Room Amenities
Turndown Service
Bathrobes
Hair Dryers
In-Room Safes
Mini Bar
Coffee & Tea Facilities
Private Decks
Activities
Croquet
Cultural Classes
Hiking
Tennis
Wine Tasting
Stargazing
Tai Chi
Yoga
Fitness Classes
Art Classes
Table Tennis
Bocce Ball
Business
Business Services
Family
Children's Programs
Kids Club
Nearby
Historic Sites
Golf
Parks
Interests
Active & Adventure
Family
Spa & Wellness
Reviews for Enchantment Resort
---
We had a great experience even before we arrived. Reservations team gave us advice on what to see and where to go. Concierge team was excellent, helped us with car rental (rented at PHX - Enterprise drove to Sedona and were able to drop off car at resort), golf and dining reservations (off property). Beautiful grounds, AMAZING staff. Ate at all of the restaurants. Excellent food. Some reviewers complained about slow service at View 180. I'll admit, the servers were working hard, but if you could see the restaurant, you would wonder why anyone would care how long they sat there. Room was clean and spacious. Hiking trails right outside of property gate. An absolutely perfect four day visit.
---
It's my third time here and the Enchantment Resort does NOT disappoint! This was the first time the hotel was at capacity when I visited. I usually go during the warmer months. Have to admit, I missed having the sunshine and the weather didn't permit to sunbathe at Mii Amo Spa which I was looking forward to... but we did take advantage of the hotel pool / jacuzzi at night. Nice to swim with a clear view of the stars. Casitas are always spacious and have great views... Nice to have coffee on your patio. The lock on the mini bar was strange and the announcement to not remove the shampoo, soaps was strange too. The view simply takes your breath away! We saw a deer with her two babies which was sweet. If you're a golfer, DO NOT pass up this opportunity to golf on these beautiful grounds. There's tennis, bocce ball and croquet available. You can also borrow the hotel's mountain bikes. Worth the splurge!
---
I'm big into TA and Yelp! and research everything before going on a trip. Originally we were going to stay at Auberge but then got a recommendation from a close friend for Enchantment. I read the last 2 months of reviews and really considered switching back to Auberge but since they were so mixed (and some were a bit silly- like the complaint about too many kids in the pool during the height of Spring Break), I decided to take a chance.... and it was a stellar decision! I've been blessed to have been able to stay at 5 star resorts- Mandarin O in Paris, St. Regis in Bora Bora and Viceroy in Anguilla to name a few so I know what to expect. Yes- things are pricey- the $5.50 large coffee (there were free refills but even I can't drink that much), the spa (which was incredible) but was expected for the price point on the room. Speaking of, we had casita #205 on the end. The room was clean, in perfect order and no issues, ants or worn furniture. We did hear the people next door a few times but otherwise, was super quiet. Everything was a 5 min walk from our room and could have gotten a ride if we wanted. We were in the spa area a lot. An adults only pool with a healthier menu. The pool there was amazing! Michael- the waiter there took our orders and gave us fresh water the whole time. He hustled and did a great job. I did sit at the other pool once and it was more adulty but the staff weren't as accommodating (it was also a bigger pool). I ate at the spa pool and at the regular pool. Food was good and again average price for the hotel cost. I found it interesting they didn't tack on automatic gratuity. We went to dinner each night in town- The Hudson and Elote- both amazing so I can't speak about the restaurants at the hotel. The grounds were beautiful and the staff/concierge- very helpful. We also did the 2 hikes on property- both were really cool and we also used the gym- was clean and had good machines. Didn't take advantage of the activities though. Yes- I'm a little easy going- even being from NYC, but I really loved Enchantment a lot and would def go back!
hc11238 - New York City, New York
---
At nearly $800/night I would have to say I expected more. The rooms are run down, the grout around the bathtub has worn off, the bed legs are beat,etc The location is unbelievable and there are a lot of activities for families. I didn't book any spa services (too pricy) but did yoga, meditation classes, stretch classes and many other activities after long hiking days. I took a few classes with Zlata: yoga, stretching, guided meditation, etc: she is excellent. she knows her stuff and you will be lucky to get some lessons with her. Dr. Carolyn did a walking meditation thing....great intention behind it but it really wasn't my thing. Now as far as the restaurant: the food at the spa was great, but Che AI chi was a definite NO! If you don't mind highly priced mediocre food with spectacular views and good service, then it's the restaurant for you. There wasn't a chef, the food was prepared by cooks! Concierge service by Isla was good, Check-in process could be a bit more welcoming. Don't expect them to anticipate your arrival, hand you a welcome water or even have someone get your car......it's like an average hotel check in process. Their olive soap in the bathroom smells amazing. Buy epsom salt from cvs and use it in the gigantic bath tub. Management, if you are reading this, put a little bag of scented salt by the tub (like the ones you sell at the spa). Ladies, if you need to do your hair, use the one in the spa, it's better quality than the one in the room. Oh, and the chef garden tour should probably be limited and seasonal. There was nothing in the garden other than garlic! Definitely not a show case at this time. The shop at the spa has a nice collection of things. My kids found the tennis court free whenever they wanted to play.
N00shA - Napa, California
---
The Enchantment Resort is set in a very beautiful and serene canyon. The grounds meander and sit well in the environment. The rooms were comfortable, clean, large and our patio had a beautiful view of the mountains. The only downside was the dinner we had a TiiAmo. It was only ok, but the food we had on this trip driving through Arizona has really been dismal, so it at least was a step up. The spa that is available to all hotel guests is a nice hideaway has an outdoor pool and spa and it isn't as busy as the main pool area and there were only adults there, so it was very peaceful.
Meesh1970 - Los Angeles, California
---