Please select your dates to see prices:
---
Enchantment Resort in Sedona, Arizona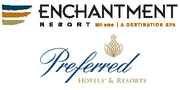 The enthralling natural beauty of Arizona's Red Rocks sets the backdrop for an exceptional Southwestern vacation destination: welcome to Enchantment Resort! Sprawled across 70 acres of pristine, panoramic natural terrain, this Preferred Hotels & Resorts property, part of the Preferred Hotel Group, welcomes guests to experience the captivating character of nature as well as the exclusive indulgences of five-star luxury. Taking cues and hues from the surrounding natural wonders of Boynton Canyon, and the world-famous Grand Canyon, Enchantment Resort embraces the unspoiled attributes of the surrounding environment and boasts a resort like no other. The hacienda-style layout of the resort offers a variety of versatile accommodations from cozy Casitas to impressive Casas, each outfitted with charming Spanish and Native American-style embellishments befitting of the desert locale.
Each day at Enchantment Resort is teeming with possibilities. Each of the resort's acclaimed eateries takes advantage of the breathtaking views, while alternately offering indoor seating that ranges from cool and casual at Tii Gavo to the simple, sophisticated atmosphere of Che-Ah-Chi. The region's revered indigenous culture comes alive with Enchantment's Native American Program: a compilation of activities and events that will thrill every enthusiast. The ultimate guest experience does not end there; guests of Enchantment have full access to Mii Amo—the resort's world class, award-winning destination spa. Honoring rejuvenation and self-discovery, Mii Amo employs the age-old techniques and treatments of the region and local culture to begin each guest on their own journey of transformation. For those who prefer indulging in the simple pleasures, hiking, biking, swimming, and much more await amidst the Red Rocks.
Location of Enchantment Resort
Enchantment Resort
525 Boynton Canyon Road
86336
Sedona, Arizona
Nearest Airport: PHX
Amenities for Enchantment Resort
General Information
220 Guest Rooms
Dining
Outdoor Dining
3 Restaurants
Room Service
Healthy Cuisine
Juice Bar
On-Site Amenities
Concierge
Spa on Property
Fitness Center
Wellness Center
Boutique
Outdoor Pool
Tennis Courts
Outdoor Whirlpool
Putting Green
Lap Pool
Complimentary High-Speed Internet Access
In-Room Amenities
Turndown Service
Bathrobes
Hair Dryers
In-Room Safes
Mini Bar
Coffee & Tea Facilities
Private Decks
Activities
Croquet
Cultural Classes
Hiking
Tennis
Wine Tasting
Stargazing
Tai Chi
Yoga
Fitness Classes
Art Classes
Table Tennis
Bocce Ball
Business
Business Services
Family
Children's Programs
Kids Club
Nearby
Historic Sites
Golf
Parks
Interests
Active & Adventure
Family
Spa & Wellness
Reviews for Enchantment Resort
---
This is a difficult resort review. To start, the resort is in a beautiful location looking at the red rocks. However this is a good 15 minutes from the actual town of Sedona. Think of this before booking if you're planning on eating in the city at night. There are very few Uber drivers. The resort is essentially a scattering of Casitas. The regular Casitas have a king room on one side and queen room on the other side and in the center is something called a studio. The studio is a Murphy bed with a kitchenette and barbecue outside. This configuration is be great for a family gathering as you can you join all of the rooms. However, these three rooms are often rented it independently. This is where the problem begins. We were in the center room with the Murphy bed. It has a lot of space but you hear everything in the other two rooms. We coukd hear the person next door coughing at night. I'd be very cautious about your room selection. Do not get the room with Murphy bed and less you really want to kitchenette. Again there is only a queen mattress. That queen mattress does not touch the wall so there's no way to read in bed. Also it has only a shower Service was a problem because it seemed they just didn't have enough employees. For instance, there were only two servers during happy hour and breakfast. The pools are essentially self-service. You need to get your own towels and water. At the spa pool I was finally given water but never asked if I wanted to eat anything. At the adult pool we did irder food and drinks. It took so long to get we wanted to cancel it but couldn't find the server. That being said, when you found a server thet were excellent. We also had a hike with a guide that was excellent. The cleaning people came late every day but they didn an excellent job. Overall this resort is resting on his laurels because it has such a great location and such beautiful views. Overpriced. Not worthy of 5 stars. It would do well to get a new management company to eun it.
---
We have heard that Enchantment is one of the best resorts in Sedona. I have to admit they have a fantastic view of the red rocks and it's a beautiful drive to the resort. When we got there at 2 they said our room wasn't ready but we could have a drink and someone would let us know as soon as it was ready. At 4 no one had come to get us so we walked back to reception and magically it was ready. Now granted we did not get the most expensive room they offer but for over $600 a night I would expect more than a dark dungeon with a view of the parking lot. The wood tables were chipping and falling apart. Decorative were not on the bed etc. The sliding door did not close properly or lock. Not a great impression. Then that first night we had terrible service at the View bar. Our server (blond female, not sure of her name) was very slow. Then she turned on the heater for us but it went out 5 minutes later. We let someone know but they never even came back to look at it. The following evening we had a very good server and had dinner in the casual restaurant the server there was good too. The pool is nice but there is not enough lounge chairs. Each day many people were left standing around with no place to sit or relax at the pool. The tables at the bar and by the pool were always dirty. In general I would say this hotel is just ok as far as service. But for the price I would expect much better. The spa is nice but we didn't even use it for fear we would pay a fortune and have bad service again. Very disappointed.
Laurie S - San Diego, California
---
We checking in Monday - and since my last stay, the checking is now handled outside. Immediately we were welcomed and then shown to our room which was a Jr. Suite in the "79" building. The room was spacious and very clean. You are immediately welcomed by staff that are truly interested in your stay. The food was fantastic and we certainly enjoyed hiking the 6 mile round trip Bouyton Canyon Trail that one can start, just in back of the Miiamo spa. The only reason I rated the property 4/5 stars is for the bed and pillows. The mattress was very soft or warn out and it was clear that the center of the mattress was well warn. Additionally, the bed pillows were too flat and soft for our liking.... then again, we use Temper Pedic pillows. When you arrive, part of your arrival packet discusses the need for "communication" to the outside world and the fact that the property has "difficult" cell service. You are told to enable your calling over WIFI which we did - calls were dropped and we had difficulty. We ended up finding that if we turned off our cell serivice , but left the WIFI on, calls went through without difficulty. It was unfortunate that we found that out on day 3 or 4. Book any spa treatments in advance, and there were NO availability for anything at the Miiamo spa once we arrived. We loved the cooking demos and the night sky stargazing is a must if you are there on the right day. We certainly will visit here again!
---
This was a beautiful location. The front office service leaves a great deal to be desired.The young man who was showing us around the property before our room was ready left us standing in the middle of the tour and went to greet an old customer. He never came back. They told us the room is ready and just needed inspection but we waiting near 1 1/2 hour before it was ready. Newspaper and juice that were promised for early morning was never delivered the first morning.The services in the restaurants were just ok. But the view was great. We decided on Enchantment because of the view. That we were not disappointed.
---
After 4 days seeing and hiking in the South West canyons, coming to this resort was wonderful.The "cabins" are comfortable, the service excellent-one is whisked from place to place by golf carts, breakfast in your room and nice hikes. If you are a member see what your American Express can do. We and our friends did very well. If you want to relax (even a quiet area with no cell phones) this is the place.
peter1581 - New York City, New York
---