Please select your dates to see prices:
---
Mansion Hotel in Shanghai, China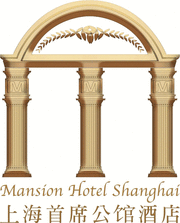 If you are used to uncompromising luxury and internationally acclaimed design, then Mansion Hotel will feel just like home. This 24-room Shanghai retreat was originally built by a French architect in 1932, and is now a meticulously restored historical heritage site that reflects the allure and panache of a bygone era. Each room has its own individual layout and décor, bringing a unique and personalized touch to your stay, and all feature opulent amenities such as plush armchairs with ottomans, flat-panel televisions, wireless Internet access, marble-lined baths, and luxe personal care products. Spacious floor plans provide plenty of room to stretch out, and you are certain to find your surroundings to be nothing short of spectacular. With a glass of champagne upon check-in, raise a toast to Mansion Hotel, one of the finest establishments in the magnificent city of Shanghai.
Enjoy breakfast at the hotel's scenic rooftop lounge and patio, which affords panoramic views over the city, and serves Western-inspired fare three meals a day. From there, the concierge can help you arrange a sightseeing plan, assisting with any transportation or reservation needs. Visit the storied Jade Buddha Temple in the western part of the city, which was once destroyed during a revolution, but now stands rebuilt after it was historically resurrected. The third tallest building in the world - and the tallest in China - is Jin Mao Tower, located in the center of Shanghai's Lujiazui Finance and Trade Districts in Pudong, and can be easily accessed via multiple routes, fitting in to any itinerary. Be sure to hit up the premier shopping destination of Nanjing Road, where fashionistas and international crowds flock to find the world's greatest designer outposts. Complete your days with a dinner at Mansion Hotel's Chinese Restaurant, which features gourmet Cantonese cuisine and specializes in seafood and other local delights. Capture the character and style of one of China's most dynamic metropolises, at Mansion Hotel.
Location of Mansion Hotel
Mansion Hotel
No.82 Xinle Road.
200031
Shanghai, China
Nearest Airport: PVG
Amenities for Mansion Hotel
General Information
32 Rooms
Non-Smoking Property
Pet Friendly
Dining
Outdoor Dining
Private Dining
Rooftop Bar
Room Service
Coffee Shop
Bar & Lounge
Afternoon Tea
Bar & Restaurant
On-Site Amenities
Concierge
Shuttle Service
Butler Service
Terrace
Multilingual Staff
Valet Parking
Limousine Service
Rooftop Terrace
In-Room Amenities
Cable Television
Hair Dryers
Mini Bar
Marble Bathrooms
Flat-Screen Televisions
Whirlpool Bathtubs
Coffee & Tea Facilities
Luxury Bath Amenities
Mini Refrigerators
Radio & CD Players
Individually Designed Rooms
Work Desks
Bathrobes & Slippers
Complimentary High-Speed Internet Access
Complimentary WiFi
Activities
Cultural Tours
Sightseeing
City Tours
Business
Business Center/Services
Meeting Rooms
Conference Facilities
Catering Services
Nearby
Historic Sites
Shopping
Train Station
Art Galleries
Museums
Restaurants
Nightlife
Antique Shopping
Parks
Shopping Mall
Marina
Theatres
Public Transportation
Monuments
Market
Convention Center
Colleges/Universities
Interests
City
Culture & Arts
Reviews for Mansion Hotel
---
Lovely garden and lovely. Once a private home this hotel today is an oasis in the city. Charming boutique hotel with lots of history. It does need better maintenance and upkeep. The gardens are beautiful as is the rooftop terrace. Staff is good, but only a handful speak English.
James S - New York City, New York
---
This hotel in the heart of the Former French Concession has great features but could also improve in a lot of areas. I gave it a "very good" but it's not. It's somewhere between average and very good (not a choice above). The pros: (1) gorgeous lobby with antiques from the 1920s and 1930s, including old photographs, a record player, an antique opium pipe, rickshaw registrations, casino chips, etc.. It's beautiful and full of history; (2) excellent location near a little park where locals dance and do tai chi, and near many restaurants (the Cathay Theatre is also close by and worth seeing); and (3) the rooms are big and furnished in the same style. The building used to be owned by "Big-Eared" Du who was an opium importer and mafia boss. Very cool. The cons: (1) the staff does not speak English so do not expect any assistance or concierge service; (2) the carpets are dirty and the entire place could use a cleaning; and (3) the breakfast is the worst breakfast I have ever had (they need to invest in a good coffee machine and focus on the needs of Europeans and Americans, not only Chinese people, if they want to grow the business and be more successful). In conclusion, I recommend the hotel but with reservations. There are much better hotels on the Bund. But it's more interesting than most hotels in Pudong for example.
BramStoker - Miami, Florida
---
I love Shanghai and this charming and elegant historic hotel is in the very centre of the most interesting part of the city. Inside this classic vintage hotel is beautifully decorated with cinematic objects from Shanghai's colourful and exciting past. The rooms are comfortable and quiet and the lounges are very attractive places to sit and plan a day of sightseeing. With a luxury mall, a pocket park, street food and some great boutiques on the doorstep this really is a lovely base for a Shanghai experience.
helenahankaart - Newcastle upon Tyne, United Kingdom
---
The Mansion hotel houses a museum that highlights its history as a mafia joint around the 1900s. It is truly intriguing even to merely visit but the rooms, too are one of a kind. Floor 4 and 5 are currently finishing renovations (I did not hear any noise) and will probably be the best right now. The breakfast is not recommended — the portions are small and the street food in Shanghai is amazing. Small local restaurants that serve Chinese breakfasts can be found just one cross street over and you will be having a much more authentic experience. The restaurant that serves dinner however is quite good. The area is outstanding and highly recommended for walks.
krautland - Shanghai, China
---
The carpets are so grotty you wouldn't want to walk on them (need both commercial clean as well as not vacuum cleaned). The water comes in through the ceilings at reception and through the corridors. Fridge not working, and air conditioner noisy. Staff not equipped to deal with English speaking guests. Breakfast on second day as not edible. Loved the building, but felt sad it isn't being maintained.
BridgeoCoop - Auckland, Auckland, New Zealand
---