Please select your dates to see prices:
---
Therasia Resort Sea & Spa in Sicily, Italy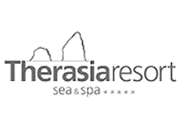 Emerging from the shimmering shores of Vulcano, glowingly reminiscent of a classic Greek metropolis, the fabulous Therasia Resort Sea & Spa is a true oasis of luxury befitting the ancient beauty of the tiny Aeolian Islands in Italy. Shimmering pure whites, contrasting marvelously with the dark sands of volcanic beaches, create a stunning, picturesque world, exuding an aura of peace, tranquility, and relaxation. Flowing white walls encompass the classic Mediterranean style of each room, with beautifully tiled floors and accents adding to the bright and charming elegance of simplicity. Glass French doors lead out to your private balcony, where gorgeous views of the Mediterranean and neighboring islands will take your breath away, while natural light and cool breezes flow fabulously throughout. With plush beds and the peaceful island atmosphere, Therasia Resort welcomes you to experience complete freedom and serenity as you escape from the world.
On your first morning, step out onto your balcony and gaze out over the sea, ready to explore and discover the island. Hike to the top of the volcano to Gran Cratere, and take in sweeping views of the sea, sparkling as far as the eye can see. Experience a spa day as the ancient Greeks would with a visit to the volcano's amazing natural mud baths and hot springs, then return to the hotel to cool off with a dip in one of two amazing infinity pools. Enjoy a day strolling along the black sands of Baia di Levante, Baia di Ponente, and Dell' Asino beach, and dive into the crystalline Mediterranean surf. Venture out on the open ocean for a fascinating scuba diving excursion amidst ancient reefs, or take a relaxing sightseeing cruise around the Aeolian Islands. In the evening take a quick boat trip to nearby Lipari or Panarea Islands to partake in the vibrant local nightlife, then return to the hotel for a fabulous sunset dinner. Seated on the tranquil terrace, gazing out over the sea, dine on the gastronomic wonders of L'Arcipelago's innovative Sicilian cuisine. With a nightcap in hand watch the stars emerge over the islands, unchanged since the days of the ancient Greeks, and settle in to the tranquil world that is Therasia Resort Sea & Spa.
Location of Therasia Resort Sea & Spa
Therasia Resort Sea & Spa
Localita Vulcanello
Sicily, Italy
Nearest Airport: PMO
Amenities for Therasia Resort Sea & Spa
Dining
Outdoor Dining
2 Restaurants
Pool Bar
2 Bars
On-Site Amenities
Wellness Center
Gardens
Beach Access
Infinity Pools
Indoor Jacuzzi
In-Room Amenities
Air Conditioning
Direct Dial Telephones
In-Room Safes
Mini Bar
Satellite Television
Nearby
Beaches
Hot Springs
Reviews for Therasia Resort Sea & Spa
---
One of the most relaxing holidays ever! A little difficult to get there ie; airport bus ride ferry bus ride but was worth the trouble would return. The pool was fantastic and the views were amazing looking out to the other islands My son hired a scooter and enjoyed taking I. The scenery! The sulphur baths were very busy so we declined using them but all in all a wonderful holiday
70Elizabeth - Clitheroe, United Kingdom
---
Before my trip, my date gave me two options of resort, one had beautiful vineyard and Therasia. I picked Therasia as I am such a pool person.. the infinity pool just so awesome.. here i arrived in paradise. For someone living in hectic life this definitely beautiful place to watch sunset with champagne, tried their Michelin restaurant and get on boat pop up to near by island. The service is ok, even there was not many things can do in hotel or the islands. but i do have a picture perfect view that in mind head
sensualmonkey - Shanghai, China
---
INCREDIBLE LOCATION but service was not great at all. What's the point of having a menu under your umbrella by the pool for pool service if it's too hard to carry the food to you ? If it is so hard to do so just don't offer it pretty simple! The actual hotel itself is absolutely divine but it really really lacks service , we had met another couple and travelled with Freinds and we all agreed the lack of service let's down the hotel. Being very honest if the location were different I would not even consider this hotel due to this problem. Also not knowing what you are paying for eg drinks one evening near the pool is very strange to me , the waitress wrote down on a piece of paper what our order was and simply handed me the paper with no amount on there?????? When I questioned her she snatched the paper out of my hand and wrote down a figure ? We wanted to pay then and there for it not to be charged to the room and she told us it was too far for her to walk to reception to get change as they do not have a till in there bar near the pool? Again great spot beach water that you can jump into from the hotel aera is amazing and the rooms were great also , just be prepared to have typical Italians doing there thing.... not much regarding service . So if you can handle that go for it !
julespep17 - Melbourne, Australia
---
We stayed at the Therasia resort for 5 nights but wished we had stayed longer. The views over the Eolian Islands are simply stunning and the Therasia is a great base to explore the other islands with regular ferries from Vulcano. The hotel shuttle schedule is fairly infrequent but when we asked reception they were happy to accommodate an off schedule trip to the ferry port. It is not very close to the main tourist area of Vulcano but one you're at the Therasia you won't feel like leaving anyway :)
MaudTA - London, United Kingdom
---
This is a beautiful hotel in a fantastic setting. You cannot fault the views, facilities, standard of the rooms, quality of the staff and overall ambience of the place. We went on a half board deal but like some other recent correspondents we avoided the bar because it was so expensive - 10 euros for a glass of house wine, 20 euros for a kir royale. The food in the Archipelago restaurant was good but not outstanding and we decided against the Michelin starred restaurant because of cost. Breakfasts had a large range of options all pretty good. We felt that more information about the island and indeed the hotel facilities and restaurants could have been in the rooms. These are minor criticisms and if you have the money then probably not an issue! Maybe because it was near the end of the season but I think 5 star rating is just a little generous.
southboundchris - King's Lynn, United Kingdom
---