Please select your dates to see prices:
---
L'Amphitrite Palace in Skhirat, Morocco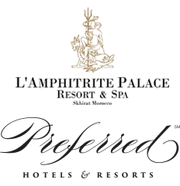 You saw the medieval spires of Fez, rode the whirlwind of wares and spices in Marrakech's souk, and now you're here at L'Amphitrite Palace – part of the collection of – for some well earned down time on one of the North Atlantic's prettiest beaches. Guests come to L'Amphitrite to unwind – the whitewashed compound is in an isolated area and indeed feels like palace, where many of the rooms afford sea views. If the pull of the tides isn't strong enough to reset your system, book a session in one of the spa's hydrotherapy huts surrounded by spindly palms.
Order a traditional Moroccan breakfast: stacks of corn-sesame pancakes soaked with raw pressed olive oil and loads of honey, fresh fruit, and tart homemade raib yogurt. Relish a lazy morning by the beachfront infinity pool, which cascades in levels toward the shore. Go for a stroll as the sun turns the sky deep shades of pink and purple.
Location of L'Amphitrite Palace
L'Amphitrite Palace
P4030
12050
Skhirat, Morocco
Nearest Airport: RBA
Amenities for L'Amphitrite Palace
176 Rooms
Ages 18+ Only
Turndown Service
5 Meeting Rooms
Business Center
Complimentary WiFi
Complimentary Self Parking
Spa & Sauna
Private Beach Location
Complimentary Bottled Water
24-hour Room Service
Italian, Morrocan & Mediterranean Cuisines
Reviews for L'Amphitrite Palace
---
Travelling with 3 very young kids is never easy but we had a very swift and welcoming check-in, be it at 10.30pm. We needed an extra bed in the room and this was arranged for us immediately despite it being so late in the night. Room is very clean and spacious, bathroom very large although the TV doesn't have great reception. Wi-Fi is strong in the room. Breakfast was plentiful with good hot & cold options, fresh fruits & pastries and fresh orange juice (not squash or concentrated carton juice). It's an easy drive to and from Rabat, approximately 25mins to Rabat Ville. There's plenty of onsite parking. Far better than some of the hotels I've stayed at in Rabat. Great start to our adventure to Tangier & Casablanca.
---
A ideally located hotel, good views and adjacent to the beach. Room decor and comfort was excellent. The Moroccon restaurant where we had dinner however was a disappointment, the staff had a general lethargy and did not seem to be interested in providing any degree of service.
JudeAberdeen - Aberdeen, United Kingdom
---
This was a fairly mediocre hotel - and I'd probably rate it much lower, were it not for the fact that it was extremely inexpensive (a two night stay in a double room cost merely around 2300 Dirhams - around 250 dollars). There was nothing about this hotel that specifically stood out as bad, per se. The rooms were spacious, there was a pleasant view out over the beach, and all in all it did its job, which was to grant me a quick weekend getaway from my Arabic studies in Rabat. Unfortunately, the food here leaves something to be desired - I still remember ordering some sort of a Tuna pasta, I believe it was, at Le Mosaico, and barely being able to finish my food by how salty it was. Le Poséidon was also somewhat uninspired; to be honest, however, outside of Fez I haven't really found food in Morocco that I actually particularly enjoy, so you may take all this with a grain of salt. I went down and reminded the front desk three times about the phone in my room not working; each time they promised that they'd see to it as soon as possible, and each time I returned to the hotel, with my phone still not working. A shame, as I would have very much liked to order room service and eat on the balcony. The spa was all right - nothing special - kind of like the hotel itself. And honestly, the town of Skhirat is very boring, so I don't think I'd return, if and when I'd ever come back to Morocco.
Odysseus_SPQR329 - San Francisco, California
---
This was our first visit to Morocco, and we certainly enjoyed our break. Hotel was well kept, clean, tidy and the views are breathtaking! If you plan to leave the resort, to Rabat city centre, this can work out to be quite dear, as only certain taxis have the ability to travel from town to town. Our overall stay was very pleasant, all the staff were friendly, helpful and accommodating. We came across a few issues on our first day, more so because we were unaware of the surrounding areas. However, Mohammad Bounain who is chief concierge was happy to go out of his way to ensure we were completely satisfied by the end of our trip. I would also like to name the hotels driver Saeed, who accompanied us to Casablanca's famous Hassan Masjid. He made us feel very comfortable, and although there was a language barrier, he catered to us to the very best of his ability. Happy to stay here and would recommend and re visit.
zakkhan1 - London, United Kingdom
---
Upon arrival we were greeted by front desk staff who were excellent (especially Meryem and Hind who looked after us throughout our stay.) I stayed for 7 nights at the hotel and everyday would come back to a perfectly clean room. The beach and pool were the best part of the hotel and we visited these everyday without fail. The service provided at the hotel was exceptional and I would not stay in any other hotel when visiting Morocco. Our stay was more expensive than expected but I can say with confidence that it was well worth the price. 5 star!!!!
adeeba515 - London, United Kingdom
---