Please select your dates to see prices:
---
Das Central in Sölden, Tirol, Austria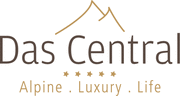 Das Central is a 5 star hotel in Solden in Tirol (Tyrol) and combines casual luxuriousness and Tirol cordiality with "toque"-awarded cuisine, spa artistry of the highest level and the impressive mountains of the Otztal Alps. Here you celebrate ALPINE. LUXURY. LIFE in its sportiest and most elegant guise. Discover the power of tranquillity in every room and the joy of cordial hospitality in every encounter. Das Central - every season is an inspiring experience for your holidays in Solden.
Perfect rest and relaxation await you at the 3-story Venezia Water World offering an indoor swimming pool, ten different saunas and steam baths. Let us spoil you with mouth-watering delicacies from the early morning through the late evening - treat yourself to culinary pleasures at their finest! Join us in a guided walk or hiking tour for all skill levels or enjoy a scenic mountain breakfast. Visit our gourmet restaurant Ice Q, located on top of the Gaislachkogl at 3,048 meters altitude, where you can enjoy legendary panorama view while you enjoy the most delicious food. Numerous activities allow lovers of winter and summer to experience unforgettable moments!
Location of Das Central
Das Central
Auweg 3
6450
Sölden, Tirol, Austria
Nearest Airport: INN
Amenities for Das Central
Dining
Wine Cellar
Restaurants
On-Site Amenities
Spa Services
Sauna
Wellness Center
Steam Room
Interests
Active & Adventure
Food & Wine
Hotels
Spa & Wellness
Reviews for Das Central
---
... but just missing something. It's taking me weeks to figure it out. Das Central is a great hotel. Great location. The bar/lounge is beautiful and warm. Ski room is convenient as is the ski bus to the lifts. The rooms are nicely designed with plentiful closets and storage and are also very clean. The restaurant is where I figured out the problem with Das Central. It is a sprawling room which exemplifies the size of the hotel. A couple of the female servers were very personable but everyone else was quite robotic. The meals were nice but nothing outstanding, it all felt very assembly line and not a lot of heart and emotion put into the food. Several days it was obvious we were served leftovers. What the Das Central lacks is that wonderful Austrian charm. It looks the part but just doesn't deliver on the heart and soul. Reception is a big desk that sits away from the traffic flow so there is no personal interaction with the staff. The owner (presumably) came by one night at dinner which we thought was very nice, but when there was no other personal interaction with her or staff any other time during the week it really highlighted the lack of warmth and actual caring for your needs and comfort. That being said... I'm sure its the best hotel in Sölden and we would highly recommend.
Steves_Rickshaw - London, United Kingdom
---
Das Central was the perfect hotel for our family ski trip. Combining luxury with great friendly service and an amazing gourmet kitchen, the hotel feels more like a home than a hotel. Easy shuttle service runs to the slopes every 10 minutes. Handy ski room for storing equipment. Excellent kids club. Location right in the heart of the Sölden high street. Around the corner is the intersport ski rental store with excellent variety of products and services. Das Central is definitely a place we look forward to returning to.
nouraaliramahi - Abu Dhabi, United Arab Emirates
---
On par with Relais & Châteaux type of hotels. The food quality is outstanding (diners are unbelievable and the wine quality is only equaling some of the greatest restaurants I have been to ) and the hotel is taking care of everything for you when it comes to skiing. It has a great family atmosphere and the kids' club is just what the parents need to enjoy a good evening break. I loved the all integrated idea as the hotel management also owns ski lift - so they can book everything for you at the hotel (ski passes, ski school, lessons, etc....) I only have excellent things to say and the few negatives are really not big problems...more things to make this pace even better. We had a wonderful time there and if possible, will definitely go back. A few things to note: 1-rooms are great but some noise insulation between rooms would be welcomed; 2-spa is great but prices are really expensive; 3-pool is fine but not made for swimming; 4-Intersport just next to hotel offers 10% discount on rental but will try to pass you their luxury level equipment - be cautious; Other than that, this is luxury skiing for sure.
JFrancois_IM - London, United Kingdom
---
I just spent 6 days in Das Central for a skiing holiday with my family. The hotel was excellent on all levels from the rooms to the service and the food, which did not disappoint throughout our stay. The staff are very helpful. The pool was a lot of fun for the kids after their day of skiing. The shuttle service to and from the slopes was very convenient. Dinners were delicious. The only thing to note is that the hotel is in the center of town among other buildings, which may not be obvious from the photos. In short, highly recommended for family skiing holiday in Solden.
Karim99 - Abu Dhabi, United Arab Emirates
---
Fantastic rooms that included everything you will need, great friendly service and staff, good breakfasts, lunch and dinner and very well looked after, plenty to do and took part in the bmw driving experience based at the hotel
kevc00p - Spalding, United Kingdom
---