Please select your dates to see prices:
---
Sooke Harbour House in Sooke, Canada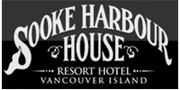 Vancouver Island is an oasis of abundant evergreens and invigorating fresh air. On one of its beaches lies Sooke Harbour House: a coastal retreat founded by Frederique and Sinclair Philip, a couple with a passion for holistic living. They extend those values to the guests of their B&B, which is tucked away on land once purchased by Andrew Muir. Here, "luxury with a conscience" is what ties together the entire experience, from the spa services to the composting program to the grass-paved parking lot. Here, the stars are the local artists, seals, and native cuisine. As for the stars above, they are always in clear view.
Wake up to the sound of whales mating in the waters below, as the staff delivers a fresh breakfast to your room. After a soak in your room's Jacuzzi tub, stroll through gardens lush with aromatic herbs and the textures of edible flora, coffee in hand and the salty ocean breeze wafting throughout. Take a charter boat for a six-hour salmon fishing excursion through local waters, and return to the hotel to sample wines from its list of 1250+. Spend the evening in the warm fire light of the Sooke Harbour House Restaurant and explore, for example, a seared red bandit rockfish with chervil potato rosti. Everything on the menu is indigenous to the Southwestern Coast of Vancouver Island, sourced from a network of local organic farms.
Location of Sooke Harbour House
Sooke Harbour House
1528 Whiffen Spit Road British Columbia
V9Z 0T4
Sooke, Canada
Nearest Airport: YYJ
Amenities for Sooke Harbour House
General Information
28 Guest Rooms
Pet Amenities
Non-Smoking Property
Pet Friendly
Ecologically Sustainable Practices
Dining
Wine Cellar
Organic Cuisine
Dining Room
Vegetarian Cuisine
Oceanfront Dining
On-Site Amenities
Spa Services
Laundry Service
Library
Art Collection
Gardens
Private Whirlpools
In-Room Amenities
Fireplaces
Wet Bar
Coffee & Tea Facilities
Individually Designed Rooms
Private Terraces
Activities
Cooking Classes
Wine Tasting
Stargazing
Nature Walks
Whale Watching
Wildlife Viewing
Sightseeing
Nature Hikes
Business
Meeting Room
Business Services
Nearby
Shopping
Restaurants
Beaches
Marina
Interests
Culture & Arts
Food & Wine
Honeymoons & Romance
Reviews for Sooke Harbour House
---
I have been wanting to stay at the Sooke Harbour House for over 15 years and only last week did I finally get the privledge. I was not disappointed on any level. So wonderful was our stay of only one night, that it truly felt like more. Our room was one of the queen studios called the 'Underwater Suite" and everything from the art on the walls to the gorgeous coral cover on the bed made us smile. We were cheerfully welcomed, shown to our room and offered fresh cookies and a decanter of port, all part of the welcome. The bed was very comfy as was the cozy couch and the two person jetted tub on the deck. The fireplace was all set to light and there really was no need to go anywhere else, we felt so at home. The grounds and neighbouring walk on the spit are well worth the wander and we even took advantage of the infrared sauna, of which there are two. Be advised that the Harbour House dining room is truly gourmet, serving only locally sources ingredients, and is priced accordingly ($$$). My husband, not easily impressed, was blown away by this place and it was he who said "we have to come back!" That's sayin' something.
---
This past week we took our 2 grand kids to Victoria for a treat. We booked into the Sooke Harbour House after a long trip from Kamloops. The girls had their own room which thrilled them. They really enjoyed the dinner in the newl constructed Copper a Room. The food was beautifully presented. The breakfast was another epicurean delight. The walk around the garden was enjoyable. A great start to their treat
Russchambers - Kamloops, Canada
---
We stayed here for a long week-end in February with friends, on a 3 nights for the price of 2 special. As Bessiegal has said "This hotel is Ok, but could be spectacular." It was particularly disappointing for us, as we had stayed here many years ago when it was indeed spectacular. At that time, it was one of the top small inns in Canada. Now the rooms are tired, in need of updating, and missing the eclectic and beautiful art that used to adorn them. The food used to be outstanding and is now simply OK. The service used to be gracious and is now simply adequate. During our stay, there was a power outage (understandable, and no fault of the hotel's) and our room temperature dropped significantly due to a lack of heat. Front desk was very obliging and said they would send us additional wood for the fire. Unfortunately, that didn't help to alleviate the situation as the wood was so wet that it was difficult to get a good hot fire going. Staff also struggled with the wood in other parts of the hotel, resulting in the entire dining room (fine dining) being filled with smoke during the Saturday evening dinner hour. Diners were forced to rush through their meals, with stinging eyes, with no apologies or attempts at compensation by servers or management. A similar problem occurred in the lounge that night and the next day. Time to clean the chimneys or lay in a supply of dry wood, or both. Although the location itself is magnificent, the hotel has seen far better days. Even with the special price, it's expensive for the quality of the accommodations and food.
Dundastraveller - Ontario
---
Older hotel needs updating and it was ok thanks to a spectacular view and clean rooms. Yes they need sprucing up but it was pleasant , homey and comfortable. Staff is young and probably need to be better trained , especially for hidden costs. I needed wood and was offered help to bring to my room but never mentioned a cost of 10$. Not a big deal except tell me upfront. Also a little expensive for 5 smallish pieces that burn quick. But the accounting at the end left a bitter taste. I was quoted price of 159$ per night, pay for two and get third free. And still have a copy of that email. Somehow my first night was 190 and second 280$? I think I was paying for my three nights . When mentioned, the young girl at desk said there was a fare change as it was a Friday night? I am disappointed in accounting that made this trip more expensive than I had budgeted. If you make an offer , stand by it . This was not worth the extra night for me. Very disappointed. Too bad as I cannot say it was a total pleasure. And I would recommend get rates and everything on paper to ensure you do not get taken. I still feel I got wronged. As much as I had hoped to go back, this closed the door.
---
Room 7, price matched with booking.com, unobtrusive quality. A quiet restful break with good food. Outside hot tub, sea view - true of all rooms I believe. Perhaps I am less discerning but I don't agree with many of the negative comments - the room was just fine for me as it was, 'extra' logs would have cost me $10 but were not needed, complimentary cookies and port (replenished each day) were appreciated, wellingtons and rain jackets supplied, good quality towels, large clock radio much appreciated, Lighting sufficient to read by - how often is hotel lighting just too dim. Staff - first class, not underfoot but available if needed. Personally I would go for the outside hot tub rooms.
budd4y - Vancouver, Canada
---