Please select your dates to see prices:
---
Sooke Harbour House in Sooke, Canada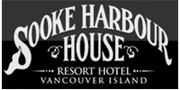 Vancouver Island is an oasis of abundant evergreens and invigorating fresh air. On one of its beaches lies Sooke Harbour House: a coastal retreat founded by Frederique and Sinclair Philip, a couple with a passion for holistic living. They extend those values to the guests of their B&B, which is tucked away on land once purchased by Andrew Muir. Here, "luxury with a conscience" is what ties together the entire experience, from the spa services to the composting program to the grass-paved parking lot. Here, the stars are the local artists, seals, and native cuisine. As for the stars above, they are always in clear view.
Wake up to the sound of whales mating in the waters below, as the staff delivers a fresh breakfast to your room. After a soak in your room's Jacuzzi tub, stroll through gardens lush with aromatic herbs and the textures of edible flora, coffee in hand and the salty ocean breeze wafting throughout. Take a charter boat for a six-hour salmon fishing excursion through local waters, and return to the hotel to sample wines from its list of 1250+. Spend the evening in the warm fire light of the Sooke Harbour House Restaurant and explore, for example, a seared red bandit rockfish with chervil potato rosti. Everything on the menu is indigenous to the Southwestern Coast of Vancouver Island, sourced from a network of local organic farms.
Location of Sooke Harbour House
Sooke Harbour House
1528 Whiffen Spit Road British Columbia
V9Z 0T4
Sooke, Canada
Nearest Airport: YYJ
Amenities for Sooke Harbour House
General Information
28 Guest Rooms
Pet Amenities
Non-Smoking Property
Pet Friendly
Ecologically Sustainable Practices
Dining
Wine Cellar
Organic Cuisine
Dining Room
Vegetarian Cuisine
Oceanfront Dining
On-Site Amenities
Spa Services
Laundry Service
Library
Art Collection
Gardens
Private Whirlpools
In-Room Amenities
Fireplaces
Wet Bar
Coffee & Tea Facilities
Individually Designed Rooms
Private Terraces
Activities
Cooking Classes
Wine Tasting
Stargazing
Nature Walks
Whale Watching
Wildlife Viewing
Sightseeing
Nature Hikes
Business
Meeting Room
Business Services
Nearby
Shopping
Restaurants
Beaches
Marina
Interests
Culture & Arts
Food & Wine
Honeymoons & Romance
Reviews for Sooke Harbour House
---
I've lived in Victoria for over 20 years and heard nothing but good things about the hotel and Restaurant, but have never been there. This was our first wedding anniversary, so I decided to surprise my wife by taking her to Sooke Harbour House. The location of the resort and our room was fabulous over looking the ocean. Our dinner was equally amazing...the flavours were exceptional. I can't say enough about it, if you are looking for something relaxing, romantic in a private setting where the staff treat you extremely well, you will be pleasantly surprised. We will now make this an annual event for us.
---
I have stayed at Sooke Harbour House quite a few times over the last 10 years, including a 4-night stay recently. Some people in these pages have said that it's "over-rated," but I disagree! SHH is still the comfortable, welcoming, beautifully situated place that it has been for decades. There is new ownership, and a few minor changes, such as no longer a wonderful breakfast (included in the room rate) delivered to the room. But the rooms are still very nice (each one uniquely decorated), the view looking south over the Straight of Juan de Fuca to the Olympics is jaw-dropping, the freshly baked cookies appear in your room every day, the wood-burning fire is set anew each day by the housekeeper, and the complimentary carafe of port is still very tasty. What's not to like? I am befuddled by the negative comments...the only way to explain them is they are by people who don't appreciate a rural, country-style inn. I dined at the SHH restaurant only one evening, because I had discovered another place in Sooke that is its equal (Wild Mountain). But I had an excellent dinner at SHH, and the service was fine too.
---
I visited the Sooke Harbor House 20 years ago and the experience was so unique it made a permanent memory for me. I decided on a visit to Vancouver Island and made this my first night's stay as the perfect place to unwind from my travels and relaxing beginning to my visit to the island. I filled my outdoor tub immediately and ordered a cheese tray to enjoy as well. For dinner I ordered the three-course chef special and enjoyed the local seasonal delicacies - beet gorgonzola ravioli; seared tuna and scalops; salmon with gnocci and carrots. I slept well and will continue to have fond memories of this special restful paradise.
Barbara J - Hailey, Idaho
---
loved the sooke harbour house in storm season. Lot's of lovely details, interesting art, and the food in the copper room was amazing! the fireplace was a great touch on cool nights, and you can wander out on wiffen spit for a nice look at the water.
Meira L - Clearwater, Canada
---
I have been wanting to stay at the Sooke Harbour House for over 15 years and only last week did I finally get the privledge. I was not disappointed on any level. So wonderful was our stay of only one night, that it truly felt like more. Our room was one of the queen studios called the 'Underwater Suite" and everything from the art on the walls to the gorgeous coral cover on the bed made us smile. We were cheerfully welcomed, shown to our room and offered fresh cookies and a decanter of port, all part of the welcome. The bed was very comfy as was the cozy couch and the two person jetted tub on the deck. The fireplace was all set to light and there really was no need to go anywhere else, we felt so at home. The grounds and neighbouring walk on the spit are well worth the wander and we even took advantage of the infrared sauna, of which there are two. Be advised that the Harbour House dining room is truly gourmet, serving only locally sources ingredients, and is priced accordingly ($$$). My husband, not easily impressed, was blown away by this place and it was he who said "we have to come back!" That's sayin' something.
---