Please select your dates to see prices:
---
Anse Chastanet in Soufriere, Saint Lucia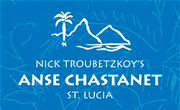 From silvery sands for sunset strolls, to entire walls opening onto the great outdoors, luxury is in the details at Anse Chastanet. No two rooms are alike at this intimate 600-acre estate on the secluded southwest coast of Saint Lucia. Design in harmony with nature is enhanced by wraparound balconies, showers with breathtaking views, tropical world cuisine served shore-side and the beach Kai Belte Spa, for the ultimate in pampering.
The Piti and Gros Piton mountains - a pair of spectacular peaks that shoot up straight from the sea - provide a fabulous backdrop for your days. On the beach, just below the hotel, a renowned PADI dive facility offers excellent scuba diving for all levels at Anse Chastanet Reef. Further afield, exhilarating pursuits include nature walks among the ruins of a colonial plantation, tours of the island's walk-in volcano and sunset cruises on the resort's 42-foot yacht, aptly named Serenity.
Location of Anse Chastanet
Anse Chastanet
Post Office Box 7000
Soufriere, Saint Lucia
Nearest Airport: UVF
Amenities for Anse Chastanet
General Information
49 Guest Rooms
Only 10+ Years Permitted
Dining
3 Restaurants
3 Bars
Organic Cuisine
Afternoon Tea
On-Site Amenities
Spa on Property
Library
Live Entertainment
Boutiques
Art Collection
Gardens
Beach Access
Car Rental
In-Room Amenities
Ceiling Fans
Hair Dryers
Private Verandas
Coffee & Tea Facilities
Mini Refrigerators
Individually Designed Rooms
Activities
Excursions
Hiking
Kayaking
Sailing
Tennis
Windsurfing
Mountain Biking
Scuba Diving
Snorkeling
Bird Watching
Interests
Beach
Summer Getaways
Reviews for Anse Chastanet
---
Can't say enough about the resort staff. They were always helpful and wanted you to be happy. All level managers said hello and asked about your stay. Food and drinks were good. The Manager's buffet night was excellent. The 2 beaches are wide, clean and the water is pretty tame. Snorkeling is great around the rocks. Our room view of the Pitons and the ocean were amazing. Even saw a full rainbow in the morning after some rain. We do feel our room showed a little too much wear and tear for the price you were paying. Don't know what the other rooms looked like, so I cannot vouch for them. The scuba shop and team were great! Bring an underwater camera for snorkeling and scuba. Mountain biking had a little tour before you were set loose, which was cool to learn about the plants and local history. WiFi was poor, but you're supposed to be on vacation (Tip: get an international phone plan before your arrive). The airport transfers went well. Just make sure, when you exit the airport area you look for the Anse/Jade courtesy booth. All in all, we were very happy and will go back for our next adventure.
boxster986s - Boston, Massachusetts
---
My wife and I spent 7 days and 7 nights in a "premium room" at Anse Chastanet a few weeks ago. The location is stunning! The views from our open-air hillside room were indeed spectacular - the Pitons and the Caribbean - spectacular. The room was spacious ( a little dated ) and very clean. We chose an "all-inclusive" deal that included all food and beverages as well as a number of activities. The food was superb .... absolutely delicious, and the service was great.
tklu3 - Allentown, Pennsylvania
---
Spent 5 nights at the Villa Atabeyra, a 3 bedroom, 2 bath home at the top of the mountain above the Anse Chastenet Resort near the town of Soufriere in St Lucia. Astounding view of the Caribbean Sea and the Petit and Gros Pitons. The lady who owns the Resort also owns this nice home. The property was previously known as Twin Peaks Villa and is just up the dead end road from the Villa Grand Piton. Rented a car from IslanderCars.com and had excellent service. The home was tastefully decorated, had an outdoor pool, but the view is what sold me! My wife said this is the prettiest location we've stayed since retirement and were blessed with good weather and a very tranquil setting. Our Hostess for the property is Charlene Penney, a very sharp young lady from Canada now living on the island.
---
We stayed here for a week with the all-inclusive plan, and I don't know where to start because everything was fantastic. It is nothing like any other resort I've been to, Anse Chastanet's kind of luxury is simply unique: 1) Nature: the natural beauty of this area is incredible. With views of the pitons, and a beautiful calm beach in a bay. I snorkelled everyday several times, (just by swimming a couple of meters off the shore), and got to see SO much diversity in their own coral reef. Not many hotels have such good access to marine reserves. Never too busy, and with free access to paddle boards and good quality kayaks. There isn't a pool in this hotel, but you will not miss it. That beach and what those waters hold is a million times better than any swimming pool. 2) The food: fresh, tasty, surprising and very varied. While local ingredients were used, they clearly had chefs from all around the world cooking highly refined plates. Breakfast could be buffet but we chose the menu option everyday. They had very speedy drink and food service to the sun loungers in the beach, and even the food there was amazing (shrimp cocktail, burgers, fresh fruit, cheesecake...). The restaurant at the beach also had a rich menu. And the dinners were spectacular, with the sound of the sea in the background and lots of fresh produce. 3) Staff: friendly, kind, not looking for tips, truly helpful while discreet. We loved the fact that there wasn't air conditioning anywhere. The rooms felt luxurious enough while fitting in with the environment. Ours felt like the most beautiful tree house, with views of the tree canopies, the pitons and the sea. Will never forget those sunrises! All in all, not a single downside.
gmk2018 - Cambridge, United Kingdom
---
Just back from a 10 day stay and had a fantastic time. Very little to find wrong about this place. Staff are first class, the views are incredible, food in all outlets fabulous (at a cost - go on a meal plan or all inclusive), two fantastic beaches albeit we preferred the quieter Anse Mamin and all in all a hard to beat destination. The hotel is old but very well maintained and our room was spacious with excellent views as I believe most do apart from those closest to the beach. What could be better? WiFi coverage is good but speed ranges from slow to non existent. I suspect this is an island problem rather than the hotels as it was equally slow at the airport. Water pressure in rooms was barely adequate -we didn't exactly have to run around to get wet but not far off. Air con or lack of it. We knew we would most likely not have air con but took the risk. As for sleeping it wasn't much of an issue with a combination of the natural breezes and the in room fans allowing for a comfortable nights sleep. Where it was a problem was early evenings returning to a baking hot room to get ready for the evening. Almost impossible to cool down after a shower and it Probably sounds petty but when you have long hair like my wife it was an issue and the sole reason we won't return. If you can get over this and I suspect most others can I thoroughly recommend this hotel. As an aside my wife rates hotels by the quality of sun beds - Anse's are amongst the best!
---