Please select your dates to see prices:
---
Anse Chastanet in Soufriere, Saint Lucia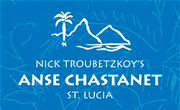 From silvery sands for sunset strolls, to entire walls opening onto the great outdoors, luxury is in the details at Anse Chastanet. No two rooms are alike at this intimate 600-acre estate on the secluded southwest coast of Saint Lucia. Design in harmony with nature is enhanced by wraparound balconies, showers with breathtaking views, tropical world cuisine served shore-side and the beach Kai Belte Spa, for the ultimate in pampering.
The Piti and Gros Piton mountains - a pair of spectacular peaks that shoot up straight from the sea - provide a fabulous backdrop for your days. On the beach, just below the hotel, a renowned PADI dive facility offers excellent scuba diving for all levels at Anse Chastanet Reef. Further afield, exhilarating pursuits include nature walks among the ruins of a colonial plantation, tours of the island's walk-in volcano and sunset cruises on the resort's 42-foot yacht, aptly named Serenity.
Location of Anse Chastanet
Anse Chastanet
Post Office Box 7000
Soufriere, Saint Lucia
Nearest Airport: UVF
Amenities for Anse Chastanet
General Information
49 Guest Rooms
Only 10+ Years Permitted
Dining
3 Restaurants
3 Bars
Organic Cuisine
Afternoon Tea
On-Site Amenities
Spa on Property
Library
Live Entertainment
Boutiques
Art Collection
Gardens
Beach Access
Car Rental
In-Room Amenities
Ceiling Fans
Hair Dryers
Private Verandas
Coffee & Tea Facilities
Mini Refrigerators
Individually Designed Rooms
Activities
Excursions
Hiking
Kayaking
Sailing
Tennis
Windsurfing
Mountain Biking
Scuba Diving
Snorkeling
Bird Watching
Interests
Beach
Summer Getaways
Reviews for Anse Chastanet
---
Truly an exceptional All Inclusive experience. The premium cost of the beach front cottages was worth every cent, although the long stairway from the beach level to the Tree Top restaurant and other facilities was not that bad. The meals were excellent at each of the several restaurants, but we especially enjoyed the hamburgers at the Mamin Beach, a short ten minute walk on level ground. The dive shop provided good diving for a reasonable rate; good equipment, dive masters, and boats. The snorkeling just off the beach in front of the hotel is pretty good, but taking a boat trip for snorkeling is worth the modest charge. This is a good sized resort with many guests, but he staff was uniformly efficient and polite. An expensive resort, but it definitely met our expectations. Perhaps the most enjoyable event was the Tuesday evening buffet on the beach... remarkable array of first rate food and very good wine.
---
We lately spent 7 nights at Anse Chastanet in AI package and I can say so far some of the best money spent for holidays. The resort is located in a beautiful and peaceful area of the island surrounded by tropical vegetation and most of all marine reserve. If you like nature and sea, but also outdoor activities this is the place to go in St. Lucia with plenty of opportunities within the resort and outside. We did some suggested visits (Sulfure volcano and waterfalls tour, botanic gardens, Saturday market walk, etc.) for which we had to pay some extra and really enjoyed the atmosphere and guidance. Special mention for ā€œFather Natureā€ Meno who let us learn as much as possible about the Islandā€™s flora, fauna and history. The Scuba Center is right on the Resort beach and the personnel there is very friendly. We did some snorkeling (Superman fly) and scuba diving and it was just amazing. Jumping in the sea you can see colorful fishes but also barracudasā€¦Itā€™s true the road to the resort is pretty rough ā€" but that keeps the beach more quiet ā€" and you need almost 100 steps to get back to your rooms from the beach and one of the evening restaurant, but we never found it too hard (plus there are shuttle bus to help less fit customers ļŠ ). As Italian Iā€™m quite fussy about food, especially oversea, but in this case nothing to say. The restaurants offer great choice and most of the food (fruits, vegetable, chocolate etc.) comes from Emerald Farm owned by same Nick T. family so 100% organic and super testy. However, what Iā€™d really like to highlight about this Resort is the personnel attitude and the legacy with the owners which makes you feel in a family hotel. They have been nice all over our stay because they are nice people naturally, very professional, but most of all seems they enjoy working there (I was gifted with a special birthday cake - a delicious Sacher torte - the day of my birthday). We moved from room 1A (amazing view of Pitons and beach from balcony) to a higher 5C (same stunning view, but probably little smaller) because we wanted an even more quiet area to relax after all day out and cannot remember any mosquito/animal issue. The fans in the room are very efficient and gladly we avoided AC which we donā€™t like and is also bad for your tanā€¦ Finally Iā€™d like to personally thank Jonathan, the Residential Manager of the Resort, who accommodated all our requests and made our stay perfect. P.s. heā€™s a great tennis player (former St. Lucia Davis Cup team) so take advantage of his skills when there! I would definitely return, maybe Jade Mountain next time!
---
My daughter and I are coming to the end of a magical 10 days here at Anse Chastanet. Itā€™s smaller than most Caribbean resorts, so the staff do get to know you, as you get to know them, and the manager wasnā€™t kidding when he told us in the briefing meeting that they employed the best staff on the island! Every single member of staff we met was warm friendly and pretty good at their jobs, and a credit to the resort. Nothing was too much trouble for anyone, and they bent over backwards to accommodate all the strange requests my daughter made in the food department! The room (5B) was quirky being in the style of a rondavel with a night sky painted ceiling and a stunning 270degree balcony allowing views of the Soufriere bay and the Pitons through the gap in the headland as well as a stunning sea view over the beach below. No aircon, but a permanently rotating sling fan as well as a large floor standing fan kept us cool, and thanks to the great mosquito nets, Iā€™m going home with the fewest bug bites Iā€™ve ever had on a Caribbean holiday.... We are going home lighter and fitter despite eating 3 square meals a day, due to the hills and stair climbing we have done - although there are shuttles available to ferry you back up the hill from the beach - very necessary at the end of a hot day on the beach, or after a meal in the Apsara restaurant in the evening. Food was plentiful and delicious and always served with a smile, but just a note to those expecting a ā€œfine diningā€experience..... food is good, menus are adventurous, but the portions are HUUUUUGE!..... get portion sizes down and finesse presentation and itā€™s a winner! It took me 25 years and a divorce to finally get here, but I can see a return to this little bit of Paradise sooner rather than later!
CarolynUK - Lisburn, United Kingdom
---
Make sure you use both beaches. Mamin beach is quieter and you can walk to in 5-10 mins. Do try the burgers served on that beach. Go out on a nature walk with Meno. If going into Soufriere take advantage of the hotel provided Jungle Express, also complementary for beach to beach transfers on the resort. Jungle and Meno both have a wealth of knowledge. Jazz Cruise highly recommended. We were lucky to see high volumes of Spinner Dolphins, Bottlenose Dolphins and Short Finned Pilot Whales, all within 10 mins of the other and only a short cruise out from the resort. Great entertainment on board too. Staff are excellent!!
garylynnLiphook - Liphook
---
Such a wonderful place; so friendly and helpful. Dancing, swimming, snorkeling, and food was very good. You even get to eat with the birds at upper restaurant. We loved this place. We saw turtles and a whole herd of dolphins. The view and the beach were lovely and you could hike up the mountain and see many interesting trees and flora.
---