Please select your dates to see prices:
---
Anse Chastanet in Soufriere, Saint Lucia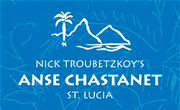 From silvery sands for sunset strolls, to entire walls opening onto the great outdoors, luxury is in the details at Anse Chastanet. No two rooms are alike at this intimate 600-acre estate on the secluded southwest coast of Saint Lucia. Design in harmony with nature is enhanced by wraparound balconies, showers with breathtaking views, tropical world cuisine served shore-side and the beach Kai Belte Spa, for the ultimate in pampering.
The Piti and Gros Piton mountains - a pair of spectacular peaks that shoot up straight from the sea - provide a fabulous backdrop for your days. On the beach, just below the hotel, a renowned PADI dive facility offers excellent scuba diving for all levels at Anse Chastanet Reef. Further afield, exhilarating pursuits include nature walks among the ruins of a colonial plantation, tours of the island's walk-in volcano and sunset cruises on the resort's 42-foot yacht, aptly named Serenity.
Location of Anse Chastanet
Anse Chastanet
Post Office Box 7000
Soufriere, Saint Lucia
Nearest Airport: UVF
Amenities for Anse Chastanet
General Information
49 Guest Rooms
Only 10+ Years Permitted
Dining
3 Restaurants
3 Bars
Organic Cuisine
Afternoon Tea
On-Site Amenities
Spa on Property
Library
Live Entertainment
Boutiques
Art Collection
Gardens
Beach Access
Car Rental
In-Room Amenities
Ceiling Fans
Hair Dryers
Private Verandas
Coffee & Tea Facilities
Mini Refrigerators
Individually Designed Rooms
Activities
Excursions
Hiking
Kayaking
Sailing
Tennis
Windsurfing
Mountain Biking
Scuba Diving
Snorkeling
Bird Watching
Interests
Beach
Summer Getaways
Reviews for Anse Chastanet
---
This is the 3rd time we have stayed at Anse Chastenet and it gets better each time. Nothing is too much trouble and we are greeted like old friends. We stayed in room 6b (tamarind) which had wonderful views of the Pitons and the beach. It was a decent sized room and we slept with the balcony doors wide open to appreciate the sounds of the wildlife and the waves on the beach. The food in the tree tops restaurant was of a very high standard for both breakfast and dinner. The beach bar for lunch was also excellent with a very good menu choice. The standard and attention to detail was amazing with everything , as far as possible, being home made or grown in the garden. Anse Chastenet delivers above it's 4 star rating by a country mile. The staff are truly happy in their work and this shines through to the guests. We recognised several members of the staff from our last visit 2 years ago and they were as charming as ever especially Marilyn. The beach and service on it was very good and the sun beds were exceptionally comfortable. We will definitely be coming back in the near future as it is unique, great value with the all inclusive package, beautiful location and very little to find fault with. We visit the Caribbean twice a year and Anse Chastenet is a well run hotel with guest satisfaction at the top of the list.
---
We had a beautiful room overlooking both the Piton Mountains and the Caribbean sea. The staff could not have been more helpful. The food was excellent as well.. great snorkeling right from the beach! Many excursions to choose from, or you could just lie on the beach all day, Paradise!!
Triplovers_10 - Novi, Michigan
---
This is our first trip to St. Lucia. We did not stay at Anse Chastanet, but at a neighboring villa. We decided to check out other resorts and beaches in the area and drove to Anse Chastanet to spend a day at the beach. We fell in love with this resort and its staff. We stayed In St. Lucia for two weeks and found ourselves returning again and again to this beach because of the great staff, great food offered in the restaurant, and the convenience of the other amentities. We could rent shaded beach chairs and snorkel equipment at the dive shop. There is a beautiful reef to snorkel right at the beach. We spent 5 days of the two weeks here, shopped in the resort shops, ate at the restaurant both lunch and dinner, and just thoroughly enjoyed it. When we return to St. Lucia, we will be coming to this resort to stay. People we talked with on the beach who were staying here were very happy with it and highly recommended it. It is apparent when an establishment has a good training program and works with their employees to best serve their customers. That is the case at this resort, and her sister resort, Jade Mountain which we also visited for lunch one day.
rodeofool - Austin, Texas
---
Anse Chastenet what can I say We travelled from England then nearly didn't stay Room confusion messed us up for a week At last we got the room on the beach Jonathan sorted it in the end Then he became a real nice friend Home from home we'll be back again It makes a change from going to Spain We can dive in our winter, it's not cold you see 26/27 degrees that's good for John and me Scuba St Lucia they are on the hotel site There are loads of dive masters but don't have a fright It's not too busy we did 38 dives from the boat It's calm so easy for anyone who can float Great for swimmers,beginners, snorkelers,learners and those who like nitrox Hire the kit or buy from the shop with everything, including diving socks. So what did we see I know you want to ask Well every fish and more besides it could be a task I'll tell you the favourites then I must away I'm watching the try dives they are having fun I must say They're with Dani, Bradley, Kennias, Curt, Errol or Dave All good dive leaders ,also managers Georgi and Jay Enough of the people, now about the hermit crabs, so many with homes in sponges Sea horses, eels,box fish,banded shrimp,spiny lobster and in the first of our plunges Lion fish well they have to catch them, to kill. So many you see they make other fish ill. Butterfly, porcupine, cow, trumpet and the fabulous frog fish. Don't worry about the lion they make a very nice supper dish. At the Lesleen wreck we saw the most, I'm not mad on wrecks but this was good Corals, sponges, hydroids,groupers,angelfish, give it a go you know you should. If you like diving or want to learn, I really can't recommend a better place 3 dive boats,turtle reef, fairyland, coral gardens then Anse La Raye Sea whips, barrel sponges, slopes,walls and Superman. Below the Pitons, triggerfish,barracuda and gorgonian fans. Soufriere the nearby town is very nice with a well stocked shop A water taxi will take you, there's plenty of time to stop. 577 staff we've heard about, at Jade Mountain and Anse Chastanet Waitresses, shuttle drivers,very special ones nearly every day I'll finish now with my special thanks to Jonathon, Georgi and Jay I'm certain that we will be back very soon one day. Kathryn Creamer
Kathryn C - Dover, United Kingdom
---
We had a superior hill room and the view was lovely. The carribbean and the Pitons right there. We found the food really good and a great variety. Most days we walked over to the other beach Anse Mamin which was less busy with only about 20 people on the beach at any time. The water there was also better for swimming as there was no small stones on entry. We found the beach management there fabulous and the staff in the bar/ restuarant great. We didn't see any invasion of cruise ship visitors . Overall had a great stay. Just beware there were 230 steps from our room to the beach. Great to get 10,000 steps in a day but you do need to be fairly fit. There is no pool so the beach is your only option but great ones!
lorna p - Niagara-on-the-Lake, Canada
---