Please select your dates to see prices:
---
The Reefs Resort & Club in Southampton, Bermuda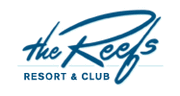 With Condé Nast Traveler voting it the #1 resort in the Atlantic for the past six years and counting, The Reefs Resort & Club is an iconic paradise. This Bermuda hotel has been welcoming guests since 1947, with a family-owned history and the utmost in dedicated hospitality. Classic island style meets contemporary sophistication in The Reefs Resort & Club's luxury accommodations and amenities. Built atop limestone cliffs and situated right on the scenic Bermuda beachfront, the guest rooms and suites all face west, affording magnificent views of the sunsets. Ranging from standard rooms, to condos and full cottages, the choices for your stay are varied and can suit virtually any number of guests. Top notch features are present throughout all the resort's accommodations, including private patios and balconies, separate seating areas, whirlpool bathtubs, and flat-panel televisions for in-room entertainment. Slip into an even more indulgent sanctuary at La Serena Spa, which in addition to its spectacular ocean views, offers personalized treatments and services from acclaimed spa professionals. Whether you choose a Warm Bamboo Massage or Exotic Coconut Polish to undo your travel stress, rest assured that The Reefs Resort & Club has just the antidote you need.
Outstanding facilities are a hallmark of The Reefs Resort & Club, and include a freshwater infinity pool, ocean view whirlpool, and complimentary chairs and towels to use on the secluded pink sand beach. Take advantage of the fully equipped fitness center, or head outdoors to enjoy the pair of tennis courts, shuffleboard, and biking. When it comes to the water, the resort is ready to help you have fun, offering complimentary stand-up paddleboards, snorkeling equipment, and kayaks. Additionally, the front desk staff can arrange scuba diving, fishing, sailing, jet skiing, glass-bottom boat tours, and more. Nearby, world-renowned golf courses abound, perfect for players looking to spend a sunny day teeing off in a tropical paradise. The resort's trio of dining venues offers something for every mood, from the bold flavors and fresh ingredients of Royston's, to a memorable fine dining experience at Ocean Echo, and tantalizing cocktails on the beach at Coconuts. Discover a wonderful world on a tiny island, and make your next beach vacation one to The Reefs Resort & Club.
Location of The Reefs Resort & Club
The Reefs Resort & Club
56 South Shore Road
SN02
Southampton, Bermuda
Nearest Airport: BDA
Amenities for The Reefs Resort & Club
General Information
67 Guest Rooms
Non-Smoking Rooms
Dining
Outdoor Dining
Private Dining
3 Restaurants
Room Service
Beach Wait Service
Oceanfront Dining
On-Site Amenities
Spa on Property
Fitness Center
Private Beach
WiFi
Terrace
Tennis Courts
Beach Amenities
Infinity Pool
Outdoor Hot Tub
Wedding Planning Services
In-Room Amenities
Private Patios or Balconies
Activities
Kayaking
Sailing
Tennis
Scuba Diving
Snorkeling
Parasailing
Jet Skiing
Volleyball
Shuffleboard
Paddleboarding
Family
Babysitting
Children's Menus
Nearby
Historic Sites
Shopping
Restaurants
Golf
Nature Reserve
Reviews for The Reefs Resort & Club
---
My wife and I arrived at the Reefs, got married at Stone Hole Beach, and spent our entire Honeymoon here! Let me start by saying that Bermuda is a very friendly place! The staff at the Reefs is no exception. Our every question was answered warmly, and every accomodation met. The real estate is amazing! The beach is something out of a post card, and the dining areas provide great food options, with amazing views! When we return to Bermuda in the future we will definitely stay here again!
bwilloughby14 - South China, Maine
---
The husband and I made a date for Saturday night. We had been working a lot and needed a break and to reconnect so we picked the Reefs as it is such a beautiful spot. Our dinner was splendid - the food was very good and Roydell and the maitre de made it so enjoyable. They were personable, checked on us often and made sure we were completely happy with our meals. It was so nice to be treated warmly as welcomed guests rather than as pesky diners. We will be back very soon.
---
Stayed at The Reefs a few years back in October. The staff was very warm and welcoming. The room and the views were all spectacular. The beach is stunning, pink sand!! Listening to the tree frogs at night on our balcony was so relaxing and peaceful. The food, especially the breakfast items...deeelicious!! Not sure what it was, but we called it banana soup lol..I will never forget it. Also their coffee, smoothest coffee I have ever had. I hope if I die and go to heaven it's just like Bermuda. Hands down would stay at The Reefs again and again.
---
My husband and I went to the Reefs In March for an early 20th anniversary celebration. We had wine and chocolates waiting in our room. Our room was a cliff side room which had one of, if not the best, views I have ever had from a room, This resort is perched on a cliff , in fact part of the cliff is built into the sides of the hotel. It is amazing architecture. Our view was of aqua water right outside our window every morning. We looked out onto the private beach below. With our stay we had a free breakfast in the beautiful Aqua Terra room. This was a full buffet breakfast with steak and eggs, Mexican eggs, smoked salmon, fresh fruit, made to order omelets, breads, etc.. After breakfast you could go to the lounge and get on the computer or go to front desk area and be set up for an activity of the day. They can rent scooters for you or the little electric cars. You can take a taxi around as well. On the days we stayed at the hotel there were 2 infinity pools that were absolutely amazing!! They were perched on the side of the cliff and the pool reached out to the ocean. I could have set there all day!! Next to the pools were hot tubs. On a dreary day my husband and I rented a double scooter and traveled the island. There were many beaches that you could park at and walk around and find your very own private oasis. What I loved about Bermuda was how clean it was as well as how safe we felt to travel all over. The Reefs resort had snorkel equipment you could rent for free, private beach, restaurants and a wonderful spa where they will serve you wine and lunch while you are waiting. It was a great experience and I would go again!! .
debbiegutch - north carolina
---
My husband and I stayed at The Reefs for to celebrate our anniversary. Pros: - You are greeted with warm hand towels and rum swizzles - The staff at the front desk are welcoming - The hotel is right on the water which is the reason why we stayed here. Another hotel we inquired about was closed due to renovations - The afternoon tea is a bargain! Food on the island isn't cost effective but the afternoon tea included sandwiches, fruit, and cupcakes. The options were nearly the same on the days we were there but it's complimentary and is included as part of your stay so it wasn't an issue Cons: - It's not near shopping or restaurants so you have to find transportation to go shopping or go to restaurants - It takes approximately 30 minutes to get from the airport to the hotel and cost approximately $45 one way in a Taxi to give you an idea of the distance and cost - While they do try to keep the hotel clean, it's obvious that it used to be a nicer hotel years ago - We used the spa twice. The first time it was dirty. The receptionist wasn't very friendly, there was a laundry basket of dirty towels piled high inside the women's locker room, there were dirty towels in the shower, the trash cans were filled and several of the "complimentary items" were gone. The second time it was cleaned up, a different receptionist was friendly, and there were clean towels in the locker room and no piles of dirty towels lying around - We opted for the bed and breakfast option so the breakfast buffet was included in our stay. The first day it was great. All of the stations were full of food, there was a good selection, and the server who took our drink order was friendly and always had a smile on his face. The next day we went, most of the food was gone and picked through and we had to look for a server to get drinks. I also had to ask the workers to bring out more food. While they brought out more oatmeal, they said the rest of the food was gone. The difference between the two days was very noticeable - We were told we were automatically upgraded to a cliffside room upon arrival. The view was nice. The room was nothing special, although it was clean - The clientele while we were there was elderly. This observation surprised us the most. It's true there are visitors who are repeat guests and have visited for 20 and 30 years but the ambience felt "stuffy" and past its prime
---