Please select your dates to see prices:
---
Topnotch Resort and Spa in Stowe, Vermont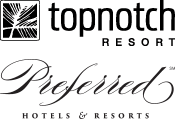 Among tall trees and wooded acres in the resort town of Stowe, Vermont is an extraordinary retreat perched on a 120-acre sprawl. Topnotch Resort and Spa, a member of Preferred Hotels & Resorts, houses capacious guest rooms and suites plus a collection of resort homes with an array of impressive amenities. A sweet European élan coupled with a classic country motif characterizes each hotel chamber, and the freestanding homes with their gourmet kitchens are ideal for multi-generational travel. Accommodations are varied and well-suited for nearly every purpose, whether you are traveling on a romantic getaway or plan to bring the entire family.
Norma's Restaurant, the resort's signature dining venue, will impress gourmands while adding innovative and delectable fare to your stay. The exhibition kitchen, open-air terrace and menu of jumbo crab cakes and prime beef are pleasing to every sense. Fresh cheese and dairy products acquired from local farms also play prominent roles on the menu. Ranked among the nation's best, the Spa at Topnotch boasts 30 treatment rooms, plus private lounges that are warmed by fireplaces and a juice bar where you can hydrate after a spell in the sauna. The resort also hosts a trio of swimming pools, including one for families and another adult-only plunge. Arrive ready to hit the slopes or glide along freshly fallen snow in an old-fashioned sleigh. Warmer months are filled with tennis matches and tee times. The beauty of staying at Topnotch Resort and Spa is that you can be active or actively idle - and enjoy either with indiscriminate pleasure.
Location of Topnotch Resort and Spa
Topnotch Resort and Spa
4000 Mountain Road
05672
Stowe, Vermont
Nearest Airport: BTV
Amenities for Topnotch Resort and Spa
General Information
108 Guest Rooms
Dining
Poolside Dining
Outdoor Dining
Restaurant
24-Hour Room Service
Bar & Lounge
Afternoon Tea
Juice Bar
On-Site Amenities
Beauty Salon
Concierge
Spa on Property
Housekeeping Service
Fitness Center
WiFi
Game Room
Indoor Heated Pool
Bicycle Rental
Boutiques
Tennis Courts
Horse Stables
Personal Trainers
Outdoor Whirlpool
Jogging Path
2 Outdoor Heated Pools
In-Room Amenities
Turndown Service
Air Conditioning
Bathrobes
Direct Dial Telephones
DVD Players
Hair Dryers
In-Room Safes
Satellite Television
Televisions
Marble Bathrooms
Luxury Linens
Coffee & Tea Facilities
Luxury Bath Amenities
Mini Refrigerators
Radio & CD Players
Private Decks
Activities
Bicycling
Hiking
Tennis
Pilates
Mountain Biking
Canoeing
Yoga
Fly Fishing
Snowmobiling
Ice Fishing
Fitness Classes
Trail Riding
Ice Skating
Cross Country Skiing
Snowshoeing
Sleigh Rides
Dog Sledding
Business
Meeting Rooms
Conference Facilities
Business Services
Family
Children's Programs
Kids Pool
Teen Center
Teen Spa Treatments
Interests
Active & Adventure
Ski & Snow
Spa & Wellness
Summer Getaways
Reviews for Topnotch Resort and Spa
---
I spent three nights at Topnotch in the middle of a snow storm and it was fabulous. Although I did not ski, I was able to dine at both The Roost and Flannel. The open kitchen at Flannel allowed me to chat with the chefs which was fun. The spa was fantastic. Most hotels have a one room gym, but Topnotch has a full-on gym with a weight room and a cardio room (treadmills, eliptical & rowing machines) and a separate lounge for ladies and men with robes for everyone and great steam and sauna rooms. I enjoyed a fabulous yoga class, an excellent deep tissue massage and swam outside in the snow! My room was lovely, spacious and the windows showed the snowy outdoors while I was nice and warm inside. Highly recommend this hotel for your Stowe vacation.
StCroixSara - Frederiksted, St. Croix
---
We attended a friend's wedding and had a great time. There was a lot going on including live music in the bar. The hotel is close to skiing. The staff was excellent. We really enjoyed our time there. The room was big, the workout facility had much more than any other place we have stayed.
NYisHOME201 - Long Island, New York
---
The home we confirmed for our daughter's wedding was changed a week prior. I was told by the manager that the owner had decided to use the property. Topnotch assured a comparable home that was "nicer and recently redone". At check in I confirmed this again, Carol assured us that it was wonderful. It was not "wonderful" as evident by the large stains on the carpet. I'm limited in this review, a full review is on Top Notch Facebook. The food that they served my guests was embarrassing. The bride spit the second course into her napkin to avoid swallowing it. They omitted expensive elements like Vermont maple syrup and a saffron garnish replacing with a strip of red jar pepper. Detailed menu in writing was ignored, Topnotch served whatever was convenient for them. The bridal suite was a sad dark room overlooking the back parking lot. The Bride and Groom did not stay in that room. Topnotch has admitted that their internal miscommunication led to the "disappointing meal". I have paid in full for the "disappointing meal" and all the other things they promised. You got me Topnotch, never again!
felixsassypookie - Burlington, Vermont
---
Have stayed at Topnotch many times beginning in 1998. The "old" Topnotch had a welcoming feel. There was a common area where after a long day on the slopes or a day of touring, exploring, or shopping you could return to the resort and relax, rest, visit next to the big wood fireplace with the moose head on the wall and unobstructed views of the mountains through huge windows with the sun shining in. The cookies and tea would come out at 3pm and everyone would show up for the little extraordinary treat. There was a sense of community with all the guests that congregated. I took many naps on the couches in that space. The redesign took that away. Now I feel that Topnotch is just like any other resort. There is nothing that sets it apart. The rooms are not much different than they used to be. The spa and pool areas are still very nice and the waterfall hot tub is wonderful. The exercise room is now closed after 7pm when the spa closes. What hotel/resort have you stayed in lately that closes the exercise area as early as 7pm??? I'm really disappointed with the make over and will probably look into staying somewhere else next trip. On top of all the changes, the prices went through the roof. It is sad to see a place with so many of our family's memories change for the worse. If you don't remember the old Topnotch, you'll probably enjoy it. But, I am not impressed with the changes.
---
This hotel was not worth the price. The Executive King room on the third floor was absolutely not worth the price. The walls were thin, to the point where we could hear the person on the other side of us snoring. You could hear the heavy footsteps of people going up and down the hallway. The Roost restaurant was lacking in service. We waited an inordinate amount of time for three grilled cheese sandwiches. For dinner, I was served the completely wrong meal.
---