Please select your dates to see prices:
---
Sun Valley Lodge in Sun Valley, Idaho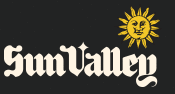 The legendary Sun Valley Lodge has been reborn. Guests are presented with an entirely new experience with 108 new and much larger guestrooms, a 20,000 square foot destination spa, a world class fitness center and yoga studio, a glass enclosed outdoor pool and pool café, and all new re-imagined and re-appointed restaurants, lounges, lobbies and event space. Become a part of the history of the country's first destination ski Lodge as it turns 80 and is re-imagined for a new generation.
No matter what brings you to the mountains, alpine living works up an appetite. Come explore Sun Valley's distinctive restaurants for a look at what's available when you're hungry. Our signature spa and wellness programs and treatments welcomes spa-goers of all ages; and, our state-of-the-art fitness facility, spacious locker rooms and refined amenities make the Spa at Sun Valley a destination to experience. The seasons in Sun Valley may change, but one thing never varies: Our mountains come with a to-do list as tall as they are. Winter slopes and summer escapes, adrenaline junkies and solitude seekers, simple pleasures and luxurious indulgences. Whatever pulls you to the mountains, we can help you find it here.
Location of Sun Valley Lodge
Sun Valley Lodge
1 Sun Valley Road
83353
Sun Valley, Idaho
Nearest Airport: SLC
Amenities for Sun Valley Lodge
Dining
Lounge
Restaurants
On-Site Amenities
Pool
Spa Services
Fitness Center
Wellness Center
Movie Theater
Bowling Alley
In-Room Amenities
Fireplaces
In-Room Safes
Flat-Screen Televisions
Mini Refrigerators
Complimentary WiFi
Activities
Bicycling
Hiking
Yoga
Fly Fishing
Ice Skating
Snowshoeing
Sledding
Sleigh Rides
Snowboarding
Horseback Riding
Golf
Family
Children's Programs
Interests
Active & Adventure
Family
Golf
Hotels
Ski & Snow
Spa & Wellness
Reviews for Sun Valley Lodge
---
My first stay years ago was lackluster. How times have changed! The hotel has undergone a complete renovation. The rooms are larger. The decor is modern. The service is back to luxury levels. The spa is beautiful. The iconic outdoor pool remains as inviting as ever. My only quibble is that I was not told about on mountain ski storage when I checked in. Please inform your guests of all the included amenities upon check in.
dmittleman - Palm Beach Gardens, Florida
---
Excellent staff, nice location, reasonable priced. Easy access to the slopes by shuttle. Food was very tasty, lots of options. Nice stores for skiing equipment. Conference center was easy to use, excellent quality of food and drinks.
---
This historic lodge was recently renovated. It's lovely! And they kept the "old world" glamour by lining the walls with beautifully framed black and white photos of the lodge back when Cary Grant, Marylin Monroe, and Gary Cooper frequented the place while Hemingway drank and wrote at the bar. Our suite overlooked the ice skating rink with the mountains beyond. The in-suite fire place was also a real treat. Other fun amenities include a bowling alley and two heated pool/jacuzzis for the very necessary aprés ski! Lodge staff is excellent. Skiing here is so wonderful it really makes you never want to ski anywhere else. Bus service to and from the base of the mountain and thru town so getting around is super easy. Walking into town is also a nice, very do-able jaunt. Our one and only lament about the lodge is that the bathrobes don't have pockets! Our lament about the town of Ketchum is that for jaded New Yorkers such as ourselves the restaurants are staffed with people who seem new to their line of work. Once we got over our New York selves and relaxed we were fine and had a great time. We highly recommend the entire Sun Valley Lodge/Ketchum experience.
lisabinnyc - New York City, New York
---
Loved it! The historic Sun Valley Lodge is truly a pleasure. The grounds are gorgeous, the workout room is fabulous, the huge outdoor pool is a warm 100 degrees in the winter!, the spa is fantastic, the food excellent, there is a bowling alley, an ice skating rink and a movie theater onsite and the skiing is some of the best in the world. The only complaint is that the resort is not ski-in/out, but remember it was built in a different "era" - and the slopes are only a short bus ride away. What I like best about skiing here is that it is not crowded (like some resorts in CO and UT), and there is a less "hurried" pace than most resorts and quality of skiing is excellent - especially for groomed runs. The Sun Valley Inn and the Lodge were both renovated recently and are gorgeous. There is a beginner mountain (Dollar Mnt) and an intermediate/expert mountain (Sun Valley) just 10 min free bus ride away. I have skiied all over the world at some of the best resorts, but I would definitely recommend Sun Valley skiing and Sun Valley Lodge for accommodations.
---
Traveled here with friends where we rented several condos, each sleeping six people (3 bedroom, kitchen, living rooms, baths, etc.). The rooms were large, very comfortable and with a fully equipped kitchen. We had lots of windows and a smaller balcony to enjoy the views of the snow and surroundings. There is a large outdoor heated pool and large outdoor spa area to enjoy after a da of snow skiing on the mountain. Sun Valley Lodge is located a couple of miles or so from the ski resort so take the bus into town or to the ski resorts. The busses run regularly but check their schedules. The staff was friendly and we had great service including daily maid service. There is a restaurant and full bar on premises along with shops for wandering. Parking is available around the complex.
EdH61 - Fresno, California
---