Please select your dates to see prices:
---
Acqualina Resort & Spa on the Beach in Sunny Isles Beach, Florida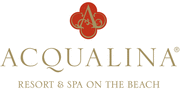 Acqualina Resort & Spa on the Beach picked an ideal location to pitch its bright red beach loungers and cozy hammocks. Fashion types will delight in the proximity of the Bal Harbour Shops and Aventura Mall, while guests who crave Miami Beach's neon lights can easily get their nightly fix. The biggest temptation, however, is right at the resort – four pools, including an adults-only oasis flanked by cabanas, offer tranquility that can only be topped by a visit to the Finnish saunas and ice fountains at the award-winning spa.
Claim your shaded lounge chair on a quiet, sugary beach early and fall promptly back to sleep. The sun warms you to the core. Drift in crystal-clear Atlantic water and walk back through lush gardens, stopping to sip on a pineapple-mango smoothie by the pool. Take an afternoon drive to explore Miami's Art Deco district and return for a plate of rigatoni worth writing home about – to your New York friends still waiting for reservations.
Location of Acqualina Resort & Spa on the Beach
Acqualina Resort & Spa on the Beach
17875 Collins Avenue
33160
Sunny Isles Beach, Florida
Nearest Airport: MIA
Amenities for Acqualina Resort & Spa on the Beach
97 Rooms & Suites
Private Terraces
Oceanfront Dining
Beach Butler
Chauffeur Service
Beauty Salon
Pool Wait Service
Beach Club
Pool & Beach Cabanas
Shopping Shuttle
Wine Tasting
Fitness Classes
Beach Volleyball
Beach Soccer
Fishing
Kayaking
Sailing
Snorkeling
Parasailing
Jet Skiing
Boating
Children's Programs
Babysitting
Reviews for Acqualina Resort & Spa on the Beach
---
We were here in August for a week. The resort was very busy. The room and grounds are very lovely and the service was usually very good. The kids club is a lot of fun too. The hotel shuttle drivers were also very great. The pool service was ok. Our biggest disappointment is that half way through our stay, my daughter and I were stuck in the elevator for some period of time. I was freaking out a bit. They managed to get us out. I thought that someone would acknowledge it and ask us if we were alright. There was no real concern expressed and I thought that was odd. We complained a few times to some of the servers. Anyway, that experience spoiled it a little for us. My second complaint is that the first two nights we tried to get into Il Mulino it was too full and they suggested we could sit in the restaurant next door and order off the Il Mulino menu. I had been to Il Mulino many times before when we have been to Miami. I thought that the experience in the place next door was not great. The service was terrible and we barely could get the waiter's attention for wine and bread. The wine came as dinner was served. We tried a third time and we were seated in the Il Mulino restaurant and of course, it was all much better. So my tips: careful with the elevator and don't expect a lot of concern if something goes sideways. And, do not substitute the place next door for Il Mulino or you will be hugely disappointed. (I have already forgotten what it is called but it is the only other restaurant in the hotel). The last few days were much better. Not sure if we will be back.
love2travel1555 - Toronto, Canada
---
We came for a holiday to ACQUALINA and I decided to surprise my 7 year old son by taking him to Disneyworld in Orlando the next morning. He looked at me in amazement saying "We are in the most beautiful place in the world! Why would you like to leave?" Later, when we were in Disneyworld, he negotiated to shorten our three day visit to two days instead! My son and I agree that Acqualina is the best place in the world. We are definitely coming back for Christmas!
---
I reserved this Virtuoso property for my client. The contact with the management making sure everything was fine tuned for my clients arrival was exceptional. Everything was attention to details with all the arrangements. My clients had a wonderful ocean view suite, location was suburb. I understand that the facilities and service were exceptional!! Dining too at the Italian restuant was excellent. My client gave the property 10 out of 10 and looks for3qard to returning again soon.
kmbconsulting - Grand Cayman
---
Please forgive the tardiness of this review as I never hit "submit". We were here for my birthday and it was truly wonderful the entire staff was OUTSTANDING, anticipating every need. Truly exceptional. I visit South Florida 3-5 times a year for business and pleasure and this is by far the very best hotel experience in Florida, the States and perhaps the world. The food, the service, the attentiveness. Everyone is a VIP!!! Oh, and the beach is perfection. My only regret is not bringing the entire family and saying longer!!!
---
I can't begin to say enough nice things about everyone and everything at Acqualina. We arrived VERY early for our check-in and we were not only greeted by a delicious Mimosa, but delighted that our suite was available! Camille and Alena were extremely pleasant and accommodating at the front desk. The GM, Christof, also came out to extend a heartfelt greeting... that's a nice touch! Due to bacteria, we learned we could not swim in the ocean. We were very disappointed, but found a lovely spot at the adult pool that instantly became our "home" for the next five days. We were greeted by Sarah who took exceptional care of us throughout our stay. She made sure our glasses were never empty and that lunch and snacks were served promptly. Sybrandt, Director of F & B, checked on us several times a day to ensure we were content. Gama made sure our chairs were set up with plenty of towels. There was always someone there if we needed anything. The spa was as peaceful as could be. I had one of the best therapists, Aika, who was amazing. Side note, the Orange Blossom treatment is fabulous. Had several meals at Il Mulino which I highly recommend.. Oh, don't miss the morning buffet at AQ Chophouse It is to die for! If you want to be spoiled in complete luxury... plan a trip to Acqualina!
Shelley L - Washington DC, District of Columbia
---