Please select your dates to see prices:
---
Acqualina Resort & Spa on the Beach in Sunny Isles Beach, Florida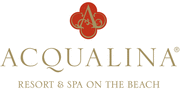 Acqualina Resort & Spa on the Beach picked an ideal location to pitch its bright red beach loungers and cozy hammocks. Fashion types will delight in the proximity of the Bal Harbour Shops and Aventura Mall, while guests who crave Miami Beach's neon lights can easily get their nightly fix. The biggest temptation, however, is right at the resort – four pools, including an adults-only oasis flanked by cabanas, offer tranquility that can only be topped by a visit to the Finnish saunas and ice fountains at the award-winning spa.
Claim your shaded lounge chair on a quiet, sugary beach early and fall promptly back to sleep. The sun warms you to the core. Drift in crystal-clear Atlantic water and walk back through lush gardens, stopping to sip on a pineapple-mango smoothie by the pool. Take an afternoon drive to explore Miami's Art Deco district and return for a plate of rigatoni worth writing home about – to your New York friends still waiting for reservations.
Location of Acqualina Resort & Spa on the Beach
Acqualina Resort & Spa on the Beach
17875 Collins Avenue
33160
Sunny Isles Beach, Florida
Nearest Airport: MIA
Amenities for Acqualina Resort & Spa on the Beach
97 Rooms & Suites
Private Terraces
Oceanfront Dining
Beach Butler
Chauffeur Service
Beauty Salon
Pool Wait Service
Beach Club
Pool & Beach Cabanas
Shopping Shuttle
Wine Tasting
Fitness Classes
Beach Volleyball
Beach Soccer
Fishing
Kayaking
Sailing
Snorkeling
Parasailing
Jet Skiing
Boating
Children's Programs
Babysitting
Reviews for Acqualina Resort & Spa on the Beach
---
First of all is location, which is great. Food was great, and you can alter it according to your preferences and needs. Staff was OK, especially if they know that you would be generous for tips. However, you have to phone housekeeping to get this and that, this is annoying. I must say, the spa is nice, I loved hot stone massage and facials. It's worth spending money :)
---
We just spent 5 days at the resort. It was all we had hoped for from service to food and room. We were warmly greeted when we checked in, given a glass of champagne and a room upgrade! Everyone is so customer service focused you always feel well taken care of. Our room was just beautiful and the ocean view was just what we needed coming from snowy New England. We tried all the restaurants and had room service all was very good. The pools and beach services were great. Cant say enough about this property...look forward to another visit.
cathy r - Falmouth, Maine
---
Hands down this is a great hotel. Beautiful, amazing amenities, helpful staff, great beach. I am just not sure it merits $800 a night. The food was ok - not great. Coffee is ridiculously expensive and should be offered for free to guests after paying such an exorbitant price. Overall it's a great experience and one I recommend - just not sure it merits the price.
HobSully - New York City, New York
---
We had a lovely suite with a beach view. The bedroom and master bath are gorgeous. However, having stayed at many of the world's finest hotels, this didnt even compare in terms of service. When we checked in the woman at the front desk was disorganized, and it took far too long with 4 kids at 11 PM. We called down for some extra blankets for the kids, they never arrived. The valet has been consistently horrible, with 10 - 15 m waits for the car even after we called in advance. they also damaged our rental vehicle. The beach staff are excellent, but the wait staff in the indoor dining (breakfast, and lunch) were all not what we'd expect at this resort. All in all very poor service, no attention to detail, and just sloppy.
Mercedesct - San Francisco, California, United States
---
I recently returned to Acqualina for 3 glorious days. It's an amazing place if you want tranquility and to feel at home. The standard room is fabulous--and I never wanted to leave. A friend and I did girls' spa retreat and it was overall splendid. The spa treatments are the best I have had---the Himalayan hot stone incredible. I am always sad to leave and hope that I can get back to my Acqualina "home" away from home again soon. Truly the best staff and service!!
Pam A - Englewood, New Jersey
---