Please select your dates to see prices:
---
Acqualina Resort & Spa on the Beach in Sunny Isles Beach, Florida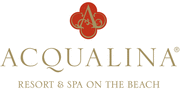 Acqualina Resort & Spa on the Beach picked an ideal location to pitch its bright red beach loungers and cozy hammocks. Fashion types will delight in the proximity of the Bal Harbour Shops and Aventura Mall, while guests who crave Miami Beach's neon lights can easily get their nightly fix. The biggest temptation, however, is right at the resort – four pools, including an adults-only oasis flanked by cabanas, offer tranquility that can only be topped by a visit to the Finnish saunas and ice fountains at the award-winning spa.
Claim your shaded lounge chair on a quiet, sugary beach early and fall promptly back to sleep. The sun warms you to the core. Drift in crystal-clear Atlantic water and walk back through lush gardens, stopping to sip on a pineapple-mango smoothie by the pool. Take an afternoon drive to explore Miami's Art Deco district and return for a plate of rigatoni worth writing home about – to your New York friends still waiting for reservations.
Location of Acqualina Resort & Spa on the Beach
Acqualina Resort & Spa on the Beach
17875 Collins Avenue
33160
Sunny Isles Beach, Florida
Nearest Airport: MIA
Amenities for Acqualina Resort & Spa on the Beach
97 Rooms & Suites
Private Terraces
Oceanfront Dining
Beach Butler
Chauffeur Service
Beauty Salon
Pool Wait Service
Beach Club
Pool & Beach Cabanas
Shopping Shuttle
Wine Tasting
Fitness Classes
Beach Volleyball
Beach Soccer
Fishing
Kayaking
Sailing
Snorkeling
Parasailing
Jet Skiing
Boating
Children's Programs
Babysitting
Reviews for Acqualina Resort & Spa on the Beach
---
When talking to people about the amazing Acqualina I never run short of expressing how amazing, and welcoming this resort is. I have been a returning guest here for over 4 years,and I have to say my family and I always can't wait to return back. We have met some remarkable people on staff, and they always exceed and go above and beyond our expectation upon on return. There impeccable service, and hospitality stands by the 5 star resort. When my family and I vacation at Acqualina, we call it our "home away from home." Honestly, we can never get enough of spending quality time at our favorite place to visit. We have made amazing friends there, and we always are happy and excited to return back to see all of them and catch up and chat. If you are looking for somewhere to vacation, or have a long weekend just to decompress I highly recommend Acqualina! The resort, and staff will exceed your highest standards! The Goulas family
---
We cannot say enough great things about our experience at Aqualina. My wife and I arrived with our two kids and were presented with such amazing hospitality. We immediately received complimentary champagne and fruit juices for the kids. The staff, without hesitation gave us a brief tour of the facility to insure we were familiar with all the amenities. We were then lead to our room (we chose two queen beds) was perfect for our family situation. It was chic, yet child friendly. A surprise to us when we received a lovely complimentary bottle of champagne and sand toys for the kids, which they played with the entire time. This added touch was well appreciated. The three pools on the facility 2 kids and one Adult added great diversification for any type of stay. Obviously, we chose to anchor the entire week at the kid's pool, which was amazing. The staff gave out inflatable kids floats daily and also provided complimentary sunscreen and swim diapers. The staff was extremely loquacious, and attentive while providing exceptional service. The buffet breakfast had everything you can imagine and quality was not spared at all. This was always a nice start to the day. The restaurants especially IL Mulino was 5 stars !!!!! The food was amazing and the entire staff incredible. They improvised dishes not on the menu for our children, which allowed the adults to relax…. We ate there 3 out of the 5 nights we stayed. I strongly recommend. The beach, which is steps from the resort, was beautiful and also had full service attendants. However, with all that said, nothing compares to the management of Aqualina which was outstanding. We would like to highlight Giovanna Delcastillo who went above and beyond to overcome tremendous adversity that was out of the Hotels control. She saved our vacation and with those herculean efforts we will continue to annually go to Aqualina!!!!
---
We absolutely LOVE ❤️ The Acqualina..we have been coming here for 10 years! (Twice a year) not only is the hotel gorgeous with fabulous views and great rooms..it is the staff that sets it apart! This trip we have been delighted with the Beach Pool staff..Selma, Aris and Maiky. Glenda, one of the managers, once again treated us like returning family vs guests! Everyone treats us as though we are royalty and it feels great! We will continue to come "home" to The Acqualina for many more great trips!
ckmutz - Atlanta, Georgia
---
We stayed two nights in an amazing suite overlooking the ocean, with a huge terrace. I loved the resort, which reminded me of a scaled-down Breakers in Palm Beach. Great service, beautiful pools, top-notch spa and nice Sunday brunch. We were at the tail end of busy season, so enjoyed all the hotel had to offer without the crowds. Would return in a nanosecond. Highly recommend if you want a different Miami experience without all the South Beach flash and trash.
gigio123 - Chicago, Illinois
---
Arrived Friday evening for a weekend break . First time here, normally stay at the Setai or the Mandarin , but we wanted to be closer to Aventura Mall. Check in was a breeze, cold prosecco, walked to our lovely intra-coastal view room. Huge comfy bed, large seating area , great bathroom. Thumbs up all round for the room. Staff genuine , friendly , exceptionally warm and kind. Super availability of loungers and seats on the beach and by the pools ( unlike the Mandarin Oriental , where it can be hard to get a spot ). Free car rides in a brand new Cadillac up to 5 miles away. Prices for drinks, breakfast and Sunday brunch gentler than Brickell ; brunch including bottomless booze was $ 65. Breakfast buffet is $36. Overall very pleased with the hotel and staff. Will return. Thank you .
---