Please select your dates to see prices:
---
Shangri-La Hotel Sydney in Sydney, Australia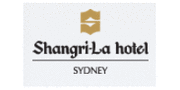 Perfectly located between the Opera House and the Harbour Bridge in the historic Rocks area of Sydney, Shangri-La Hotel Sydney enjoys a commanding position on Sydney's spectacular waterfront. Each of the elegantly appointed rooms and suites offer views that stretch across the harbour to the Pacific Ocean and west to the Blue Mountains, while dining experiences within the hotel are rich and varied ranging from award-winning Japanese cuisine at Unkai to exquisite Australian delicacies at The Rocks Teppanyaki.
Start your Sydney explorations at The Rocks, an eclectic enclave and the center of the city's history, culture, and commerce. Exploring Sydney Harbour is a must. Its multiple sandstone headlands, dramatic cliffs, and stunning bays and beaches make it one of the most beautiful stretches of water in the world. Each weekend, the stalls of the renowned Sydney Market open, offering everything from arts and crafts to exotic foodstuffs. For a bit of culture, be sure and visit the billowing architecture of the city's glorious Opera House, and explore the historic buildings, galleries, and museums.
Location of Shangri-La Hotel Sydney
Shangri-La Hotel Sydney
176 Cumberland Street, The Rocks
2000
Sydney, Australia
Nearest Airport: SYD
Reviews for Shangri-La Hotel Sydney
---
We booked a club level room with a harbour view at this hotel and it was epic. We arrived early in the day and got to the hotel well before the 3pm check in - we were so very tired as we'd flown in from London. The excellent man on the reception desk told us our room was ready and he was so warm and welcoming. We will be eternally grateful for the shower and nap that morning - 20 hour flights, no matter which cabin you fly in, are exhausting! The view was amazing and the hotel itself had staff that were truly professional and warm, they made us feel very welcome. The club room breakfast had an expansive selection of fresh fruit, juices, fresh and cooked items combined with a view of Sydney that was just breathtaking. The club lounge staff made my day by making my lattes themselves rather than just telling me to go to the machine - each day they remembered and I didn't even have to ask - now that's rare! There is a great guest service ethic in this hotel and the staff really do themselves and their employer proud. We loved our stay at the Shangri -La here and can't wait to come back!
Jonathan S - London, United Kingdom
---
We stayed on the 33 floor and the view to the Opera House was unbelievable. We were lucky enough to see fire works coming from the botanical garden two nights. The sunrise from our room paid for the room. Service was outstanding, we were travelling with our 3 years old son and they went beyond our expectations to make his and our stay pleasant. All the employees were amazing but I should refer specifically to Jerry (or Terry) from the Horizon Club, who was always specially nice and helpful. The horizon club was incredible, it offers an incredible view to the Opera house and the Harbour Bridge, so we were lucky enough to enjoy an outstanding view all the time we spent at the hotel. We enjoyed breakfast there and we were very satisfied with the quality and variety. We also went there for drinks and snacks from 6pm and were also very happy with the service, as well as wine and food quality, I 'had' to try every single dessert, I could not resist and I must tell I was never disappointed. We enjoyed the pool and the spa and were quite pleased with the area. It was the perfect way to finalise our day. I only have positive memories from my stay here.
---
I have stayed at the Shangri-La many times over the past year. There is no doubt this a 5 star hotel. It is in a great location near to Sydney Harbour, the cruise dock at Circular Quay, the train station and the city. The rooms are much bigger than other hotel rooms you will find in Sydney. If you can afford it the Deluxe Harbour View room is extra special. Would definitely recommend. The only bad point is that when the hotel is busy the lifts don't cope, but they are undergoing refurbishment which will hopefully fix this problem.
318mal - Sunshine Coast, Australia
---
Myself and my husband stayed at the Shangri-La a few weeks ago. The location was wonderful for touring the city. The rooms were very clean, nicely decorated, and the bed was very comfortable. We also enjoyed dining there for our breakfasts, and had dinner one night at Latitudes. We had a wonderful dinner there. Staff was helpful and pleasant to work with! You can't beat the view from some of the rooms.
---
My wife and I booked a Darling Harbor Horizon room and upon check-in were given a room on the 31st floor. The room itself was a very nice room with king bed and a very nice bathroom. The views of Darling Harbor were nice, but nothing compared to the Horizon lounge. Since we booked a Horizon room, we had access to the lounge on the 30th floor. This was where we had breakfast in the morning and canapes in the evening. We were given a list of rules to follow for access to lounge, but they didn't seem to be enforced. For example, children below a certain age were supposed to be out of the lounge by 1900. Most days, it seemed, kids were there until the lounge closed. Another was men weren't supposed to wear shorts in the evening, but this didn't seem to be enforced either. The two words that do come to mind about the lounge were Jay and Oscar. Jay was our server early on and he continued to be for our entire stay. He was such a delight and always kept our glasses full and was always happy. In passing he asked us whether we were there celebrating anything. I happened to mention that it was my birthday on that Saturday (this was on a Monday). When we came back from our day out in town on Saturday, there was a small birthday cake waiting in our room. He gave us great recommendations for dinner and even recommended a place where we could eat his native food, Nepalese. He went so far as to write a list of things for us to try and wanted to see pictures when we came in the following evening. Our last evening, my birthday night, we did a wine flight to try the different wines they offered in the lounge. After the lounge had closed, we had a knock on the door. It was Jay, he delivered a bottle of the wine we said was our favorite with a little note from him and Oscar wishing us a great stay and happy birthday. Oscar was always cheerful and there to keep the champagne glass full. Don't dare take a drink because as soon as you put your glass down, he's there to fill it (which really isn't a bad thing). He was always cheerful and had a great attitude. Those two made our entire stay worth it. Along with the lounge, we were very impressed with a large gym that was full of free weights, machines and cardio equipment. It was more than enough to get a great sweat going. If we ever returned to Sydney, we would definitely stay here again and book another Horizon room. It's definitely worth the extra money.
ScottSchultz - Munich, Germany
---