Please select your dates to see prices:
---
Peppers Cradle Mountain Lodge in Tasmania, Australia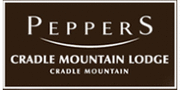 An island of inspiring beauty off Australia's southern shores, Tasmania is a unique wilderness. High among the tree-lined ranges near Cradle Mountain, a designated UNESCO World Heritage Site, Peppers Cradle Mountain Lodge offers simple pleasures, superb dining and private timber cabins rich with contemporary mountain character. At this Voyages affiliate, you'll savor the surrounding natural beauty of mirror lakes and rugged peaks, whose pervasive sense of tranquility enhances every romantic and memorable moment.
Start your day with a leisurely walk along Dove Lake Trail, which offers a variety of guided walking routes. Learn to fly-fish, hop on a mountain bike or go canoeing. Spot native wallabies and wombats on a night viewing tour in an off-road vehicle. Bring our your radiance at the Waldheim Alpine Spa and then have a fine time being tempted by the Highland Restaurant and its walk-in wine cellar.
Location of Peppers Cradle Mountain Lodge
Peppers Cradle Mountain Lodge
4038 Cradle Mountain Rd Cradle Mountain
Tasmania, Australia
Nearest Airport: DPO
Reviews for Peppers Cradle Mountain Lodge
---
We booked into this National Park Hotel for just a night on our return from Tasmania's NW Coast. We arrived early in the afternoon and, although our room wasn't yet ready, were able to take advantage of the welcoming open fire in the guest's lounge(s) and enjoy a drink in comfort. A phone call from reception to confirm our cabin availability and a short 2 minute drive found us at a very welcoming little nest of cabins, each with easy parking. Don't be fooled by the wood stacked outside, most of the cabins have gas heaters which provide a comfortable warmth. Cabins are set up like studio apartments and are devoid of TV and wi-fi to make the most of the natural setting. Bed was firm, but comfortable as were lounge/reading chairs. Breakfast was served in the Highland Restaurant in the main lodge and provided a good buffet which seemed to cater for most tastes. Not bad value and well worth a visit if you are in the area.
---
We stayed at Cradle Mountain Lodge for three nights and really enjoyed the surrounding bush, peacefulness and local animals, especially the wombats. Unfortunately we had no car and were a fair walk from the main lodge but it's only a short drive if you have a car or a nice walk in the day time. Our cabin was comfortable and lovely and warm when we had the wood fire burning. The bathroom was a bit chilly (especially the floor) and hard to heat. Staff were friendly and helpful and the meals served in the bistro were tasty, though not cheap. Would recommend Peppers as a lovely relaxing place to stay when visiting the amazing Cradle Mountain area.
---
We just spent two nights here and it was truly a lovely experience. We arrived in sunshine next day rain and last day snow which didn't stop us enjoying ourselves. My husband loves photography and he really did get some great photos. The Pencil Pine Cabins look rustic on the outside and are lovely and warm on the inside. The Staff really welcome you and they do have a good Buffet Breakfast.
Q290QFelizabethw - Kippa-Ring, Australia
---
Peace and tranquility in the most amazing of settings on the doorstep of Cradle Mountain National Park. No TV and WiFi meant this was the perfect place to stop relax and enjoy the crackling of your own wood fire in the cabins. Would have liked to enjoy the spa but were not advised to book in advance and there was nothing available for the 2 days of our stay. We would also have liked to take advantage of the daily activity's offered but were disappointed to see that there was a cost involved in everyone even for the most simple of things.
mcdeepdeene - Melbourne, Australia
---
We stayed in the King Billy suit, it was very comfortable and enjoyable. Most of our time was spent in the hot tub on the deck. The service was impeccable, all staff were very friendly and happy to help. We ate at the tavern and the highland restaurant, both were good.
---