Please select your dates to see prices:
---
Auberge Residences at Element 52 in Telluride, Colorado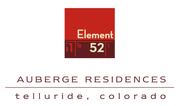 The area has long been cherished as a year-round retreat by those seeking adventure and escape in a setting of staggering natural beauty. With easy access to the mountain and local activities, the family-friendly destination of Telluride, Colorado has quietly become home to celebrities, entrepreneurs and corporate leaders from around the world. Element 52 is now a part of The Auberge Residences, a premier Telluride lodge with slope-side luxury residences. The Auberge Telluride luxury rentals and residences at Element 52 represent the pinnacle of service, comfort and luxury, immersing you in the authentic spirit of lodging at its most inviting. Enjoy the cozy accommodations, pampering amenities and outstanding services while lodging in one of Colorado's finest ski residences.
Off the slopes of a spectacular mountain destination, discover luxury accommodations in Telluride, Colorado with 48 artfully designed one-to-five-bedroom condos known as The Auberge Residences at Element 52. Here distinctive luxuries are thoughtfully intertwined with stunning natural beauty, world-class skiing and fun cultural activities. The Auberge Residences at Element 52 is the only boutique luxury property with services and amenities of this kind in downtown Telluride with direct ski-in/ski-out access.
Location of Auberge Residences at Element 52
Auberge Residences at Element 52
398 S Davis St
81435
Telluride, Colorado
Nearest Airport: ABQ, DEN
Amenities for Auberge Residences at Element 52
On-Site Amenities
Shuttle Service
Spa on Property
WiFi
Ski Lessons
Activities
Excursions
Hiking
Tennis
Mountain Biking
AlpineSki
Snowmobiling
Golf Lessons
Ice Skating
Cross Country Skiing
Snowshoeing
Snowboarding
Golf
Interests
Active & Adventure
Family
Hotels
Ski & Snow
Reviews for Auberge Residences at Element 52
---
My wife and I stayed at E3. I beautifully appointed residence. Gourmet appliances, steam shower, and wonderful bedding. The staff is incredibly attentive and gregarious. It was our first stay here, and are coming back next year with 4 couples, and a 5 bedroom. Worth every penny. 5+ stars!!
---
We love Element 52. This was our third stay and it always is impressive. Couldn't ask for friendlier staff and the amenities are fantastic. You can't go wrong here. The ski valet on site, funicular taking you directly to the slopes, and hotel vehicles for shuttling are all great features.
Goodnwa - Auburn, Alabama
---
Really hard to beat this place! Ski in, ski out location. Layout of the unit was perfect, 2 bedrooms and kitchen. 5 minute walk to gondola and downtown Telluride - and if you don't want to walk, the concierge service will drive you wherever you want to go. We've been taking family ski trips for about 10 years. This was definitely the best place we stayed.
billslome - Northbrook, Illinois
---
If you have the opportunity to stay here in Telluride, we highly recommend it! The condos are beautiful and extremely luxurious, it really is first class living. You can hop on the slopes via your private ski 'lift' and sit out by the fire at night. The location is perfect for walking downtown and to some of the best restaurants in the area. One of our favorite stays ever!
Kelsey H - Durham, North Carolina
---
This propert is incredible. Great staff, location, amenities, accommodations. It has it all. Perfect for any group. Proximity to downtown restaurants and shopping is a huge plus. The funicular takes you right to the snow for ski in ski out. Will be coming back for sure.
Goodnwa - Auburn, Alabama
---