Please select your dates to see prices:
---
Hostal de la Luz in Tepoztlan, Mexico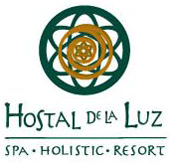 Just an hour outside the bustle of Mexico City, lies a place where nature and nurturing come together to forge an unforgettable resort experience. Hostal de la Luz - declared a World Peace Location by the Dali Lama in 2006 - is surrounded by lush vegetation and the Tepozteco Mountains, and includes 23 luxurious suites, a full-service restaurant, and signature holistic spa. Here, the focus is on peace, health, and harmony - from the feng shui design and architecture, to the meditation alcoves and thoughtful personal service. Your suite features its own private terrace, connecting the bounty of beauty outdoors with the carefully designed interior spaces. Four-poster beds, cool stone flooring, and one-of-a-kind furniture add to the relaxed appeal. And you are sure to find the ultimate in comfort at every turn. Spend some time exploring the resort grounds to fully appreciate the offerings, including the mazes of walking labyrinths, and an ancient temazcal, where purification sessions increase balance and detoxify your body and mind. With such incredible amenities and such a unique approach, your time at Hostal de la Luz is much more than a vacation.
The resort's Sirio Spa is a paradise of healing, drawing from Eastern philosophies and practies to bring you unparalleled treatments and rituals. From hot stone massage to reflexology, aromatherapy, and hydration facials, the offerings here all embrace balance and promote physical and mental peace. Step outside to swim in the Sun and Moon pool, which encompasses a whirlpool, or dive into the Cenote Pool, built from river stone and rock ferrite to emulate a natural environment. Hostal de la Luz also features a meditative ashram, perfect for finding a true sense of quiet, or you can practice yoga with experienced leaders in the craft. Shambhala Restaurant serves cuisine from a regionally acclaimed chef, in addition to hosting 180-degree views over the mountains and surrounding forest, making mealtime fulfilling in more ways than one. For an even closer view, head out on a hike and be certain not to miss El Tepozteco, an archaeological site that holds the temple to the Aztec god Tepoztecatl and a pyramid built to his honor. Take time to channel your energy into creating balance and health from within, and allow Hostal de la Luz to be your guide to a destination that will inspire your well-being in every way.
Location of Hostal de la Luz
Hostal de la Luz
Carretera Federal Fepoztlan Amatlan
62524
Tepoztlan, Mexico
Nearest Airport: TLC
Amenities for Hostal de la Luz
General Information
23 Guest Rooms
Adults Only
On-Site Amenities
Spa on Property
Spa Services
Garden
Outdoor Pool
In-Room Amenities
Private Decks
Viewing Decks
Activities
Nature Walks
Tai Chi
Yoga
Meditation
Reviews for Hostal de la Luz
---
This is a great hotel with a lot of different holistic experiences. Food is based on the flavorful mexican cousine. Service is great. The room we used for our conference meeting had an inadequate acoustic for our purpose. But other than that it was perfect experience
---
This place exceeded all my expectations! The food was amazing and the staff attentive. I was surprised that they would let you dine where ever you chose. Many pockets of beautiful places in resort to escape and retreat. pools and hot tubs spread all over property. Spa services top notch. Can't wait to return!
---
We spent the weekend and had a Temazcal with Andrés, the shaman. Amazing experience, amazing place, and service from all the staff. If you are seeking NATURE, and Peace of mind I recommend. It´s a not a party place, it´s a place to relax and go within.
Ceci_Danzantes - Mexico City, Mexico
---
Very weird experience. I was trying to make a reservation for their Tlama Grand Suite. But after two emails I asked how much the total would be and if they might have a discount for three nights. That's when they totally ignored me. I sent out three more emails but they never bothered to answer any of them. Strange for a $250 USD per night room! I'm a very frequent business traveller and have never faced an issue like this before. Mind you I'm also fluent in Spanish, so it's isn't a case of language barrier.
MrVanes - Lake Worth, Florida
---
This is a beautifully crafted spa resort hotel outside of the small town with fields of grazing horses and cattle on either side. The spa offers several unique treatments and the facial and massage was good. Some therapists are better than others. Most of the staff are very accommodating and friendly; however don't expect the staff to necessarily speak English. They make super smoothies and have a pretty endless cool pool as well as a heated pool. I guess it can get cool in winter. The mid-range suites are very comfortable but they only offer wi-fi and mobile signal for your cellphone in one location, Try the labyrinth guided meditation walk with your eyes closed. Great attention to detail with holistic spiritual statues sprinkled around each area with its own character. There's no gym. Incredible views of the mountains in the near distance and lovely colorful landscaping, cobbelstone streets with cows meandering down the hill and fields of horses grazing. Its supposed to be a vortex. The Dalai Lama has blessed this spot.
---