Please select your dates to see prices:
---
Aqua Wellness Resort in Tola, Nicaragua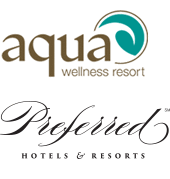 The tree houses at Aqua Wellness Resort serve two purposes. The first, obviously, is to inspire plenty of "I can't believe we're doing this!" exclamations, which you'll catch yourself uttering as you sip champagne in an aerial plunge pool as the sun sinks into Redondo Bay. The other reason for tree living is environmental: By building above the forest floor, Aqua is minimizing its impact on a delicate ecosystem. Get up close and personal with nature – after all, it's in your living room – and let the yoga classes, organic spa treatments, and healing hillside location work their magic.
Make friends with the neighboring families of howler monkeys who will be your complimentary alarm clock. Watch the sunrise with a cup of coffee as the creatures catch up on the night's gossip. Spot a bright red tree frog dodge the gaze of a woodpecker. Walk along the shores of a private cove and keep an eye out for tracks from nesting sea turtles. Paddle through mangrove forests. Feast on Nicaraguan churrasco with a glass of fresh-squeezed tamarind, dragon fruit and watermelon juice.
Location of Aqua Wellness Resort
Aqua Wellness Resort
1 Redonda Bay
Tola, Nicaragua
Nearest Airport: MGA
Amenities for Aqua Wellness Resort
General Information
28 Guest Rooms
Dining
Private Dining
Restaurant
Bar
Organic Cuisine
Bakery
Picnics
Vegetarian Cuisine
On-Site Amenities
Spa Services
Private Beach
Complimentary WiFi
In-Room Amenities
Air Conditioning
Ceiling Fans
In-Room Safes
Mini Bar
Coffee & Tea Facilities
Activities
Fishing
Hiking
Kayaking
Snorkeling
Yoga
Surfing
Wildlife Viewing
Paddleboarding
Horseback Riding
Nearby
Restaurants
Nature Reserve
Interests
Active & Adventure
Beach
Honeymoons & Romance
Spa & Wellness
Reviews for Aqua Wellness Resort
---
My Wife and I had a fantastic 3 nights at Aqua Wellness in mid Feb. The location is absolutely beautiful and the resort does a great job at capitalizing on the natural beauty while remaining un-obtrusive. We ended up upgrading to a beach front tree house and it was a great move...literally steps from the private beach and the views were incredible. Watching the sunset from the plunge pool was a highlight. The staff was great...super friendly and helpful. The ladies at the front desk were very nice and helped us arrange transportation and smooth our a few small issues. The food at the resort is very good but a little pricey but the wait staff and overall service and setting makes it worth it. If you want cheaper dining options or need to head to the store, Playa Gigante is cool town and only about a 20 min walk. If you are looking to relax and unwind while drinking Pinas on the beach, this the place to do it.
---
This place is expensive but it is a gorgeous resort. You are really in the trees. The monkeys come say hi. And it's practically heaven. Their basic room is fairly small and might not have the best views. The luxury suites were bigger (kitchen/living area plus bedroom) and usually come with a small private pool. There are definitely a lot of stairs, which I actually enjoyed. Yoga overlooking the ocean was perfect. They have some fun beach activities, but when we went it was windy and they wouldn't let us out in the water with the kayaks/paddleboards. The only place to eat is their little (expensive) restaurant on the beach and after 4 days of eating there we all got sick. Besides that, it was very relaxing, had amazing views, and the staff was great.
FaithR4314 - Lindon, Utah
---
This place is absolutely amazing. First let's talk the cons: Not all paths easy to walk on (bring tennis shoes) Safe and phone did not work (they did fix it) Food was mediocre (go to gigante) 10% tip on everything (do not overtip) Bugs (bring spray you are in a legit forest) Windy (no control on weather but water is murky for snorkeling) Free drink on checkin (is non alcoholic juice) Expensive and overpriced tours (use the local tour operators such as pastaro tours in gigante) Now for the pros: Free kayaks and stand up paddle board) Easy transportation to airport Path to gigante with monkeys Beautiful beach Amazing rooms with plunge pools Awesome wildlife and scenery (saw a kinkajou, monkeys, birds, snakes and other exotic animals) Beds super comfy Rainfall showers Morning/afternoon yoga Make sure to go to gigante. Try juntos nachos, the cafe has amazing food, and walk around on the beach. We wish we had stayed longer but must go back to winter.
---
Wonderful hardwood tree houses set in a forested valley ending in a small bay with a white sandy beach looking up at the other side of the Gigante foot. The whole property has been beautifully designed to preserve the local ecology. Many different animals and birds but the most obvious and the noisiest of course are the howler monkeys which are a joy to watch as they bound from tree to tree. Just never stand underneath them; they can be mischievous! We were lucky enough to have a suite with a very well equipped kitchen, plunge pool and decking high up in the canopy with stunning views through the trees to the sea and up the coastline. A very restful spot with great facilities but a couple things would be useful: a bedside light (or at least light switch) would save you from beating shins against the furniture when you have switched the light off by the door or get up at night or simply if you wish to read. Surely this should be a no brainier in a resort of this quality. The bed is comfortable but a little too soft for my back. The pillows are far too thick to be good for a healthy sleeping posture. Also mugs in the kitchen please or if not provide a teapot. I would say that everything was spotlessly clean which immediately makes you feel more comfortable. The staff are generally friendly and helpful. The food at the beachside restaurant is good. Breakfast service is a little chaotic and service seems to be granted on a random basis rather than first come first served. Lunch is more ordered. Good menu and reasonable wines but all rather pricey for what it is. The beach staff though appear lazy and do not keep the beach environment as you might expect, meaning rubbish and debris should be cleared and loungers and seating should be kept tidy and in good order. Getting a beach towel should not be a trial. I read many of the reviews on Aqua and given the comments one is left a little cautious of them, although it is quite transparent. They tell you up front 10% is going to be added to your entire bill at the end that covers resort costs and tips etc. You also know that taxes amount to 17%. Every time you eat or drink an enforced 10% tip is added to your bill and then they invite you tip further for excellent service; what for talking to you nicely just before you are given the bill?! Don't these people get paid at all? Just be aware that you could end up paying the thick end of 50% more than you expected when you first researched your stay in this wonderful place. We loved our time here and would certainly consider returning. Something to be aware of is that you must be able bodied to stay here to get the best out of it and certainly nothing with wheels as there were about 200 steps from where we were down to the beach! Very good exercise at least!
TonyPKL - Kings Langley, United Kingdom
---
We really enjoyed our 3 nights here and it was difficult to leave. the staff are so friendly and you really get rewarded by them for being friendly and nice to them. Franco and Martin were particularly lovely to us. Go here if you want a few days away from the madness to relax and drink lovely cocktails.
fdiamo158442 - Norfolk, United Kingdom
---