Please select your dates to see prices:
---
Aqua Wellness Resort in Tola, Nicaragua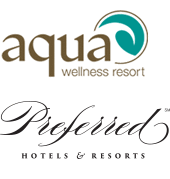 The tree houses at Aqua Wellness Resort serve two purposes. The first, obviously, is to inspire plenty of "I can't believe we're doing this!" exclamations, which you'll catch yourself uttering as you sip champagne in an aerial plunge pool as the sun sinks into Redondo Bay. The other reason for tree living is environmental: By building above the forest floor, Aqua is minimizing its impact on a delicate ecosystem. Get up close and personal with nature – after all, it's in your living room – and let the yoga classes, organic spa treatments, and healing hillside location work their magic.
Make friends with the neighboring families of howler monkeys who will be your complimentary alarm clock. Watch the sunrise with a cup of coffee as the creatures catch up on the night's gossip. Spot a bright red tree frog dodge the gaze of a woodpecker. Walk along the shores of a private cove and keep an eye out for tracks from nesting sea turtles. Paddle through mangrove forests. Feast on Nicaraguan churrasco with a glass of fresh-squeezed tamarind, dragon fruit and watermelon juice.
Location of Aqua Wellness Resort
Aqua Wellness Resort
1 Redonda Bay
Tola, Nicaragua
Nearest Airport: MGA
Amenities for Aqua Wellness Resort
General Information
28 Guest Rooms
Dining
Private Dining
Restaurant
Bar
Organic Cuisine
Bakery
Picnics
Vegetarian Cuisine
On-Site Amenities
Spa Services
Private Beach
Complimentary WiFi
In-Room Amenities
Air Conditioning
Ceiling Fans
In-Room Safes
Mini Bar
Coffee & Tea Facilities
Activities
Fishing
Hiking
Kayaking
Snorkeling
Yoga
Surfing
Wildlife Viewing
Paddleboarding
Horseback Riding
Nearby
Restaurants
Nature Reserve
Interests
Active & Adventure
Beach
Honeymoons & Romance
Spa & Wellness
Reviews for Aqua Wellness Resort
---
After an initial glitch with a mix up of rooms, Aqua more than made up for the mistake, putting us in the original requested room on second night. They offered a discounted room rate, comped breakfasts and comped rides to and from the resort to make up for the inconvenience of the wrong room and having to switch rooms. The resort is absolutely beautiful with a bigger and more beautiful beach than the photos suggest. The poor reviews about the food we found to be untrue. Every meal we had was delicious. Make sure you walk over to Playa Gigante to see the 'local' side of things...we were there over Easter and the Playa was in full swing with the locals. A wonderful and welcoming experience for we Americans. Of particular note was Christian, the manager who exceded customer service in every way. When I inquired about a pharmacy that supplied Dramamine or other motion sickness pills, (the roads in Nica are not exactly smooth and Lake Nicaragua that we had to cross is like an Ocean), they said most pharmacies were likely closed because of the Easter Holiday. Totally understandable. To my great surprise, the day we left I was given (not charged for, but given) a sleeve of motion sickness pill,that the staff somehow found. ABSOLUTELY ABOVE AND BEYOND!!!! Thanks, Aqua for a wonderful stay and a model example of customer service, especially after an initial issue.
blemmerling0211 - Princeton, New Jersey
---
This is a very nice place approximate 13 kilometers from the town of Tola. Most of the way is paved; as soon you cross the security gate, you start driving on unpaved roadway and up hills approximate 1 kilometer. Then, you arrive to the reception, a wood cabin. A very nice lady greeted me with a smile. This was my first time in this place; and, I found its pros and cons. Pros Excellent Customer Service: People were super nice; always smiling and making you feel at home. View: The Cabins are built on the hills; you can see the beautiful pacific ocean just in front of your window. Therefore, you do a lot of climbing going uphill and downhill. Also, you can see monkeys, raccoon or wild birds just hanging around your cabin. It was very nice to be in touch with nature. Beach: the private beach is very nice, and, you have a lot of amenities, surfing, snorkeling, paddling and a restaurant with a excellent food. I recommend the ceviche with a Victoria (beer). Cons Privacy: The cabins have not too much privacy. The glass windows and doors do not have blinds or curtains. even though, the design has some shade facia type on the window semi opened to avoid any view from outside. Sometimes, I feel like someone was watching. It is only my personal opinion; specially, if you are with family; other people might not care. Cabins: My cabin was nice with a wonderful view; however, it has a little pool adjacent to the main door. I asked if this was part of my room; but, it was not, it belongs to the next room. So, if my neighbor feels like jumping in the pool at midnight; I'll be hearing all the noise, etc. It did no make sense. Also, the balcony needs some maintenance. Finally, an elderly person will have a lot of challenge climbing to his or her room. In conclusion, this place is a very nice place with a great costumer service, beautiful beach and great view. will I visit again this place? yes, no doubt!
mart1212 - Los Angeles, California
---
We had a fantastic time at Aqua Wellness. This place is absolutely beautiful, the perfect place to unwind and use as a base for the many things that Nicaragua has to offer. We loved - our tree house with A/C and plenty of hot water plus nice comfortable beds the monkeys the beach and clear, cool water the staff especially Gary, Santiago the chef and Amir who was also our surf instructor the yoga was excellent spa very good. We did quite a few trips including surfing, the whole family learned to surf and the instruction was excellent. We also did a fantastic deep sea fishing and sushi eating trip with Edward - highly recommend. Then Santiago cooked our catch that evening - superb. The only small negatives - would have been good to have more umbrellas / shade on the beach food was mainly good but could be a bit hit and miss maybe invest some time training staff to improve their English kids would have liked more regular ice cream flavors! Seems like some Americans view Nicaragua as dangerous. We found only lovely, friendly people and would encourage people to visit this beautiful place especially if you love surfing, fishing and a truly difference experience.
SueRatcliff - Charlotte, North Carolina
---
This is a "one of a kind" experience. Where the mountains meet the Pacific Ocean, they have built casitas on the hillside. Of course this means stairs and lots of them. We were near the top, about 10 flights above the beach, with a great view. And we did the walk about 3 times a day. Some of the lower ones still had good views. If you get one with a kitchen, be sure to get some groceries in Revas on the way. El Gigante (we walked there) has 2 small shops, not ready for prime time shopping. And the food in the restaurant is very good. We were surprised they don't talk it up on their website. They also leave you alone. If you have needs, you have to ask. The internet was surprisingly excellent, too.
lncclc - Saratoga Springs, New York
---
I have never written a review before, but felt the need to inform ppl about this place . The good: The views are nice from the ocean view rooms, although it's not a clear view. The bad: The suite we are staying in, Is next to a road which leads to private houses. (Air bnb) the people there are partying hard. Not the tranquil stay we expected. Avoid suite E and D The rooms have no sitting space or space for luggage The "private" pools are attached to other guest rooms which is really awkward There are a lot of steps and bugs ! Inside and out. I was really excited about this place, this was the last place on our trip. We went cheap everywhere else to save the best for last. While the concept of this place is cool. The delivery is not. We've stayed in a lot of low end and high end places. This is not worth the high end prices !
---