Please select your dates to see prices:
---
Aqua Wellness Resort in Tola, Nicaragua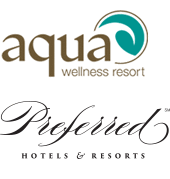 The tree houses at Aqua Wellness Resort serve two purposes. The first, obviously, is to inspire plenty of "I can't believe we're doing this!" exclamations, which you'll catch yourself uttering as you sip champagne in an aerial plunge pool as the sun sinks into Redondo Bay. The other reason for tree living is environmental: By building above the forest floor, Aqua is minimizing its impact on a delicate ecosystem. Get up close and personal with nature – after all, it's in your living room – and let the yoga classes, organic spa treatments, and healing hillside location work their magic.
Make friends with the neighboring families of howler monkeys who will be your complimentary alarm clock. Watch the sunrise with a cup of coffee as the creatures catch up on the night's gossip. Spot a bright red tree frog dodge the gaze of a woodpecker. Walk along the shores of a private cove and keep an eye out for tracks from nesting sea turtles. Paddle through mangrove forests. Feast on Nicaraguan churrasco with a glass of fresh-squeezed tamarind, dragon fruit and watermelon juice.
Location of Aqua Wellness Resort
Aqua Wellness Resort
1 Redonda Bay
Tola, Nicaragua
Nearest Airport: MGA
Amenities for Aqua Wellness Resort
General Information
28 Guest Rooms
Dining
Private Dining
Restaurant
Bar
Organic Cuisine
Bakery
Picnics
Vegetarian Cuisine
On-Site Amenities
Spa Services
Private Beach
Complimentary WiFi
In-Room Amenities
Air Conditioning
Ceiling Fans
In-Room Safes
Mini Bar
Coffee & Tea Facilities
Activities
Fishing
Hiking
Kayaking
Snorkeling
Yoga
Surfing
Wildlife Viewing
Paddleboarding
Horseback Riding
Nearby
Restaurants
Nature Reserve
Interests
Active & Adventure
Beach
Honeymoons & Romance
Spa & Wellness
Reviews for Aqua Wellness Resort
---
My wife and I have fallen in love with this place. We fall asleep to the soothing noise of crashing waves and we wake to monkeys in the trees and on our balcony. This resort is an oasis of tranquility. We came here to reconnect after the birth of our first child last year and it has brought our relationship to a whole new level. My wife says she had her best massage and exfoliation treatment in her life at the spa. The staff have been so accommodating it is like we are beloved family. The treehouse designs and furnishings are perfect for a location overlooking a beautiful beach in a private bay. The food has been deliciously fresh. My wife and I travel frequently and this has been one of our best trips ever
tearlachh - Dallas, Texas
---
I can not say enough goof things about Aqua. It is a TRULY magical place. The tree houses, plunge pools, delicious food and views are all outrageous.....but this review is really about the yoga and more specifically Mandy. I booked a private session for myself and a coworker and Mandy went out of her way to perfectly taylor it to each of our fitness levels. She set up the platform so beautifully and really made a safe comfortable place for us (total beginners) to practice. It was such a wonderful positive experience, life changing. Thank you Mandy! Can't wait to come back!
---
This is simply one of the most amazing resorts I've ever seen. The construction is so incredible - such obvious quality - and that they did it on the side of these cliffs right on the Pacific Ocean is just astounding. It's also huge, and has small rooms up to full family tree houses. The Tiki bar down near the rocks is a fabulous place for drinks and meals. The setting is amazing. This resort could not exist in the United States, simply because there is no way to make it handicap accessible. And if walking, up and down, bothers you, this is not the resort for you. For my wife and I, the walking just burned calories for guilt free food and beverages. Seriously, an amazing place, kind of in the middle of nowhere Nicaragua. (although this area is seeing new development...)
truth20152015 - Beaufort, North Carolina
---
I went with my two kids and wife for a week and we all loved it. Service is excellent, everyone js so welcoming and polite. Food is great; loved dinners facing the sunset ag the beach restaurant. The energy is peaceful and the sunsets are outstanding. The villas are clean and cozy and you literally experience slow life way of living connected to nature. Yoga classes are triple A with the most outstanding views to the ocean. Thank you Karina for making our stay perfect!
---
I was dreaming to go to Nicaragua forever and now that we moved to Miami was the perfect occasion (2 h direct flight). I called 3 different hotels and Aqua Wellness was by far the one who welcomed us better already from the phone call. Karina was uber kind and efficient and she made me fall in love with the magic of Aqua Wellness. My 4 year old toddler, my 9 months daughter and my husband arrived two days after the call and we LOVED IT. It's even better when you see it in person. It's so magic, so especial and so peaceful that I don't have worlds to describe it. You totally disconnect of the noise and hectic life in the city. The private beach is beautiful, clean and the kids played forever in its soft sand. Breakfast was amazing, especially the Dragon fruit! The service is excellent. Everyone welcomes you with a smile and willing to make your stay perfect. There is outstanding nanny service for the kids for only 10$ per hour. They organised horse riding for all of us just 10 min away from the resort. The villas are so unique and especial! My son called it " our tree house" as it makes you feel you live in the trees in the middle of the woods. The most beautiful experience to feel connected to nature!!!! The cleaning service was TOP, they even did my laundry in just a few hours! They rented out a car for us and also organised a transfer to pick us up at the airport. Thank you so much for your efficiency! We will all come back!
---