Please select your dates to see prices:
---
Toronto Don Valley Hotel & Suites in Toronto, Ontario, Canada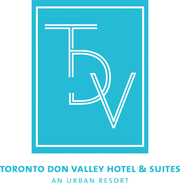 Situated on one of the most enviable pieces of property in the city, the award-winning Toronto Don Valley Hotel & Suites boasts spectacular views over the greater metropolitan area, and provides a nice escape from the bustle while still being in the heart of it all. The bright and inviting accommodations are outfitted with your favorite comforts, from ultra spacious layouts to wireless Internet access. Many rooms feature floor-to-ceiling windows or private balconies overlooking the verdant greens of the surrounding area. Regardless of the season, you can take a refreshing dip in either the gorgeous glass-enclosed indoor pool or the sunny outdoor pool - or indulge in the whirlpool, steam room and sauna. The fitness center is ideal for those looking to maintain their workout routines, and guests also have access to a nearby fitness club for additional facilities and services. Your location puts you within reach of Toronto's best attractions, from the famous Ontario Science Centre less than a mile away, to the Toronto Zoo, CN Tower, and the newly built open-air Shops at Don Mills. Look no further than the hotel lobby for excellent dining, at DV bar I bistro. This casually chic venue serves healthy and delicious selections for breakfast, lunch, and dinner, with weekly dinner and daily drink specials to encourage you to try the latest and greatest from the kitchen's talented chefs. Take pleasure in a true urban sanctuary, and enjoy the finest in amenities and more, at Toronto Don Valley Hotel & Suites.
Location of Toronto Don Valley Hotel & Suites
Toronto Don Valley Hotel & Suites
1250 Eglinton Ave East
M3C1J3
Toronto, Ontario, Canada
Nearest Airport: YYZ
Amenities for Toronto Don Valley Hotel & Suites
General Information
353 Rooms and Suites
Non-Smoking Property
Handicap Accessible Rooms
Dining
Poolside Dining
2 Restaurants
Pool Bar
Room Service
Dining Room
On-Site Amenities
Concierge
Complimentary Newspaper
Laundry Service
Gift Shop
Fitness Room
Sauna
Indoor Pool
Outdoor Pool
24-Hour Front Desk
Limousine Service
Outdoor Whirlpool
Lounge
Steam Room
ATM
Complimentary WiFi
In-Room Amenities
Cable Television
Direct Dial Telephones
Hair Dryers
Iron/Ironing Boards
Coffee & Tea Facilities
Heated Floors
Work Desks
Complimentary WiFi
Activities
Excursions
Sightseeing
Business
Business Center/Services
Meeting Rooms
Conference Facilities
Catering Services
Nearby
Historic Sites
Shopping
Train Station
Zoo
Art Galleries
Museums
Restaurants
Golf
Nightlife
Antique Shopping
Parks
Shopping Mall
Theatres
Public Transportation
Monuments
Amusement Parks
Nature Reserve
Market
Convention Center
Colleges/Universities
Interests
City
Educational
Reviews for Toronto Don Valley Hotel & Suites
---
My husband and I love this hotel. Very clean, very attentive staff, and very helpful maintenance. We ran into a couple self inflicted issues and they were more than happy to help. Very polite staff who are always ready to assist you in any way possible. Love it. Perfect location as well. So thankful to their maintenance team for retrieving my phone when i dropped it in an unlikely place!
abeddaoui03 - Toronto, Canada
---
I was in Toronto on business and stayed here two nights. My overall impression of the hotel was very good. Check-in was quick. There was someone at the desk, no waiting. The room was prepaid. They ran my credit card for $100 for incidentals - a fairly common practice in my experience. Overnight parking was $13.50 per night. They have a fair amount of surface parking which was good in that my vehicle could not go in underground parking. The lobby, bar, and public areas were bright and clean. The staff I encountered were all helpful and friendly with a smile and nice Greeting. The elevators are new. There are steps that need to be navigated to get there but I saw a lift at the side of the steps for those who need an assist. My second floor room was large, clean, and well laid out. There are two USB ports that will charge Apple products (some places don't). Two Queen beds, desk, TV, and a balcony. Room temperature was always comfortable and the room was quiet. There is in-room coffee and tea. The TV cable reception was spotty. I only watched TV for about 30 minutes once so it wasn't worth mentioning. The bathroom had the basic amenities, shower and tub. Lots of hot water. Because of my schedule I did not need the pools or any other features of the hotel. I had the breakfast buffet the last morning. I would advise doing this only if you're in a rush. For $17.50 you can do better elsewhere. Scrambled eggs, roast potatoes, bacon, sausage, croissants, Danish, toast, and, if you want, a freshly made omelet. The selection is okay, the execution was a bit off. The property is roughly halfway between downtown Toronto and Pearson International. Twenty minutes downtown at off-peak times, 40-45 minutes during rush hour. Fifteen minutes or so to the airport. I would enjoy staying here again.
msweet42 - Gatineau, Canada
---
I stayed there because it was close to my office. I understood it had been renovated. Beside the heated floor in the bathroom nothing to call your mother about. It's a fair hotel, the room was clean. Restaurent not very interesting. The staff was nice but the ambiance was extremely cold...
Catherine080 - Montreal, Quebec
---
We picked this hotel because of the distance to the Science Center, and because of the beautiful photos. When we arrived, there was no one at the front desk to check in. Waited for 5 minutes for someone to notice us. Check in was pretty quick and easy. The room was very basic. I expected a lot more. It honestly felt like we were at the HOJO. The room was very cool (even with the heat on high), and the comforters smelled of heavy laundry soap or perfume. (not sure which, although i hope it was the soap) Made my daughter break out due to the perfume. Beds were uncomfortable and we could not wait to check out in the morning. As for the pools- My kids got their suits on and excitedly went to the lobby with my husband to find out where the pool was, only to be told that it is closed for renovations. This was not mentioned during check in nor when i called in to confirm our reservation. While on the phone i was told that there were two pools, one indoor and one outdoor. Not one mention it was closed. I would not recommend this hotel to anyone. Save your time and money and check out a motel 6/ super 8. Same quality. Same experience.
letsgetaway4 - Ontario, Canada
---
Over all great experience at the Don Valley Hotel and suites. Really nice to have a balcony on the room as most hotels in Toronto do not offer this. Very welcoming lobby. Bright and spacious design. Very clean. Front desk staff are very eager to help with anything. Guest rooms are bright and spacious and immaculately clean. Very comfortable beds. The out door pool was amazing. So nice to be able to enjoy a nice summer night at an outdoor pool after a long day of stressful meetings. The only negative thing I have to say is when I booked the room I was told the hotel was close to downtown. It is about a 20 minuet drive to the main downtown area of Toronto. Other than that nothing negative to say. Overall a great stay and I will be back for sure this summer to once again enjoy the outdoor pool.
Todd R - Banff National Park, Canada
---