Please select your dates to see prices:
---
Frenchmans in Tortola, British Virgin Islands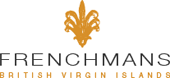 Feel the warmth of the tropical morning sun on your face, breathe in the delicious air of the Caribbean and open your eyes to stunning natural splendor at Frenchmans. Overlooking golden sands and crystal clear waters, on the tip of a private 12-acre peninsula in the British Virgin Islands, this fabulous resort is your escape to paradise. Nine separate cottages offer spacious, open comfort, with one to two bedrooms, and a relaxing Balinese-inspired design. Enjoy full kitchens, elegant bathrooms, and complete modern entertainment systems when indoors, and step out onto your magnificent balcony to soak in the sun and gaze out over the breathtaking island views. Seamlessly blending modern elegance and sophistication with the tranquil, casual ambiance of the beach, sink into complete comfort and relaxation at Frenchmans.
After a wonderful breakfast in the Clubhouse, make your way to Serenity Spa for an amazing massage that will leave you feeling refreshed and ready to explore the island. Stroll right down to the beach and stretch out on the warm sands, or dive into the Caribbean and snorkel along vibrant reefs. Enjoy some surfing lessons before hitting the waves for a full day, or take in the sights from the coast as you kayak around the island. Visit nearby Sopers Hole Marina and take out a beautiful yacht for a relaxing day at sea, or head out onto the open ocean for an exciting day of deep sea fishing. In the afternoon hike to the highest peak on the island in Sage Mountain National Park, then return to the resort for a friendly evening tennis match. As the sun begins to dip beyond the horizon relax and sip a delicious and refreshing cocktail, enjoying your first night surrounded by complete natural beauty. With the stars shining brilliantly overhead sit down to a wonderful dinner and laugh the night away as you decide on what exciting things you will experience the next day in the beautiful Caribbean.
Location of Frenchmans
Frenchmans
Frenchman's Cay
VG100
Tortola, British Virgin Islands
Nearest Airport: EIS, STT
Amenities for Frenchmans
General Information
12 Cottages
Only 4+ Years Permitted
Dining
Outdoor Dining
Restaurant
On-Site Amenities
Concierge
Spa Services
WiFi
Outdoor Pool
Beach Access
Car Rental
In-Room Spa Services
Provisioning Service
Tennis Court
In-Room Amenities
Air Conditioning
Bathrobes
Ceiling Fans
Direct Dial Telephones
In-Room Safes
iPod Docks
Flat-Screen Televisions
Luxury Linens
Luxury Bath Amenities
Fully-Equipped Kitchens
Activities
Deep Sea Fishing
Hiking
Kayaking
Sailing
Tennis
Scuba Diving
Snorkeling
Nature Walks
Yoga
ATV Tours
Surfing
Nearby
Restaurants
Beaches
Reviews for Frenchmans
---
We stayed at the Frenchmans this summer and had a fantastic time. The host was exceptional and the property was gorgeous. We are saddened to hear that the resort has since closed due to hurricane damage but are hopeful that they can reopen in the future with a better-than-ever experience. Best wishes to the fantastic crew and owners. We will never forget our experience at the frenchmans, Truly outstanding.
---
I know Tortola just got hit pretty hard with a hurricane and one of my first thoughts is that I hope Peter and Frenchman's is ok. I've never enjoyed talking to a hotel manager as much as Peter. My wife and I looked forward to the amazing continental breakfasts... seriously, best breakfast ever, of all time for both the incredible food and the amazing and friendly company.
---
We had a wonderful time during our 4 1/2 day stay at the Frenchmans. Peter and his staff are very helpful, courteous and friendly. You need a 4WD vehicle to get around the island reliably. A storm disrupted our stay towards the end, and through it all, the Frenchmans staff were very helpful and patient despite cellular, internet and road travel disruptions. The villas are luxurious, spacious and very well maintained. The views from the villa are breathtaking.
---
The staff was amazing and helpful! When our luggage was lost on the way they provided with some toiletries and sleep clothes AND helped us locate the bags and made sure that they got to us. The rooms were beautiful. Very comfortable and homey. The views were spectacular. I can't imagine staying anywhere else on the island.
---
We were on and around the Islands for a month in August. This was our third resort/locale. Our only one on Tortola. Their motto is peace and serenity and they met their goal. We were greeted promptly and our bags taken to our room. Peter the Hotel GM met with us and invited us to a wine reception that evening with all the other guests. It was very nice to get to meet everyone. It made us feel safe and welcome. The property has 8 villas but you would think you're the only one on the beach. It's very private and serene. They have snorkeling, kayaking and pool side service.Peter was a great source for information on where to buy things, where to eat, he got us a rental car in minutes. He has a wonderful personality and a great source of useful information about the Island. Our stay could not have been better. Our villa was delightful, clean, stocked, had a TV with Netflix, and the bed was very comfortable and all the hot water you could ask for. The location is great because you can easily get to Road Town in 15 minutes by car and to the North side in about the same time. This puts other beaches and restaurants into play very easily. You're also right next to Sopper's hole for quick provisions and light shopping. Peter, thanks for turning my wife onto the Virgin Jasper which is local and only available here on Tortola. We found the jewelry store on Old Main just like you said. She wore it out tonight and she is delighted and can't wait to show her friends back home. Thanks again for all your valuable and honest insights - we will be back.
Nick C - Livermore, California
---