Please select your dates to see prices:
---
Grand Hotel Tremezzo in Tremezzina, Lago di Como Italia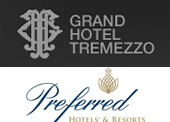 The Grand Hotel Tremezzo is an art nouveau landmark, which sits adjacent to Villa Carlotta's famed gardens, and is an authentic Art Nouveau palace that offers a warm and inviting welcome with all the delights of a true 5-star vacation. Discover a world of temptations in what we call the T Vacation…experience the pleasures of a holiday with a unique atmosphere and flavours you will only find here at Tremezzo.
Our rooms are flooded with joy and light as we elegantly furnished them with period furnishings from the Hotel's historic collection. Each of our rooms come with individual features making them as unique and beautiful as our guests. At Grand Hotel Tremezzo we want your dining experience to be as exclusive and astounding as your surroundings. Our 5 different restaurants and bars specialize in serving signature Italian culinary delicacies. Our signature T Spa delivers the ultimate blend of care, professionalism and harmony treatments from one of the world's most exclusive, distinguished beauty providers, ESPA.
Location of Grand Hotel Tremezzo
Grand Hotel Tremezzo
Via Regina, 8 Via Regina, 8 - 22016
22016
Tremezzina, Lago di Como Italia
Nearest Airport: MXP
Amenities for Grand Hotel Tremezzo
General Information
100 Guest Rooms
Dining
Wine Bar
Restaurants
On-Site Amenities
Spa Services
Wellness Center
Interests
Hotels
Spa & Wellness
Reviews for Grand Hotel Tremezzo
---
Without a doubt the best hotel on the Lake. The hotel is not too large in size and there is a large amount of staff to accommodate everyone. The rooms are in old style but with modern appliances. The spa is phenomenal with a exceptional indoor. The true beauty of this hotel is that it is not too big so it remains small, cozy and romantic. The breakfast is outstanding with over 13 large buffet tabes from you to choose from. I would recommend this location 100%, it is great for 2-3 nights maximum. Great to drive into with an amazing parking service.
---
Spent a weekend here in between 2 weeks of business. Looking for somewhere to enjoy best possible service and food. I wasn't disappointed. The hotel is beautiful, quiet, opulent and everything expected. Staff are excellent and clearly love the hotel and working there. It's a formal hotel but easy to be casual and everyone very relaxed. In winter the hotel feels almost like your own private club. There are no faults. I will return in summer.
StuckinBangers - Auckland, New Zealand
---
Cocktails in the evening to catch the sunset is very romantic. The view over the lake is absolutely outstanding. The drinks are perfectly made and the bar snacks are 5 star and very tasty. Have been twice (once each on different visits to Lake Como) and would not hesitate to go again.
ijudd - London, United Kingdom
---
We hope the new manager of the Grand Hotel Tremezzo is reading this as there is only 1 negative for us. Such a small thing we were not going to include on our review - but so easy to change and was so frustrating. As return guests this summer (our 3rd time) we are crossing our fingers this gets fixed. For the price and pure luxury of booking a suite at GHT 2300EUR / night ++ $$$ You would think that breakfast would be included. We were told the full breakfast buffet downstairs was part of the room rate, but when we wanted to order for our room and sit on the balcony they told us it was only basic continental breakfast included?? We ordered scrambled eggs for 1 person and 1 pancake (the size of my palm) which they proceeded to ding us for on our bill at checkout -- paying $12 plus tax for a pancake and another $10 for eggs when we just spent over $12,000 US dollars for our 4 night stay is simply wrong. We explained our disappointment and disbelief but they would not reverse the charge. It's not the money - it's the principle of it. Make your suite level guests feel sweet by including this basic amenity of breakfast in room - like any other 5 star property. We are part of Amex FHR but this did not matter either. Otherwise on a positive note -- All reviews are accurate, the grounds are stunning, views breathtaking, amazing amenities and such a well maintained property. Location perfect, many people mention the busy road in front - not a big deal - don't let this sway you. The Carlotta -- Huge foyer, lots of closets, Large suite, separate living area with a charming table for 2 in front of the window. Dead centre of hotel so views A+++ . Being on 2nd floor we did not hear noise from the road this time. Bedroom had sliding doors if you wanted a bit more privacy and 2 TV's. Bathroom large and pure luxury . If you are a tub person -- bathtub is round so not the best to relax in .. you have to sit up ... And those sheets on the bed are worth noting... it is no wonder people splurge and buy them to take home. The pool in back with the views from the lounge chairs up top are our favorite , with the Pizza bar and a prosecco only steps away. A delightful hotel and we hope this small breakfast detail will be corrected when you book a suite. PS we did the boat tour again, stopped in Varenna this time and away from all the crowds/tourist mania of Bellagio. Such a great day and lunch on Isola Comacina in the middle of the lake was a blast , check it out.
JillJ77 - Seattle, Washington
---
We had four amazing days at Hotel Tremezzo, the hotel itself is stunning and the facilities second to none. Our garden rooms was fantastic, staff really friendly and very inventive. This hotel is quite simply the best hotel we have ever stayed in.
---