Please select your dates to see prices:
---
Savoia Excelsior Palace in Trieste, Italy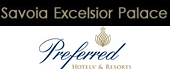 Overlooking the splendid Gulf of Trieste, an idyllic European vacation in a historical palace is brought to life at the Savoia Excelsior Palace in Italy. Escape to this famed harbor town steeped in historical references and belle epoque designs. Cozy furniture and finishes invoke a plush atmosphere to rest at night. Spacious and airy guest rooms are perfect for traveling packs, fit with luscious wash rooms, and plenty of lounge areas. Hang out in your hotel, observing the beauty of the resort winter garden pavilions in a Preferred Hotels & Resorts property, part of the Preferred Hotel Group. Walk to the historical center from your central location. Palazzo dei Congressi and the Maritime Station are outstanding buildings to see amidst the glistening water.
The rough and austere beauty of Trieste invites travelers to a mystical destination with a blooming cosmopolitan atmosphere. Built around a portal between Western and Eastern cultures, a variety of restaurants, boutiques, and bazaars can be explored throughout the day. Visit the Marine Aquarium, a beloved attraction to the city. Species from the Adriatic sea, tropical fish, reptiles, and penguins reside here. Transport through time on a journey to the History and Art Museum, exhibiting Egyptian and Greek time pieces. In a city overflowing with history and culture, enjoy the royal treatment on unique retreat to the great walls of Savoia Excelsior Palace.
Location of Savoia Excelsior Palace
Savoia Excelsior Palace
Riva del Mandracchio 4
34124
Trieste, Italy
Nearest Airport: TRS
Amenities for Savoia Excelsior Palace
Dining
19 Restaurants
4 Bars
Interests
Active & Adventure
City
Family
Reviews for Savoia Excelsior Palace
---
Large, stately and beautifully appointed. Not far from the magnificent main square along the waterfront, this hotel has rooms with excellent views over the Gulf of Trieste. Beautifully appointed and spacious, it was a pleasure to stay at the Savoia Excelsior. Rooms were light and airy, nicely decorated. Breakfast was wide and varied. The restaurant served excellent food and wine, even if service, though pleasant and friendly, lacked a little proactivity. We had an enjoyable stay here.
Blossom55 - Melbourne, Vic. Australia
---
The Savoia Excelsior Palace surpassed our expectations on every count. It is absolutely beautiful. The staff at check-in and throughout our stay was friendly and helpful. We were upgraded to a beautiful suite with a view of the water. It's location is perfect, just a few steps from the main piazza and walking distance to everything else. The breakfast buffet had everything you could want, and the dinner we had in the restaurant was really good. Trieste is a wonderful city to explore — historical, scenic, and much less crowded than other cities we visited on this trip. I would recommend this hotel - and Trieste - to anyone traveling to Italy.
Mary-Ann B - Allendale, New Jersey
---
Fantastic spot right on the sea front oozing with period charm and style. Very helpful staff, verrrrrrry comfy bed and beautifully appointed room made our stay very comfortable indeed. One down side was that the sauna was out of use. Highly recommend staying here if you want some Belle Époque elegance and to explore Trieste.
---
Only here for one night but a fabulous hotel. Sea View room was perfect for coffee on the balcony. Very luxurious room. Didn't get the chance to eat there but breakfast room offers some great views. I would certainly book again.
Simon F - Henley-on-Thames, United Kingdom
---
this hotel fulfilled an absolute dream we had when visiting Trieste with family. Luxury, convenience and the best view in town! We were treated like family and made our nonna's dream come true. We cannot thank you enough for giving us a view that brought out the best stories from the past.
denivit2018 - Trieste, Italy
---