Please select your dates to see prices:
---
Savoia Excelsior Palace in Trieste, Italy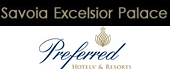 Overlooking the splendid Gulf of Trieste, an idyllic European vacation in a historical palace is brought to life at the Savoia Excelsior Palace in Italy. Escape to this famed harbor town steeped in historical references and belle epoque designs. Cozy furniture and finishes invoke a plush atmosphere to rest at night. Spacious and airy guest rooms are perfect for traveling packs, fit with luscious wash rooms, and plenty of lounge areas. Hang out in your hotel, observing the beauty of the resort winter garden pavilions in a Preferred Hotels & Resorts property, part of the Preferred Hotel Group. Walk to the historical center from your central location. Palazzo dei Congressi and the Maritime Station are outstanding buildings to see amidst the glistening water.
The rough and austere beauty of Trieste invites travelers to a mystical destination with a blooming cosmopolitan atmosphere. Built around a portal between Western and Eastern cultures, a variety of restaurants, boutiques, and bazaars can be explored throughout the day. Visit the Marine Aquarium, a beloved attraction to the city. Species from the Adriatic sea, tropical fish, reptiles, and penguins reside here. Transport through time on a journey to the History and Art Museum, exhibiting Egyptian and Greek time pieces. In a city overflowing with history and culture, enjoy the royal treatment on unique retreat to the great walls of Savoia Excelsior Palace.
Location of Savoia Excelsior Palace
Savoia Excelsior Palace
Riva del Mandracchio 4
34124
Trieste, Italy
Nearest Airport: TRS
Amenities for Savoia Excelsior Palace
Dining
19 Restaurants
4 Bars
Interests
Active & Adventure
City
Family
Reviews for Savoia Excelsior Palace
---
The hotel is very spacious throughout- from the lounge to the restaurant to your room there is plenty of space to enjoy your stay. Our room was large with very comfortable bed and huge marble bath. There was a lovely balcony overlooking the harbor/marina and the hotel is well situated to explore the old town pedestrian areas. The staff was very accommodating and the breakfast buffet was very extensive and tasty. This hotel is well priced for the offering and we would recommend it.
---
This hotel deserves its 5 stars-since we were off season, we were able to get a very good rate. Valet parking is expensive; there is parking across the street (1 Euro an hour)if you are staying Saturday night, parking is free after 10:00 pm through Sunday. The area around the hotel is very walkable with lots of stores and restaurants. The rooms were good-sized as were the bathrooms (at least by European standards). The bathtub/shower was somewhat deep and also somewhat slippery to get in and out of. Another perk is complimentary use of a smart phone-including free calls to Canada and the US! The buffet is just ok for the price-a better value would be ordering a la carte or going to one of the numerous nearby cafes.
eeplebneesta - Dallas texas
---
We spent a week here recently and were very impressed by the comfort of the room,the efficient and helpful staff and the delicious breakfast including very good coffee to order.The Boro ,amazingly fierce freezing wind,hit two days after we arrived so we spent more time sheltering in the hotel than we had planned.It is about a ten minute walk from the station in a wonderful location opposite the Adriatic.Lots of good places to eat nearby and the very interesting Eataly shop bursting with wonderful Italian foods,wines and small specialist restaurants within the complex.We had an evening meal at the hotel which was good,local wine also good but quite expensive. The building is splendid and spacious and the main lift is splendid.A real treat hotels.
mc m - Bury St. Edmunds, United Kingdom
---
I love coming to this hotel. It is modern but classical with style. Iā€™ve been here many times and it never disappoints. From the reception desk where they are always warm and welcoming, to all the amenities in the hotel. Rooms are spacious enough, even the basic ones, and suits are amazing including the view. Breakfast with a view is also something that gives this place all my recommendations.
Sinisa D - Belgrade, Serbia
---
We really appreciated our nice room with view on the seašŸ˜ breakfast very good with choose of fruits, prosciutto and cheese. Like idea water with fruits,Thanks to caring Renata and all personal wwhich was very helpfull.
---