Please select your dates to see prices:
---
Savoia Excelsior Palace in Trieste, Italy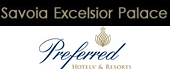 Overlooking the splendid Gulf of Trieste, an idyllic European vacation in a historical palace is brought to life at the Savoia Excelsior Palace in Italy. Escape to this famed harbor town steeped in historical references and belle epoque designs. Cozy furniture and finishes invoke a plush atmosphere to rest at night. Spacious and airy guest rooms are perfect for traveling packs, fit with luscious wash rooms, and plenty of lounge areas. Hang out in your hotel, observing the beauty of the resort winter garden pavilions in a Preferred Hotels & Resorts property, part of the Preferred Hotel Group. Walk to the historical center from your central location. Palazzo dei Congressi and the Maritime Station are outstanding buildings to see amidst the glistening water.
The rough and austere beauty of Trieste invites travelers to a mystical destination with a blooming cosmopolitan atmosphere. Built around a portal between Western and Eastern cultures, a variety of restaurants, boutiques, and bazaars can be explored throughout the day. Visit the Marine Aquarium, a beloved attraction to the city. Species from the Adriatic sea, tropical fish, reptiles, and penguins reside here. Transport through time on a journey to the History and Art Museum, exhibiting Egyptian and Greek time pieces. In a city overflowing with history and culture, enjoy the royal treatment on unique retreat to the great walls of Savoia Excelsior Palace.
Location of Savoia Excelsior Palace
Savoia Excelsior Palace
Riva del Mandracchio 4
34124
Trieste, Italy
Nearest Airport: TRS
Amenities for Savoia Excelsior Palace
Dining
19 Restaurants
4 Bars
Interests
Active & Adventure
City
Family
Reviews for Savoia Excelsior Palace
---
In the very center, on the sea, luxurious, classy. Large rooms and if lucky then a balcony overviewing the bay and yacht port. Professional staff, very good breakfast. Only valet parking is an issue if you do not like when someone drives your car to the garage and then brings it back when you need it.
Milan H - Melnik, Czech Republic
---
It could have not been any better! Perfect hotel in good location and splendid staff, so friendly and welcoming... I just loved my stay here and would recommend it. Manuela(on very first visit to Italy)
---
Superior hotel. Excellent location: on the waterfront, close to rental car companies, and a central location to view Trieste. Stayed here one night before heading to Croatia. Very clean and comfortable hotel and room. Bed had a firm mattress, but very comfortable. Bathroom was sparkling clean.Breakfast was outstanding in terms of choices and quality. The staff was very polite, professional, and helpful.
---
This was one of the best rooms in Italy I have ever stayed i. It was spacious, well planned as to storage, the bathroom and amenities were great and the beds super. We had a partial view of the harbor and over some rooftops. The rates were very reasonable and a palatial breakfast was included. The location was outstanding and the concierge, Stefano, was a star. I highly recommend.
aretha23 - New York City, New York
---
This hotel faces the sea and is very well located to see the sights in the city. The bathrooms are large, the beds are comfortable with nice linens. The dining room is serviced by Eataly, which is a new store on the waterfront. The hotel is large and often has business groups in attendance. The service is professional. We enjoyed our stay.
SusanP - Umbertide, Italy
---