Please select your dates to see prices:
---
La Badira in Tunisia, Africa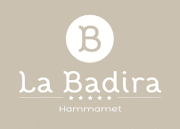 Looking for leisure at an exotic location? La Badira in Tunisia offers their guests of 16+ years and older an opportunity to take in the serenity of the Bay of Hammamet. The hotel has several onsite amenities to make your stay relaxing, including a spa, restaurants and shops, and an infinity pool looking out to the bay. Guests can also take advantage of La Badira's personalized excursions for those looking to explore other parts of the country. A vacation at La Badira will be an unforgettable and pleasurable experience.
Guests can start their day by having breakfast at the hotel's Zahilah restaurant, offering local foods as well as continental classics. After, head to the hotel's gorgeous infinity pool, which looks over the bay and beaches of this enticing city, or go to the Spa by Clarins, offering a variety of treatments, as well as a hammam, heated pool, and tea room. If looking to explore the surrounding areas, the hotel can make arrangements for guests to discover the capital city of Tunis or the vast Sahara desert. Unwind at the end of the day by enjoying a cocktail at the La Badira's Sunset Bar, where watching the sunset turns into star gazing, giving guests a magical experience they won't forget.
Location of La Badira
La Badira
Rte Touristique
Tunisia, Africa
Nearest Airport: NBE, MIR
Amenities for La Badira
General Information
Only 16+ Years Permitted
On-Site Amenities
Spa on Property
Gift Shop
WiFi
Hamam
Beach Amenities
Outdoor Pools
Infinity Pool
Complimentary WiFi
In-Room Amenities
Private Patios or Balconies
Private Terraces
WiFi
Nearby
Shopping
Restaurants
Beaches
Reviews for La Badira
---
We have just returned from a week in La Badira, a super hotel with a very friendly and professional staff. From the driver who picked us up from the airport to the people of the housekeeping. Every day begins super well in the extensive buffet restaurant. If you are lucky, you are in the section of Mr. Mouldi. A real ambassador for the hotel. He receives you with a smile and makes you feel like you are HIS guest, really super. So the day can't start better, seldom seen such an involved hotel employee.We would like to send a special thanksd to Mr Mouldi for all his help. But there are more people who are worth mentioning, take Hatem, the concierge, for everything you can go to him. A real professional, incredibly friendly and knows the way, the man to arrange excursions and / or fulfill other wishes from flowers to dry cleaning. The first point of contact at the hotel. And then the men of the bar, especially Fakmeddine, a very friendly man, a real professional who immediately puts people at ease and can also make delicious cocktails, also someone you can have a good conversation with, makes a lot of fun, Fakmeddine, it was a pleasure to have met you. All the best for this super hotel and till soon, Johanna and Willem, room 1452.
Wim D - Amsterdam, The Netherlands
---
for sure Experience la badira hotel will make one of your best stay in a hotel every things about Designe dreamy very polite & professional staff (Specially mr Rowsi mohamed & Mr mouldi ) fantastic indoor & outdoor pool
---
It's one of the he best and unique hotel i have ever been, all staff were so friendly ( like always foe people of Tunisia ) can't thank you people enough ...we had breakfast every morning and chef Slept m him self came to my table to make sure i was happy❤️thanks to Miss Hajer Faten and Mr mouldi diner at Kamila restaurant was so amazing and i would like to thank Mr zied for great hospitality with a smile ...
---
We enjoyed our fish filet, baked and grilled. Service was awkward in a way where the server was not professional. They would tell you about the price of the menu of the day (we were invited). The menu of the day is written on a board but it was yesterday's. No management checking on you. Good food quality, nice view on pool and sea. Men's was leaking from the bottom of the bowl. I mentioned it, came back later and still was leaking. Hotel and restaurant design was beautiful. Food price is high. Wine pairing was well suggested.
Hedimza - Seattle, Washington
---
We thoroughly enjoyed our 1 week break at La Badira, staff really helpful however 1 of the Receptionist was rude. The hotel itself is an amazing place, beautiful views of the ocean from balcony, terrace, pool, everywhere basically. We were really really pleased with the service provided by porters, waiting staff, and staff always available to help with anything. Definitely enjoyed the buffet breakfast, huge selection. We certainly would go back to Tunisia just for La Badira.
---