Please select your dates to see prices:
---
Casa Turire in Turrialba, Costa Rica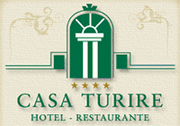 In the Turrialba Valley of Costa Rica, located near Lake La Ancostura and surrounded by plantations of coffee, Macademia nuts and sugar cane, Casa Turire stands as a timeless hotel says Fodor's. This lovely colonial plantation home, which boasts Swiss management, welcomes with an elegant Master Suite that includes a private balcony. With the hotel's leather appointed library, linen-draped dining room and graceful archways that frame the central courtyard, an aura of gracious living abounds that's equally ideal for honeymoons, business meetings and baptisms.
Whether you wish to contemplate the parakeets and toucans of in the fruit orchards or set out for ballooning and aerial tram rides, you'll find an activity to suit your mood from your location outside the capital city of San Jose. Drift in the spring-fed swimming pool or follow adventure's path with legendary river rafting. At this gateway to the rainforest, explore the pre-Columbian ruins of Guayabo National Park. And let a naturalist be your forest guide to the area's flora, fauna and medicinal plants.
Location of Casa Turire
Casa Turire
Hotel Casa Turire
Turrialba, Costa Rica
Nearest Airport: SJO
Amenities for Casa Turire
General Information
16 Guest Rooms
Reviews for Casa Turire
---
We only stayed here one night on our journey across to the Pacific. It is a charming characterful place with high ceilings and classic furniture old style plantation. It has a charming central courtyard a very comfortable lounge with views across the site. The food was really good a mix of American and local. excellent service etc, there is a charming pool in a walled area so would be a good place to sunbathe from. We didn't have time ! we visited the CATIE centre which is really close and yes worth a visit. There are lots of other activities you can do from this hotel but we didn't have time. I would definitely recommend if you are driving across the country this is good quality hotel with lots of charm,
JayceeSurrey - Oxted, United Kingdom
---
To be honest we were on a downer from the moment we arrived. The weather was wet and dismal then we were allocated to room 12 which was so damp, miserable and way beyond in need of an update we immediately wanted to check out but our driver had already left. A call to our travel agent could still not rectify the situation so we were well and truly stuck for three days as our itinerary could not be rescheduled. Jenna the manager swiftly agreed to show us an upgraded room at no extra cost which had apparently been decorated more recently than the previous room which she informed us had been subjected to a dehumidifier for the previous 24 hours in an effort to eradicate the damp. The new room no 14, was much brighter but still once we had been there for a while also proved to have numerous defects. The upgraded room was a suite, yet it looked over the recycling bins and car park, and directly above the staff entrance. Yet beyond the car park was the lake and lots of visiting birdlife. Not really making the most of the natural features available. Casa Turire is resting on its laurels, awards given 10 years ago are only relevant at the time and need to be maintained not framed and basked upon for the next decade. Our initial disappointment was improved on once we got to know the staff, in particular Jenna who did her utmost to help us have a good time. Randall one of the waiting staff, was exceptional. Constantly being courteous and generous with his time. One of the outstanding features for us was the constantly high quality food coming out of the kitchen. The hotel really is sitting on an exceptional gem with its location and grounds. The same cannot be said for the hotel itself which is long overdue a big makeover. So from our initial negative reception we did have a good time and could see the hotel had the potential to be truly special but needs some money being spent on it. Due to the location and if you're without a car you are at the mercy of the hotel so it would be nice if the hotel made a bit more effort with the public areas to encourage guests to leave their rooms. The piped music is truly dreadful and only serves to make the place feel more like a funeral home. There is a suggestion box but I couldn't find any paper to write on, how about some cards in the room telling what birds and wildlife you might expect to see in the grounds? Or some signposts along the pathways around the grounds? Or some simple cooking lessons from the chef ..... the black bean soup which was delicious would be a great starter and probably no more than half an hour to prepare and get going. What about someone from the farm giving a half hour lecture. I could go on and on as I really don't think the hotel is doing itself justice. Such a shame.
Sharon L - BRIGHTON ENGLAND
---
Very friendly staff and delicious food. Try also the local beer called Domingo 7.  The room was clean and spacious. We got a big breakfast.  Because our rafting tour was cancelled due to bad weather we did the Espino Blanco hike, which I wouldn't do again, cause we paid $55 each, got only a 1,5 hour hike with an avarage guide. We even provided transportation for us and the guide with our car.
Stef K - Bern, Switzerland
---
This hotel and venue captures so much of what I expected in Costa Rica. A small, unique hotel, it is quiet and beautiful, interesting history, with exceptional service and beautiful grounds to explore. Close to the town of Turrialba, the volcano, and great rafting on the Pecuare River.
sloanejd53 - Tomball, Texas
---
Stayed here for 3 days and found the experience wonderful. The staff so warm and the rooms so clean. Food is great and the restaurant has a view of the Turrialba Volcano. Has swimming pools to chill and so close to Nature.
arnab_gupta - Ahmedabad, India
---