Please select your dates to see prices:
---
Hotel Talisa, Vail in Vail, Colorado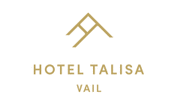 Set amid Colorado's majestic Rocky Mountains, Vail dazzles in winter, spring, summer and fall. This acclaimed skiing enclave, blessed with scenic splendor, a vast selection of outdoor activities and a charming resort village, is home to the Hotel Talisa, Vail. Freshly transformed after a multi-million dollar renovation, the resort boasts a private location along one of the Vail Valley's most distinguishing characteristics, Gore Creek. Here you will be indulged with delightful diversions that include golfing, whitewater rafting, hiking, fishing, and of course skiing at the world-class Vail and Beaver Creek resorts. Endless on-site amenities promise to fill your vacation's days with nothing but scenic splendor and adventure. Vail Cascade Resort & Spa is truly the ideal destination for your Colorado getaway.
Discover true relaxation in gracious guest rooms that feature stunning mountain views and rich appointments. In winter take advantage of the exclusive ski-in, ski-out access and the hotel's ski concierge for all of your needs. Any time of year, savor superb cuisine at the award-winning Atwater on Gore Creek. After a day filled with all-seasons adventure, unwind in the resort's 78,000-square-foot Aria Spa & Club with a relaxing stone massage, organic treatments, and an array of fitness classes and options.
Location of Hotel Talisa, Vail
Hotel Talisa, Vail
1300 Westhaven Drive
81657
Vail, Colorado
Nearest Airport: EGE
Amenities for Hotel Talisa, Vail
General Information
292 Guest Rooms
Ecologically Sustainable Practices
Dining
Restaurant
24-Hour Room Service
Bar
Coffee Shop
On-Site Amenities
Concierge
Shuttle Service
Spa on Property
Laundry Service
Fitness Center
Boutiques
Valet Parking
24-Hour Front Desk
Personal Trainers
In-Room Amenities
Bathrobes
Ceiling Fans
Hair Dryers
In-Room Safes
Iron/Ironing Boards
Flat-Screen Televisions
Luxury Linens
Luxury Bath Amenities
Mini Refrigerators
Activities
Bicycling
Fishing
Hiking
Kayaking
Tennis
Pilates
Mountain Biking
Yoga
Fly Fishing
Snowmobiling
Basketball
River Rafting
Fitness Classes
Bird Watching
Squash
Racquetball
Ice Skating
Business
Business Center/Services
Meeting Rooms
Family
Children's Programs
Babysitting
Nearby
Shopping
Art Galleries
Restaurants
Golf
Nightlife
Hot Air Ballooning
Interests
Active & Adventure
Family
Ski & Snow
Summer Getaways
Reviews for Hotel Talisa, Vail
---
Summary – Shower was cold all but one time, reported to hotel staff but the issue was never addressed, left review to automated survey, GM contacted me immediately saying he wanted to talk – blew me off 2 times when he said he'd call, and finally stopped replying to emails. No surprise that the hotel staff didn't follow through, when the hotel leadership can't even bother to do so. Longer version. After leaving the review below, GM John Garth sent an email saying he wanted to talk. My thought was that maybe they would be willing to do something to make this crappy stay right, but alas, just like the desk staff, after a few back and forth emails saying that Mr. Garth would call, I feel ignored at best, and completely blown off at worst. I'm absolutely shocked that any hotel would treat a guest this way, much less a guest at one of Starwood's premier properties. If you happen to have a room without issues, you'll probably love this resort. However, if you have any issues at all, be ready for an absolutely horrid experience. ** Original Review ** We loved your hotel but there was one extremely important detail that was never fully addressed. In our two nights there, we showered 4 times. Of those 4 times, there was only once that we had hot water. The other times, the water was either cold or at best lukewarm. We arrived Saturday and left Monday. When we noticed Sat night, the shower wasn't working, we notified the concierge who immediately reported the issue and said someone would be up to look at it. We waited for over an hour and called back down to the desk since we needed to shower to get ready for dinner reservations. The front desk informed us someone would be right up. After 30 more minutes, no one showed up and we had to get ready to make our reservations so suffered through cold showers. It also appeared no one ever made it to the room that night. Sunday morning, the shower was finally hot, however, when we returned from skiing Sunday night, the shower was cold again and the issue was yet again unaddressed so another cold shower. Monday, we got a last quick run in skiing and came back to shower before checking out and again... no hot water. In my over 500 lifetime nights staying at Starwood / Marriott properties, this is by far the worst shower I've encountered, especially considering there is nothing better than a nice hot shower after coming in from being in the cold all day. It's also extremely disappointing that this was left unaddressed at such a nice resort. With all of this being said though, the resort was beautiful, the location superb and the valet / bell staff was the best I've encountered.
---
We, my husband and two adult daughters stayed in Condo #30, Coldstream, March 18-24. We loved the location, services and staff from Hotel Talisa. Would stay in #30 again only if they upgrade their plumbing and fixtures and do some remodeling. The kitchen faucet was crazy loose and assuming that has already been replaced as we had to have service for a plugged toilet and very poorly draining sink in main floor bathroom. Also the dish rack under the kitchen sink was filthy and should be thrown out, I used a towel...The upstairs bathroom needs to be remodeled, grody, broken floor tiles and the tub needed a thorough scrubbing. The couch had an odor... So we probably will request a different condo, but loved the location and everything else.
Elaine M - Ann Arbor, Michigan
---
I stayed at Hotel Cascade before they remodeled it, and couldn't believe the difference during a recent stay at Hotel Talisa! The new hotel is beautiful and modern with great amenities (s'mores butler! champagne happy hour!). The pool & spa are great and it's in a good location - the Cascade chairlift is right out your door, and there's a 5 minute shuttle ride to Lionshead. The staff here is super friendly and helpful, and I can't wait to stay at Talisa again!
---
5 Star, awesome staff, rooms and delightful heated pool, hot tub and fire pits. Hulu, Netflix, ESPN on monitor of treadmill. Ski lift and rental on property. Live music, piano in lobby (my kids practiced while on vacation:)) hot chocolate and apple cider every day from 3-5 PM game room with board games and pool table. We didn't eat at the restaurant at the hotel but I can't imagine it wasn't anything but marvelous! Ditto for the spa!
jamie l - Cabo San Lucas, Mexico
---
Spending well over 50 night a year in hotels, I tend to notice how all the little things add up in hotels - and it's almost always the staff. Yes, the refurbishments in the hotel are top notch. Yes, having the Cascade lift within hotel property is fantastic. But what really makes this property stand out is the consistent level of caring service from each and every person you interact with. From the front desk, to the restaurant and lounge staff, to the marketplace, the bell desk ... all 5 stars. This even extends to the Venture Sports staff (where you can rent ski equipment) located inside the hotel. I took my 10 year old son with me on a quick father-son ski trip and each person we interacted with were not only professional but dedicated to their roles and expressed sincere care of guest experience. There is a special formula at this property which I wish could be bottled. A heartfelt "thank you" to the team of extraordinary professionals at Hotel Talisa. A special THANK YOU to Christina (Concierge) who took the effort to make sure my time in Vail was spent "doing" things with my son and not "searching" for things to do with him. I look forward to returning with the whole family.
Ken T - New York City, New York
---