Please select your dates to see prices:
---
Mansion Xanadu in Varadero, Cuba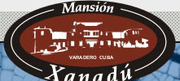 When you stay at Xanadu Mansion you are not staying in a usual hotel. It is the Club House of the Varadero Golf Club that has been magically refurbished strictly respecting the original 1930 construction. The house is spacious, practical and very charming with 6 luxury rooms. A world class restaurant, with an international menu is located in the main floor. A large wine cellar, stocked with wines from 18 different countries is located in the basement.
From anywhere in the house, you will enjoy magnificent views of the green and the ocean. This is by far one of the most exclusive resorts in Varadero, Cuba, not only for its history but moreover for its privilege location and exclusive atmosphere.
Location of Mansion Xanadu
Mansion Xanadu
Carretera Las Americas km. 8. 5
42200
Varadero, Cuba
Nearest Airport: VRA
Amenities for Mansion Xanadu
On-Site Amenities
Golf Course
Reviews for Mansion Xanadu
---
I read about this place, once a private home and now an eight- room hotel, a couple of years ago and set my heart on staying there on our proposed trip to Cuba. I had researched it as much as possible and despite rather mixed reviews booked it for the last four nights of our tour. It has a dramatic location on the popular beach resort of Varadero, known for its very large all-inclusive hotels and is adjacent to the only 18 hole golf course on the island, so is particularly appealing to golfers. The hotel is classed as a National Monument and has been undergoing restoration works for quite sometime and although not completely finished, did not detract from our enjoyment. The staff couldn't have been more helpful and welcoming, in particular Jorge Luis PĂ©rez Delgado. The menu was varied and food very good. We happened to mention that we had had a delicious Cuban meal whilst staying in a Casa Particular in Vinales and Jorge asked if we would like the chef to prepare a typically Cuban meal for us the following day. Not only was the meal absolutely delicious, it was a virtual banquet! The chef and his team had gone to so much trouble for us and was an experience we'll never forget. The Varadero Golf Club pro shop is in the adjacent building just a hundred yards or so away and each day the caddy master had our buggies prepared for us. Needless to say, the course has dramatic, breathtaking views, particularly from the back nine holes. We absolutely loved our stay and I felt very happy that I had made the right choice as I prefer small hotels with individual character. We really hope to return in a couple of years.
Annette C - London, United Kingdom
---
The mudjedar Mansion Xanadu originally designed by the same architects as the Capitol for the US industrialist Alfred Irenee Dupont de Nemours, built on the coast at the highest point of Varadero is a fascinating building to visit and also to have cocktails on the top floor and admire the view along the beach and out to sea, while listening to music. The style is a modern interpretation of mudejar architecture and some of the original furniture remains.
Ian C - London, United Kingdom
---
A little gem of a find for me and my friend, we had pre dinner cocktails in the cocktail bar overlooking the ocean. We had a wonderful meal in the restaurant which was fabulous, the waiters were attentive and really looked after us. Worth a visit for anyone visiting Varadero.
---
We just came for lunch. We were the only customers and we all ordered different items which were brought to us almost immediately. The food tasted old and weird. I am almost certain it was cooked days ago and just warmed. A great disappointment considering the price they charge.
Georgi_Tsvetanov - Mexico City, Mexico
---
I stayed just down the beach so I can't comment on rooms or service but still think if you are in the area worth a trip just to see it's glory. Go for lunch and a peek. The DuPont family home would have been spectacular in its day.
DJHOV - Burlington, Canada
---