Please select your dates to see prices:
---
Hotel Bauer in Venice, Italy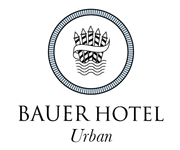 Bauer L'Hotel melds age-old architecture with a modern design to achieve a fine expression of contemporary Venetian living. Art deco touches, hand-woven fabrics by Bevilacqua and Rubelli and sculptures made by local artisans lend a timeless feel to common spaces, while rooms are notably large and outfitted in finery – gaze up at an ornately embellished ceiling while soaking in a bath made from Italian marble.
Get lost in Venice's maze of walkways and canals. Tour the Grand Canal in a vaporetto, letting your imagination go back to the days when the waterway was teeming with merchants and cargo ships. Walk the shopping boulevard from the Rialto Bridge to St. Mark's Square. Glam up for dinner at the hotel's gourmet restaurant De Pisis, feasting on squid risotto in its black ink.
Location of Hotel Bauer
Hotel Bauer
Sestiere di San Marco, 1459
30124
Venice, Italy
Nearest Airport: VCE
Amenities for Hotel Bauer
General Information
119 Guest Rooms and Suites
Dining
Outdoor Dining
Restaurant
2 Bars
Room Service
Dining Room
Afternoon Tea
On-Site Amenities
Concierge
WiFi
24-Hour Concierge
In-Room Amenities
Air Conditioning
Satellite Television
Marble Bathrooms
Flat-Screen Televisions
Whirlpool Bathtubs
Walk-In Closets
Kitchenettes
Activities
Excursions
Sightseeing
Nearby
Historic Sites
Shopping
Train Station
Art Galleries
Museums
Restaurants
Nightlife
Parks
Marina
Theatres
Public Transportation
Monuments
Market
Colleges/Universities
Interests
Culture & Arts
Hotels
Reviews for Hotel Bauer
---
This hotel was recommended to us from a coworker who I should bring a bottle of wine back for as a thank you. The hotel is beautiful and the staff is incredibly friendly. The rooms are very nice. We didn't have a view of the main canal but did have one of the small canal next to the hotel. It was nice waking up in the morning and watching the gondoliers get ready for the day. On Friday and Saturday nights they have live jazz music in their bar. We didn't get a chance to check it out but it sounded great from the lobby and the bar was full of guests, so I'm guessing it was fun. Breakfast was included and the food was very good (is it possible to have a bad meal in Italy)? I would recommend this hotel to anyone looking to travel to Venice.
Josh N - Cranbury, New Jersey
---
We stayed at the Bauer Plazzo for 3 nights over the half term break. We decided to stay there as we wanted somewhere close to everything but we were looking for luxury. The hotel delivered on all of it's promises. We checked in after getting a private water taxi (expensive but well worth it) that delivered us to the private entrance at the hotel. From the miunte we landed we recieved nothing but the best service. The reception staff were lovely and really helpful. We booked in and were shown to our room. We had booked a superior suite and our only slight issue was that the one that we were shown to, although lovely, wasn't quite what we expected. I wandered down to reception and we were shown to another room without any issue at all. The suite was beautiful. Luxurious fixtures, beautiful toiletries, amazing view, awesome bathroom. We couldn't have asked for more. The staff continued to be extremely helpful as was the concierge. From here we explored all of Venice. The breakfast was amazing and again the breakfast staff were superb. The view was breathtaking. Full turndown service and complimentary water each evening delivered by the super polite house keeping staff...who were also lovely!! The cocktails in the bar were, although eyewateringly expensive, really good and it was nice to sit and watch the world go by in this oasis of calm in the hustle and bustle of what is an amazing city. Highly reccomended...
Mark D - Manchester, United Kingdom
---
The Bauer is a beautifully appointed and superbly located hotel--perhaps the best place you can be in Venice. The hotel has its own berth on the Grand Canal, and it is next door to San Marco and the best stores and boutiques. Its outdoor cafe provides a wonderful place to eat, and its indoor bar has great ambience and great food. The service is outstanding--from getting a massage to setting tours and getting train tickets. It is not cheap, but it is worth every penny, pfenig or Euro. We would recommend it to anyone who comes to Venice.
Michael W - Jerusalem, Israel
---
The service is excellent, as well as the ambiance and the setting of the hotel right in the heart of Venice. We stayed in a city-view room with view over a canal and a good city overview. There were other rooms we didn't see with inside courtyard view which would not find satisfactory for the quite high price the hotel is asking for stays. Nevertheless, we came back later that year in the Bauer Palladio with its gardens that just opened and we had a wonderful time. This year we will return to the Palazzo. Great recommendation for a romantic weekend, although the price is a bit steep.
Daan M - Luxembourg City, Luxembourg
---
Flew out from Gatwick using Business lounge and booked business seats with BA ( NO EXTRA LEG ROOM ) with just a seat left vacant really. in the middle. We took the 16.25 flight from LGW which took around 1hr 45 flying time. We had already booked a private water taxi at 209 Euro's return. From the terminal its around a 10 minute walk ( which used to be outside but now through a covered walkway at the airport) to the water taxi's ( all sign posted) and straight away jump straight into our own ride. It was covered when you get in and from floor to ceiling just enough room for you to sit without bashing head ( open top in the warmer weather though) It was dark outside and was around 20 min's journey, the last few minute's it goes down the back canals to arrive at your destination. ARRIVAL We arrived and checked in with no hassle, the hotel looked really nice on first view too. We swiped the credit card and showed the passports etc. THE ROOM Ours was on the 4th floor ( lifts take a max of 4 in and very snug fit ) and we stayed in 464. The room we booked was a junior room and we had requested a double bed but was greeted with two singles ( it was written on our expedia booking but whether that had been sent on to the hotel? who knows) The view wasnt that spectacular as we were about 10 ft away from the rooms opposite but we are only using the room for sleeping in, so we thought this was ok. There was water in the room for the first day which was complimetary, but no tea or coffee machines etc. No water after the first day either. Do not expect iron or ironing board either as they only do a linen service. The chamber maid came and made the beds to make them as if they were one larger bed, but you could still feel the gap dwon the middle ( not so nice when snuggling in ;O) The bathroom ws ok with plenty of hot water and a nice bath. We had no chandeliers in our room and didnt seem that Venetian but as I have said , we were in this room for sleep. There is a room where you can store your clothes etc and hide the suitcases. There is also a safe too! The housekeeping staff were very good and always made up the room. On my Birthday I recieved a bottle of Prosecco and some complimentary water which was a lovely surprise and then Biscuits the next day too, thank you to the management. THE HOTEL It is a lovely hotel and we hardly used it other than for Breakfast ( for us was only downstairs but a lovely river view) but if you were staying in the suites you got to use the upstairs terrace and have breakfast ( little unfair segrigating us really ) but we sneaked up anyway just to take soe pics only when the breakfast area was open. You were not allowed out at any other time (think it was weather related) BARS There are two bars, expensive if you use them though, tea and coffeee was 18 euros for both but did get biscuits too. BREAKFAST Two areas, one is downstairs and has a lovely view with an outside terrace facing the main river. The other is on the roof area but only able to use if you were paying for the suites as apposed to the rooms. Nice area though with romantic views of the river again ( but actually lovely downstairs too) THE LOCATION Prada & all the big names are literally opposite you and only a short walk to the right to St Mark's square. There is also a Gondola station next to the hotel too! The Water taxi also comes straight up to the side entrance of the building which is good THE TOURS BE WARNED - Gondola's do not want you to just pay 80 Euro's, they want the 150 to 170 Euro's off you which is shocking for a tourist. they basically didnt want to sell thie 80 Euro package and the group of 6 where we were couldnt be bothered with us, eventually one said yes, then tried again to sell for the maximum which really started to spoil our trip. They were not friendly or engaging to us but spent all the time chatting to every gondala that passed all asking if he had got the extra money out of us ( we didnt let on we could speak Italian ) The hotel will provide you with a private water taxi for an hour at 120 euro's and wished we had did this instead of the 30 mins 80 euro plus hassle. CASINO We never did any toursit trips apart from the Casino, WHICH GAVE US 20 EURO FREE CREDIT for the slots after we had shown our passports. Ok, there was two bottles of Prosecco down there and also soft drin, all free so we drank as much as we xould lol. The slots were ok and didnt seem that bad a place really. Its about 20 minutes walk from hotel. Main boat trips to hop on and off are around 20 euros for 24 hrs or 7 euros for 70 mins. THE CARNIVAL This is realy what we wanted to see, everyone dressed up , we were not disappointed and would recommend anyone to go during this time although the square was packed. The hotel was hosting a BOND night and we didnt attend which was a shame and also Valentines night meal. THE BARS OUTSIDE Around the square there are some bars, there is one just past Bar Americano which was lovely, small and inviting and is just on the far edge of the square. Prices were reasonable too. Go to Hotel Danielle where the Tourist was filmed...amazing inside. THE HOTEL IS.... Lovely and offers some excellant views and really enjoyed our stay. Just the room stuff that we mentioned earlier let us down really. Would we stay here again ? not sure unless the extra's were there. I enjoy having nice clothes to wear and most places we visit have ironing boards in the room now. TO THE MANAGEMENT. The staff were all really friendly and did their jobs really well. TO THE SELLERS OF THE ROSES OUTSIDE ( These people are not part of the hotel ) are pushy, rude and so close to fighting with us because of the way they shove a rose on you even when you say NO, so be aware. Apart from this, see the pics and enjoy the review ;O) Paul & Gedre xxx
Paddy121 - West Sussex, United Kingdom
---