Please select your dates to see prices:
---
Grand Hotel Majestic in Verbania, Italy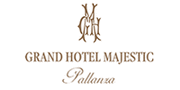 Dating back to 1870, the Grand Hotel Majestic dreamily evokes the spirit of la belle epoque. This member of Small Luxury Hotels of the World was a favorite with crowned heads of state and musicians such as Debussy and Toscanini, and today a lovingly carried out renovation returns it to its original glory. Beautifully situated on a promontory that juts into Italy's Lake Maggiore, it boasts classically styled bedrooms and suites, many with balconies and most with views of the water.
From English-style gardens to sweeping alpine views, you will feel as if you are living inside a dream. You might relax on the intimate, private beach, or take a private boat to discover the charms of the Borromean Islands—the 17th-century gardens of Isola Bella, the fishing village of Isola Superiore and the unspoiled natural beauty of Isola Madre. The setting for Hemingway's A Farewell to Arms, Stresa is a wonderful place to linger before returning to indulge at the hotel's Beauty and Wellness Centre, La Beola restaurant, and Il Toscanini bar.
Location of Grand Hotel Majestic
Grand Hotel Majestic
Via Vittorio Veneto 32
28922
Verbania, Italy
Nearest Airport: MXP
Amenities for Grand Hotel Majestic
General Information
90 Guest Rooms
Dining
Outdoor Dining
2 Restaurants
Bar
Room Service
On-Site Amenities
Concierge
Spa on Property
Laundry Service
Private Wharf
Sauna
Indoor Heated Pool
Wellness Center
Terrace
Complimentary Parking
Tennis Courts
Gardens
Jogging Path
In-Room Amenities
Air Conditioning
Bathrobes
Hair Dryers
In-Room Safes
Mini Bar
Satellite Television
Activities
Bicycling
Kayaking
Sailing
Tennis
Windsurfing
Mountain Biking
Nature Walks
Rock Climbing
Nearby
Historic Sites
Golf
Interests
Summer Getaways
Reviews for Grand Hotel Majestic
---
The views are incredible and the staff is like the hotel, there to be a great pleasure for your stay in Italy. The rooms are super and some have great views and the food in the dining room is excellent for Italy !
---
Any review of this property will depend on the room you are allocated. Get a lake view room with balcony and you will most likely write a rave review. Get the worst room in the hotel overlooking the road and you will be disappointed. This truly was a Grand Majestic hotel in the last century, but like all the old hotels needs a couple of million dollars to bring it back to its former glory. The position is pure magic with manicured gardens going right to the lake front. And the atrium is truly majestic. Our problem was that we were on a small group Back Roads tour and drew the 'short straw' when it came to our room allocation. Our T.V did have English language channels but the reception was so distorted as to make us turn it off. Our shower was over a slippery bath with no holder for the flexible shower head which sat in the bottom of the bath, and get this one. No shower screen or curtain meaning that the floor got wet and slippery. Was this the worst room in the hotel where they dump tour groups? From our perspective the Grand Majestic was 'all fur coat but no knickers'. Stuck in a small dark room, no T.V or air con, no tea/coffee in room, and constant traffic noise from the road, it was hell rather than heaven. But...If you get a lake front room with balcony you will love this property and wonder what we are complaining about.
---
very romantic, good location, best for honeymoon or romantic trip. Very beautiful wiev from window. I reccomend take a room with lake wiev, balcony. the brekfast was nice, best bacon for my husband. Hotell for people who tired of city noice.
---
Positives The hotel occupies a lovely spot and the view of the lake from the room is great. I don't have a balcony and can't see the room from the bed, but if I move the chair from the other side of the room to the window, yes, it's a lovely view. The atrium is also impressive. Negatives As others have said, this hotel is faded and unloved, specifically - My room, 214, at a discounted wedding rate of EUR195 a night, end of Sep, has not been upgraded, I would say, since the 1980s. Old carpet with the pattern long since bleached by the sun. Peach wallpaper with a potato print pattern, wallpaper pattern border long out of date, but taste is one thing, functionality is another. Three electric sockets in the room, two used by bedside lights and one by the TV. I have unplugged all of them so I can charge my phone, ipad and laptop. Presumably a couple would have two phones and two laptops? A modern room would have sufficient plugs. Not one plug by the small table. The bathroom has a single shower, with a bi fold door, which does not close, a single head long last its best, dripping, and generally reminds me of a shower room in a Ā£40 a night guest house in Blackpool. Because it is the end of September, they have turned off the airconditioning as it is cooling outside. The front desk say that either the entire hotel has aircon on, or off. There are no individual room temperature controls. But it is now gone 10pm and having had windows open since I arrived at 4pm, it is still 23.5 degrees in my second floor room. I call this temperature too hot to sleep, and in any case, because I have my windows fully open to get it this cold, I have to hear all the voices of the people sitting outside on the bar terraces below. (Apparently it is warm enough to sit outside, but not warm enough to warrant air conditioning). As others have said - no robes (although robes are mentioned in the Hotel Guide telling you not to wear them to the pool), only one bath towel in my room (someone else said that too), no free water, no fruit or other gifts, no tea or coffee making facilities, a small fridge with a 6 euro coke and a 6 euro beer, no wine. A small TV (unplugged to allow charging of laptop). There is not one of those things you can put your case on or in fact any space to open your case - and I'm the only one in my room - I would feel very cramped with two. I went to the spa, which had a small, completely empty gym (and as others have said, it has no water fountain, aircon, or towels) but I had a massage from the sole man who runs the gym and spa. It was awful. I highly recommend that you do not have the massage - save your 60 euros. Anyway, the wedding party arrives tomorrow, and at the end of the day, there is a VIEW. If you like a VIEW and you don't really care how shabby, dated, old-fashioned, and poorly equipped your room is, then you'll love it here!
Heather D - London, United Kingdom
---
Stayed here early September for 3 nights visiting the area; had superb room 216 on first floor with large balcony; service unfailingly helpful and keen to please; food and wines very good; a great feeling of luxury
SandavLymngton - Lymington, United Kingdom
---