Please select your dates to see prices:
---
Hotel des Trois Couronnes in Vevey, Switzerland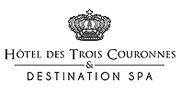 Against the picturesque backdrop of the majestic Swiss Alps, situated directly on the shorefront of Lake Geneva, is the fabulous Hôtel des Trois Couronnes. This peaceful lakefront retreat offers premier style within the relaxing surroundings of the town of Vevey. The 72 rooms and suites are a blend of modern and classical elegance, with pristine whites, soothing earth tones, and vibrant splashes of color. Natural light flows in through large picture windows, warming the room and creating a cozy ambiance perfect for a vacation experience. Plush accommodations keep you in supreme comfort day and night, and private balconies provides a wonderful place to sip a morning coffee and watch the sun rise over the lake. Wake to the beauty of Lake Geneva and Switzerland, surrounded by luxury, when you stay at Hôtel des Trois Couronnes.
Visit the hotel's Puressens Health Academy & Spa to pamper yourself at the start of your vacation, or after an active day outside. Stretch out next to the indoor pool for a relaxing morning or head out to Lavaux Golf Club for an early morning tee time. Hike or bike through gorgeous outdoor parks around Lake Geneva, or venture out on the lake itself for a day of fun on the water. Paddle boating, canoeing and kayaking are fantastic ways to explore and enjoy the cool breeze and warm sun as you glide through the waters. Make a trip to the unique Alimentarium Food Museum for a tour and tastings, or take the Swiss Chocolate Train to the town of Broc, where a large factory and sample room awaits. Sample wonderful wines at Corniche Lavaux Vineyards in nearby Montreaux, and stroll through the lush fields with sweeping views of the lake. In the pristine winter months enjoy world-class skiing and snowboarding just up the mountain. For dining, unwind at the hotel's Le Restaurant and enjoy continental cuisine with an Asian flare, or try exciting Japanese fare at Peck Ô Sushi. Retire to your room after a wonderful day in Switzerland and drift off to sleep dreaming of your next beautiful morning at Hotel des Trois Couronnes.
Location of Hotel des Trois Couronnes
Hotel des Trois Couronnes
Rue d'Italie 49
1800
Vevey, Switzerland
Nearest Airport: GVA
Amenities for Hotel des Trois Couronnes
General Information
71 Guest Rooms
Dining
Private Dining
Restaurant
Piano Bar
Spa Cuisine
Sushi Bar
On-Site Amenities
Concierge
Spa on Property
Fitness Center
WiFi
Indoor Heated Pool
In-Room Amenities
Air Conditioning
Bathrobes
Direct Dial Telephones
Hair Dryers
Mini Bar
Satellite Television
Flat-Screen Televisions
Coffee & Tea Facilities
Activities
Hiking
Kayaking
Canoeing
AlpineSki
Business
Meeting Rooms
Business Services
Nearby
Historic Sites
Shopping
Train Station
Museums
Restaurants
Golf
Parks
Public Transportation
Vineyards
Interests
Active & Adventure
Ski & Snow
Reviews for Hotel des Trois Couronnes
---
This hotel was just amazing. I did not find anything not at the best it could be. It is just perfect. The staff is very professional and nice, the rooms are beautiful, clean, the spa gorgeous (pretty rare to have such a long swimming pool), the overall installations very nice and stylish. The brunch was just the best one, really impressive. I will definitely come back and would recommend it to anyone!
---
We visited the Trois Couronnes for our honeymoon and had an absolutely magical stay. Our room was lovely and spacious, and we were upgraded to have a view of the lake which was something really special. The bed was comfortable, room comes with all of the amenities you could need (including an adaptor which was really useful) and there was a chaise longue and armchair which were lovely when sitting and admiring the view. The bathroom again was absolutely spotless, with a very powerful shower and perfectly provisioned Molton Brown stocks. There was also a balcony off the bathroom which was beautiful on a sunny day. The service we received from all of the staff was the absolute best, rooms were cleaned without us even being aware of it, everyone had a hello and a smile for us, and my husband really enjoyed receiving his daily paper. The little personal touches were also really appreciated, everyone knowing your name, and Philippe was also very helpful in organising a bottle of wine and a card to be placed in the room before we arrived as a surprise for the husband. The spa is also really fantastic and we made full use of the facilities every morning before we had breakfast (if only I could wake up to a swim, jacuzzi and sauna every day!!) we also had a massage at the spa and my experience with Lucian was excellent, what a relaxing massage! We only got back yesterday and already I'm planning our return for our anniversary next year!! The only slight criticisms I would have was that the pillows were a little too soft for me (which I'm sure could have been rectified if I had actually asked anyone- I'm just nit picking) and the room was quite hot, but with the window open you got a lot of noise from the terrace in the evening, but I would absolute be back again in a heartbeat!
Laura W - Brighton, United Kingdom
---
Best location possible on the lakeside, a beautiful and very well maintained "Grand Old Hotel", with spacious rooms and a great view. But all this would be just nice if it were not for a great staff, friendly and professional. From reception to spa, can only praise. Excellent dinner at 3C with a top of the class Maître d' and a most knowledgeable wine steward, eager and willing to share his passîon. A most pleasurable surprise !
---
Luxury boutique hotel with very spacious rooms. Very good breakfast with amazing view on the lake and the alps. Helpful and very friendly staff . The spa offers wide range of treatments and nice size of indoor pool.
SGXXXIX - Canton of Geneva, Switzerland
---
We stayed in Hotel des Trois Couronnes for a week and it was just fabulous! The staf was so friendly and helpful. They gave is very nice tips for activities we could do in the surroundings, as well did they make all the reservations for the restaurants in the evening. We have been to places we would have never discovered without these people. Thank you very much for that, and a special thank you for the two Phillipes at the reception! You really made our stay better. We also enjoyed te many talks with the staff, they made us feel at home. We stayed in a Junior Suite with lake view, which was totally worth it! The room was very spacious and the decoration was nice. The view was just spectacular, and the balcony was fantastic to enjoy the sun, lake and mountains. Every moring, we took breakfast in the hotel. The view in the dining room is amazing. You have a broad range of products such as croissants, yoghurt, all kinds of meat and cheese, fresh fruit salad, all kind of fresh juices... We also really liked it that you could order freshly prepared warm dishes. We enjoyed the omelettes with gruyere, and the french toast so much! The staff at the breakfast also does everything to make your stay better! We went to the bar almost every evening. The cocktails that Romeu makes are just amazing! It is so nice to see him making the cocktails and they taste just as fantastic. We really enjoyed our stay at this hotel and are definitely comming back. We had the most amazing week and want to thank all people from the staff. They made our stay even better!
Charlotte0505 - Waregem, Belgium
---