Please select your dates to see prices:
---
The Victoria Falls Hotel in Victoria Falls, Zimbabwe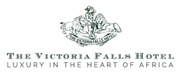 Set in the small town of Victoria Falls in western Zimbabwe, Victoria Falls Hotel has been the address of choice for Royal Families, statesmen, celebrities and adventurous vacationers as it occupies a fine location from which to explore the magical wonders of untamed Africa. The hotel's grand Edwardian architecture reminisces a bygone era of grandeur. One of the oldest hotels in Africa, is combines old-fashioned, traditional elegance with warm and welcoming décor. Take in the stunning views of Victoria Falls, Zimbabwe, an acclaimed Natural Wonder of the World, and escape to an enchanting destination. Luxurious guest rooms with premium amenities, warm furniture and elegant décor create a relaxing retreat.
Enjoy the splendor of the colonial style swimming pool set among the beautifully landscaped gardens that overlook the famous Victoria Falls Bridge with the Batoka Gorge below. Guests can pamper themselves with a massage treatment or head out to take in the sights and explore this lovely region. When hunger strikes, delight on one of the many on-site dinning venue options. The hotel is renowned for its ever-cheerful staff and five-star service. A fine selection of wines and liqueurs is always available to complement the chef's wonderfully innovative creations.
Location of The Victoria Falls Hotel
The Victoria Falls Hotel
1 Mallet Drive,
PO Box 10
Victoria Falls, Zimbabwe
Nearest Airport: LVI
Amenities for The Victoria Falls Hotel
Dining
Coffee Shop
Deli
Restaurants
On-Site Amenities
Pool
Fitness Center
Wellness Center
Internet Cafe
Activities
Excursions
Stargazing
Helicopter Tours
Wildlife Viewing
Four-Wheel Drive Excursions
Sightseeing
Interests
Active & Adventure
Reviews for The Victoria Falls Hotel
---
Incredible hotel, colonial style, earlys 1900, unlike any resort, classy. Stunning views and just 10 minutes walk from Victoria Falls. An excellent treatment, and an unforgettable start for our honeymoon.
---
The Victoria Falls Hotel is a historic hotel at Victoria Falls, Zimbabwe. The hotel is dramatically situated, with a view of the Second Gorge and the Victoria Falls Bridge from its terrace. Even if you don't stay make sure to come and have a lunch or at least a high tea in the afternoon on the Terrace in front of the hotel. This hotel is a colonial classic, but by no means is a monolith of an oppressive state many years back but a beacon of economic sustainability and growth for this beautiful area of Zimbabwe. The people of Zimbabwe were warm and friendly, I cam through from Kasane across the Botswana border, and although the border is a bit chaotic, we were met by friendly immigration officials doing their best to help all the day visitors crossing back and forth. I did witness disappointing very arrogant Italian and German tourists talking down to these hard-working officials, it was disappointing and embarrassing at least. I urge all tourists travelling through Africa to come with patience and respect and people will return this tenfold. Leave your preconceived ideas of Africa behind and enjoy the ride.
---
We stayed here 3 nights after travelling through Botswana. Our whole experience was enjoyable and my family didn't want to leave. The view from the hotel to the falls is picture perfect. It is great that there is a pathway from the hotel directly to the falls. All the staff members we encountered were well trained and professional, and seemed genuinely happy to work at the hotel. My kids loved the warthogs, baboons and monkeys roaming around the grounds. The pool area was enjoyed by all of us and definitely one of the best pools we have ever swam in. The restuarants are all unique and we had an amazing dinner at the Livingston Restuarant which was a real treat. My husband and I had a massage at the spa which was well worth it. We loved having tea in the late afternoon over looking the gardens and bubbles and canapés in the early evening. If feels like you have taken a trip back in time!
Michele H - Cape Town Central, South Africa
---
Great location overlooking the bridge to Zambia and the 'smoke' from the falls, it can't be matched. The grand entrance, with its arched desks for 'Reception', 'Activities', 'Porters', sets you up for something special. Then the courtyard with its pond underlines the experience. When you get into your room however, you realise that this is an old hotel which has not kept up with its reputation. The furniture is very heavy and plain, except for the armoire, which contains only an empty fridge. Cluttering up the desk is a tray of tea preparation things which could quite easily be accommodated in the armoire making the room look a lot tidier. The bathroom is very 3-star; shower over the bath, no high-level shelf so one is continually having to bend down for the soap, shampoo etc, and no high-level grab rail for safety; no shaving mirror and it's a very small room. Our view was over the lawn and would have included the 'smoke' from the Falls but for a very large tree. However, we could see the mongooses, monkeys and warthogs who regularly paraded across the grass. The buffet restaurant, Jungle Junction, was fine for breakfast and dinner, but, on the Stanley Terrace, I made the mistake of ordering the Gammon and Cheddar Cheese sandwich which was totally lacking in flavour because the bread was too thick, the gammon too thin and the cheese was notable by its absence. There must be better hotels in Victoria Falls.
---
Good location - five minutes from town. Comfortable and spacious room, although bathroom a bit fraying at the edges. Single glazing means you can hear aircon from adjoining rooms. Staff very helpful and polite. Breakfast - large selection catering for all tastes. Small gym with two treadmills, one bike and crosstrainer, plus weight machine and loose weights. Jungle Junction evening buffet good value. Includes cultural show. Generic African probably made up dance. But, when we went - authentic Zairean stuff with spectacular costumes. Beware afternoon pianist shattering peace of Livingstone Room lounge.
Joebelvedere - Belvedere, Kent
---