Please select your dates to see prices:
---
Hotel Imperial Vienna in Vienna, Austria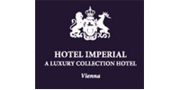 Originally the residence of the Prince of Württemberg, the Hotel Imperial showcases the romance of 19th-century Vienna. This member of The Starwood Luxury Collection is located on the magnificent Ring Boulevard, and its interior is a wonderland of hand-carved statues and spectacular crystal chandeliers. Expressing the elegance of yesteryear, bedrooms are cocooned in silk, and breathtaking Royal Suites exude an aristocratic flair. Furthering the indulgence is Imperial Restaurant, with its feasts for the senses, and Café Imperial, immersing you in the city's beloved coffeehouse tradition.
Vienna is a city where rich history is a part of everyday life. Take in a Mozart concert at the opera house, visit the Spanish Riding School to observe the famous Lippizaner stallions, or explore the taverns and picturesque cafés of the outlying Vienna Woods. When not cruising the Danube River, you can bike the path that runs alongside it. You might also tour of The Hofburg, the glorious winter palace of the Habsburgs, or spend a day enjoy the shopping and lively street performances of the Karntnerstrasse.
Location of Hotel Imperial Vienna
Hotel Imperial Vienna
Kaerntner Ring 16
1015
Vienna, Austria
Nearest Airport: VIE
Amenities for Hotel Imperial Vienna
General Information
123 Guest Rooms
On-Site Amenities
Concierge
Laundry Service
Reviews for Hotel Imperial Vienna
---
We had a truly magical experience at Hotel Imperial. Our room was amazing, so much better than similarly priced rooms in other hotels we had visited. The decor throughout the hotel was sublime. The staff were top notch, extremely helpful and friendly. The cocktails were to die for and the cafe food delicious. In all in all it really could not be faulted and it made our stay in Vienna truly memorable. Thank you Imperial!
nfry1972 - London, United Kingdom
---
My wife and I stayed at the Hotel Imperial for four days in March of 2018. Our first impression of the hotel was one of awe. The hotel is more beautiful in person, than in pictures. All of the staff at the hotel are very polite and knowledgeable. They work very hard to make sure all the details are in place. The hotel is historic, so you truly go back in time and feel like you are royalty when you are there. My wife noticed that there is always a cleaning lady dusting and cleaning the hallways. This reflects the dedication the hotel has in order to keep the hotel spotless! The breakfast was very nice, with plenty of choices. Upon our arrival, we were welcomed with a bottle of champagne, a small cake and a card to acknowledge our anniversary. Attention to detail all the way through! The hotel has a beautiful bar where we would end our days with a nice drink. The bartenders are top notch! Special thanks to Mr. Grassauer, the concierge. He booked tickets for us to the Vienna Boys Choir, the Spanish Riding School, the opera Othello and our train tickets to Prague. He secured very good seats for us every time! Mr. Grassauer also gave us great advice on other amazing activities in Vienna. We would also like to thank the doormen who were also very courteous and accommodating! Also, special thanks to Miss Julia at the front desk who was such a sweetheart! Truly, every staff member at Hotel Imperial deserves the highest recognition for making sure each guest has a wonderful time in Vienna. They must have a very good hotel manager! We would like to go return to this beautiful city again. If we ever go back, we will definitely stay at this magnificent hotel! Tom & Carmen
Carmen F - Los Angeles, California
---
Its been 15 years since we visited Vienna, last time we stayed at the Bristol but given a choice by SPG we chose the Imperial for this trip. The staff in this hotel were magnificent. There seems to be something about the SPG Luxury Collection, they seem to rise head and shoulders above the average 5 star deluxe. Front of House trainee Nico met us, gave us a splendid welcome and added an upgrade to a Suite overlooking the Musikverein. Manfred Grassauer, Head Concierge confirmed all the things we'd asked for by prior email had been taken care of & that a table would await when we'd finished that evening's concert at the Musikverein less than 30 yards from the back entrance (via the hotel's quite wonderful bar). In house eating comprises a fine dining experience, Opus, which we didn't use preferring to work our way through the spelendid café menu at Imperial Café, a typical and, apparently, historic Vienese coffee house. Once again I felt the urge to test the bar menu - very highly recommended with a range of delights from Caviar (excellent according to my lady), a very comprehensive cheese plate, sandwiches and, as we discovered in Florence, many of the in-room dining options if asked for (and if not here, then the Café seems quite happy to oblige). We did, of course, eat out and as in Salzburg last year it seems quite hard to find a bad meal, we tried an Italian off a side street from Steffl, Danieli, and the food was quite marvellous, as was Steffl's Sky bar which gives a roof top view over Vienna. Concierge arranged a car with driver/guide to show us Schönbrunn, Heiligenkreuz and the Vienna Woods, a whole day and slighly more expensive than Florence but only marginally so and well worth it. Of course, we went to the Spanish Ridin school again & the Opera all faultlessly arranged by Herr Grassauer and his team. The Hotel's own torte, Imperial Torte, is, in my lady's opinion, head and shoulders over the 'opposition' Sacher Torte especially the dark chocolate/orange version. Like the Danieli, Excellsior and Schloss Fuschl before it this hotel goes out of its way to make guests feel at home, nothing is too much trouble and the staff are, universally, a delight. Highly recommended, we will return.
champagnelife - Stourbridge
---
We would just like to reiterate our sincere appreciation to the staff at Hotel Imperial in Vienna. It is a special treat to stay at this hotel. It is so beautiful and close to everything but the best part is the incredible concierge staff. Everyone was so helpful and friendly. We would especially lie to mention Frau Schiller and Herr Orlando Donato, who helped us tremendously with transfers, opera tickets, concert tickets and restaurant recommendations and reservations. We had a memorable visit and can't wait to return, particularly because of the wonderful staff. Thank you so very much! Deborah and Gregory Larson
Deborah L - El Cerrito, California
---
Over a Century Old property, The Imperial didn't fail to astonish us. Ancient structure clubbed with modern day creature comfort was a welcoming change. We had booked an Imperial Junior Suite for our stay. However, upon our early arrival, we were given an Elisabeth Suite, which was on the first floor of the Hotel. Room – It was huge by any standards. The living area was separated from the bedroom by way of a mirrored slider door. Roof was almost 15 – 17 Feet high with chandelier hanging upon every sector of the room. Multiple lights strewn around the room made the room even much bigger. Food - Any thing that we had (breakfast or Lunch or Dinner) was simply superb. One could have tasted each and every ingredient of the food. The pancakes awesomely soft coupled with cream, maple syrup and the berries. Their Imperial Torte was a delight to have anytime of the day. Service – Barring a small incident (reported to the Customer relation staff Ms Kareena) every was perfect. And that's the only reason I give this hotel 8 / 10 and not 10 / 10. Hopefully, they'll train their junior staff in attitude and etiquette.
---