Please select your dates to see prices:
---
Duxton Hotel in Western Australia, Australia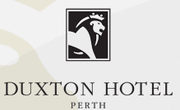 Located in the heart of the City, the Duxton Hotel is only a few minutes' walk away from Perth's major shopping, entertainment and restaurant centres.
Guests can stroll along the Swan River and through tranquil central parklands which are located right on our doorstep. The Hotel features its own taxi rank so guests can travel to other locations with ease; and, it is also adjacent to a bus stop which leads to many central Perth attractions free of charge.
Location of Duxton Hotel
Duxton Hotel
1 St Georges Terrace, Perth
6000
Western Australia, Australia
Nearest Airport: PER
Amenities for Duxton Hotel
Dining
Restaurant
Bar
Lounge
On-Site Amenities
Concierge
Spa on Property
Fitness Room
WiFi
Business
Business Center/Services
Conference Facilities
Catering Services
Nearby
Shopping Mall
National Park
Convention Center
Reviews for Duxton Hotel
---
Pretty good hotel - shame the huge concrete blob of a conference centre spoils the majority of river views - but the hotel itself is good, staff friendly breakfast was included and was good not sure I would pay the rate charged if not included as seemed expensive. Rooms clean tidy and light good nights sleep well worth staying here if visiting Perth
swift314 - Sheffield, United Kingdom
---
After a cruise we decided Perth was a place to visit. Good location. We walked everywhere in the city centre from here. Very helpful concierge, Brian in particular. Hot tub not working. Nice happy hour. Expensive breakfast. We did have lunch one day and it was lovely. Laundry facilities were handy. Bathrooms could probably be upgraded a little.
---
I am currently still staying here. I like the hotel, nice big rooms and friendly staff. The food however is at best a 1/5 and I give it a 1 because the breakfast is decent. This actually happened, I ordered a waygu beed burger, they served it burnt, they then took it back and I waited another hour to get a second burnt burger, I gave up and went to bed, at 11pm they knocked on my door and woke me up with a 3rd burger which was also burnt, I had to sign and pay for it. The following evening I ordered the chicken Thai dish, which may have had one or two Thai spices in the dish, it was very plain. It seems clear the chefs don't take pride in the meals they prepare, or they simply not well trained. I am also surprised that a manager or head chef has not bothered to come speak to me about this, either they don't care or they haven't been made aware of this which points to internal issues of its own. Based on this I cannot recommend this hotel.
---
Lovely hotel, stayed two nights when visiting the city of Perth. Staff very professional. First class breakfast provided. Comfortable room. Very clean, provided everything we needed. Fairly central location. Only short walk to shopping mail also near the river. We did not use the pool but on appearance it looked very nice. Would recommend this hotel when visiting the city of Perth.
191281Sandy - Banchory, United Kingdom
---
The Duxton is very much a 5 star hotel. Wonderful service, wonderful settings, and the view to the Swan would be very good from the higher floors (we were on the 8th which is partly blocked by the building across the road, but we could still see a lot of the river from our room). The restaurant is excellent, with the best pork belly I've ever had (slow cooked for 8 hours or so). Very comfortable, and close to some nice venues and restaurants.
Paul C - Townsville, Australia
---