Please select your dates to see prices:
---
Alden Luxury Suite Hotel in Zurich, Switzerland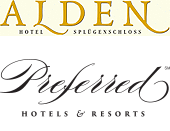 With the elegance of classicism, and the sleek functionality of modern style, Zurich's boutique ALDEN Hotel Splügenschloss is a gorgeous addition to this beautiful Swiss city. Near the center of the city, on the Northern shores of Lake Zurich, the hotel offers spacious rooms that are invitingly warm and comfortable. Pure white walls lead past large picture windows to private balconies, where sweeping city views await. Whirpool tubs keep you warm and relaxed, and with all the modern conveniences, your stay is sure to be a true delight. At ALDEN Hotel Splügenschloss, the city of Zurich is just outside your door, and the beautiful Swiss countryside is only a short trip away.
Stroll through downtown Zurich for some amazing sightseeing, and visit the Grossmunster, or Great Church, which still stands from the Protestant Reformation when it was commissioned by Charlemagne. Learn about this fascinating land and people through art, history, and religion at the Swiss National Museum, or take in a show at the Opera House and experience it first hand. Stroll down the Bahnhofstrasse for exclusive and boutique shopping before taking a relaxing lunch in the Parkanlage Zuerihorn on the lake. After touring the city, take the gorgeous mountains and valleys just a short trip away. Hike, bike or whitewater raft in Gommiswald, or enjoy fabulous alpine skiing in the winter. Take a day trip near the German border and visit the magnificent Rhine Falls before returning to the hotel for dinner. Dine at Restaurant ALDEN, and watch the sun set from the terrace as you enjoy classical, seasonal Mediterranean cuisine.
Location of Alden Luxury Suite Hotel
Alden Luxury Suite Hotel
Splügenstrasse 2
8002
Zurich, Switzerland
Nearest Airport: ZRH
Amenities for Alden Luxury Suite Hotel
General Information
22 Guest Rooms
Dining
Outdoor Dining
Restaurant
Piano Bar
Bar & Lounge
On-Site Amenities
Concierge
Library
WiFi
High-Speed Internet Access
In-Room Amenities
Air Conditioning
In-Room Safes
Satellite Television
Flat-Screen Televisions
Whirlpool Bathtubs
Individually Designed Rooms
Nearby
Historic Sites
Shopping
Train Station
Museums
Restaurants
Parks
Interests
City
Culture & Arts
Reviews for Alden Luxury Suite Hotel
---
Very nice 2-nights stay at the Alden Suites. The room was very spacious, it felt almost like living in a serviced apartment. During our first night we were bothered by a loud drunk man banging on our door at around 11pm. He didn't seem friendly so we called the reception which resolved the issue in a jiff. I would give a 5/5 rating to this hotel, but I would say that breakfast service could be improved. On the Sunday, there was only one lady to take care of customers in the breakfast room, as well as room service. She was trying her best, but service was not adequate for a 5 star hotel. I would say that we felt the breakfast staff was less friendly and less warm than the rest. Overall I would definitely this low-key luxurious boutique hotel for a stay in Zurich.
---
This was my second time in Zurich and am glad I chose to stay here for 3 nights. It is set one block back from the park and lake plus is only 4 blocks from the bottom of the Bahnhofstrasse - only a 10 minute walk away. Super quiet location with quiet streets around it. The hotel itself is small and I rarely saw another guest - except at breakfast (which was included in my tariff). The level of service is high and the staff are all very professional - they all remembered my name and after just one morning knew which coffee to bring me for breakfast! The breakfast was good - whatever egg dish you wanted to be cooked for you plus a vast array of other selections on offer. I also ate dinner one night in the hotel - not cheap but the quality was good With dinner I ordered a glass of red (the Blauburgunden Pinot Noir) and without hesitation they opened a fresh bottle of it and poured a very generous sized glass right in front of me - a sign of good hospitality! They upgraded me to a suite - which was vast! All of it was very comfortably furnished and the bathroom was huge - plus a full second guest WC adjacent to the living room, The only small gripe was that the central heating in the bedroom gave off a lot of heat. I am not sure if they could turn it down as the warm pipes tend to run through the whole building and often cannot be isolated. I slept with the windows open which made it more comfortable - as you only have a quilt to sleep under. Zurich is a very walkable city - the lake is very close by and it is worth the short walk to the Kunstmuseum - the main gallery in Zurich. Be warned - Zurich is a very expensive city - taxis, a coffee in the street... everything! But the Swiss are generous and you will always get a good serving at a restaurant or cafe. A couple of good places to eat at: - the Sprungli cafe toward the bottom of the Bahnhofstrasse - grab one of the outside tables, order a coffee and choose one of the yum cakes or pastries to snack on and watch the locals stroll by, I did this on a cold winter morning with the sun on me and it was a treat. - Santa Lucia Italian Restaurant - just adjacent to the Hermes store and Just off the Bahnhofstrasse. Not cheap but really good food and excellent service - prob the best place I ate at in Zurich, Several years ago I stayed nearby at the Baur Au Lac - regarded by many as the best hotel in Zurich. You cannot beat the location and garden of the Baur Au Lac - but I actually found the level of service at The Alden to be superior. The Alden is a real little gem and sets a high standard. I got a good deal (through Qantas Holidays) and feel that I got good very value for money with The Alden - not something you can usually say about anything in Zurich! I would definitely stay here again.
WalterBW - Sydney, Australia
---
My husband and I only stayed 1 night, but it was perfect. Remarkably spacious, well-appointed and sophisticated room (#3B). The gracious welcome to the suite included 3 luxemburgerli, 2 apples, 2 Incan berries, a spray of red currant, Toblerone, peanuts, potato chips, and plenty of complimentary water and Nespresso coffee. The understated service was outstanding. Located on a peaceful side street within easy walking distance of main sites. I am already dreaming of a return trip to show my children. Truly one of my favorite hotels in the world.
---
The staff is very welcoming and helpful. We stayed in a suite facing the rear courtyard and were pleased with the cleanliness and comfort. The hotel is in a quieter area near the lake, but easy walk to the old town area. Near the Enge train station (5 miniute walk), 20 minutes from the airport. The breakfast buffet was excellent, made to order egg dishes, etc. We did not have dinner here but the restaurant looked first class.
---
Luxury boutique experience within walking distance of Zurich old town and Lake Zurich. From the moment we checked in we felt special and valued. Our Suite was spacious and beautiful with everything we needed including free drinks(except alcohol) and snacks. Loved the L'Occitaine amenities and purple themed decor throughout the hotel. Although there were other guests in the hotel we felt like we were the only guests. There are no long hallways to access your room, rather private access to the front door. The staff were super friendly and encouraged us to ask for whatever we needed. A great experience.
---