Please select your dates to see prices:
---
Farmhouse Inn in Forestville, California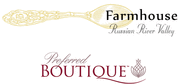 Located in Forestville, a tiny hamlet cradled in the Russian River Valley region of Sonoma County, is a romantic retreat for oenophiles who enjoy the riches that only California's wine country can offer. Erected in 1873, Farmhouse Inn has been completely restored to its 19th-century splendor and is a classic American farmhouse with a mélange of Victorian touches and provincial furnishings. With just 25 pristine rooms, guests slumber in an enchanting cottage or traditional guest room, where plump feather beds, oversize soaking tubs, fireplaces and other luxurious amenities await.
Wake up to a savory two-course morning meal including an array of baked goods, seasonal fruits, robust coffee and a hot made-to-order entrée. In the evening, reserve a corner table at the inn's Michelin-starred restaurant for an elegant meal paired with local vintages by Sonoma County's only Master Sommelier. The spa at Farmhouse Inn is one of intimate surroundings, where personalized service is paramount, treatments are sublime and organic products are handmade. The grounds sit on the edge of a wooded area punctuated with trickling fountains, and are equally delightful. In the distance, vineyards dot the landscape and ripened grapes dangle from neatly lined rows of mature vines. Enjoy a dip in the pool or lounge in the warm Sonoma sun. In the afternoon hit the wine trail in search of the perfect selection, visit the region's charming town squares, or simply take a scenic drive overlooking the rugged Pacific coast. Flee to Farmhouse Inn for a bit of relaxation and put everyday life on hold.
Location of Farmhouse Inn
Farmhouse Inn
7871 River Road Sonoma County
95436
Forestville, California
Nearest Airport: STS
Amenities for Farmhouse Inn
General Information
25 Guest Rooms
Handicap Accessible Rooms
On-Site Amenities
Concierge
Spa on Property
WiFi
Gardens
Outdoor Heated Pool
In-Room Amenities
Direct Dial Telephones
DVD Players
iPod Docks
Marble Bathrooms
Flat-Screen Televisions
Whirlpool Bathtubs
Luxury Linens
Luxury Bath Amenities
Heated Floors
Individually Designed Rooms
En-Suite Bathrooms
Activities
Bicycling
Hiking
Wine Tasting
Art Classes
Wine Tours
Nearby
Shopping
Wineries
Art Galleries
Interests
Food & Wine
Luxury Hotel Games
Summer Getaways
Reviews for Farmhouse Inn
---
We had a lovely weekend staying at the Farmhouse Inn. Our room had a fireplace that had a view though the fire and into the woods. The room also had a porch and a luxury bathroom with a big tub and shower with a steam function. The front desk has handmade soaps and bath salts to really enjoy a good soak. The staff was very friendly and helpful, and really wants to make your stay special. There are a couple of cats that live on the property - and will come into your room if you invite them - a plus for us cat lovers.
mouseangel - San Francisco, California
---
I celebrated my birthday at the Farmhouse Inn and it's now my new favorite Northern CA getaway. We were in room #24, which has a private balcony, outdoor fireplace, and lovely "woodsy" view. The owners have thought of everything, starting from "cutting your own" soap from local vendors for "customized" lathering; locally sourced (complimentary) in-room snacks; daily (complimentary) wine tasting with a local winery; and a bright, new onsite food truck, perfect for a midday snack or lunch to enjoy by the pool. Be sure to make a reservation at their Michelin Starred restaurant, and opt for the wine pairing, which enhances the already superb experience. And, don't miss the complimentary "make your own s'more's" as an after dinner treat. Oh, and save room for breakfast. And, then do it all over again for a second night. Next time I'll book a spa experience....
AngelaJackson1001 - Oakland, CA
---
We had a wonderful 3 night stay at the Farmhouse. Our deluxe king room was beautifully appointed and the staff was delightful. Dinner and breakfasts were delicious and the afternoon wine tasting was educational and fun! Can't wait to visit again.
kathleen84eb - Laguna Beach, California
---
We stayed in one of the older rooms in a building that was once allegedly a bunk house then a funky mote, then converted for Farmhouse Inn. The room was small, yet they made good use of the space. There was a wood burning fireplace which we did not use, however you could smell it as you entered (that was ok). There was an in-room sauna that didn't work so well. It was in an L-shape, with the bench reaching back into a cubby in the long shape of the L. Two people could not sit side by side with feet on floor. The heat did not distribute well to the long side of the L. For this price point I would expect two sinks in the bathroom (was only one) and a hand-held shower option. And a larger room. Also, one of my particular beefs is the trend for hotels to have a lesser dimension on the short side of the towel--I would like to put the towel around me and have it reach to my butt. These towels did not reach that far--the towel only needs to be about 30" on the short side. The rest of the experience was delightful. Service was almost uniformly perfect. The complimentary snacks were great. The soap and bath salts were fun. The grounds are lovely. Dinner was very good. The pool looked nice, however, we didn't use it or the spa. If you are in one of the newer (and more pricey) rooms your experience should be wonderful.
SusanMcK - Tahoe City, California
---
What a wonderful time we had during our stay at Farmhouse Inn. Everyone was friendly, accommodating, and relaxed for such a high level of service offered. If you are a foodie, you will be at the right spot: we thoroughly enjoyed all of our meals- from homemade welcome snacks and dips in our room; the in-room breakfasts were delectable; homemade gluten free chocolate chip cookies for turn-down; homemade marshmallows for the s'mores you can make fireside at night (I don't even like s'mores and these made my first night). We had an unforgettable farm-fresh dinner at the Inn (there's a reason it's Michelin rated). Our server at the Inn was phenomenal- attentive and detailed, but not overwhelming. Truly, all of us enjoyed every course. We appreciated that the Farmhouse arranged a taxi for us when the complimentary Inn's car service (eh-emmm- TESLA) wasn't available for our dinner in town, but were even more appreciative when Richard was able to squeeze us in for our return pick up. Those things make for memories on a trip. Everything was clean and always tidy. We loved the quiet atmosphere and just the opportunity to walk in my pj's/robe to get coffee or soaps up front without judgment. We cannot say enough good things about our spa appointments. I had almost given up on massages, being that I have gone to a lot of high-end resorts and spas for them, and they always fell short. The ladies at your spa were both INCREDIBLE!! Some of the best massages we've had in a LONG time. Last, but not least, we are grateful to Teresa, lead concierge, for her attention and care in arranging our plans for our stay. Per her recommendation she found us a new favorite winery. The wines will become some of our favorites and it was a special memory for us and our friends. It was hard to get back to reality, but that's because of lovely stay we had at the Farmhouse. Such a wonderful escape I would recommend to anyone. We look forward to our return in the future some day!
---