Please select your dates to see prices:
---
Farmhouse Inn in Forestville, California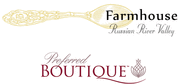 Located in Forestville, a tiny hamlet cradled in the Russian River Valley region of Sonoma County, is a romantic retreat for oenophiles who enjoy the riches that only California's wine country can offer. Erected in 1873, Farmhouse Inn has been completely restored to its 19th-century splendor and is a classic American farmhouse with a mélange of Victorian touches and provincial furnishings. With just 25 pristine rooms, guests slumber in an enchanting cottage or traditional guest room, where plump feather beds, oversize soaking tubs, fireplaces and other luxurious amenities await.
Wake up to a savory two-course morning meal including an array of baked goods, seasonal fruits, robust coffee and a hot made-to-order entrée. In the evening, reserve a corner table at the inn's Michelin-starred restaurant for an elegant meal paired with local vintages by Sonoma County's only Master Sommelier. The spa at Farmhouse Inn is one of intimate surroundings, where personalized service is paramount, treatments are sublime and organic products are handmade. The grounds sit on the edge of a wooded area punctuated with trickling fountains, and are equally delightful. In the distance, vineyards dot the landscape and ripened grapes dangle from neatly lined rows of mature vines. Enjoy a dip in the pool or lounge in the warm Sonoma sun. In the afternoon hit the wine trail in search of the perfect selection, visit the region's charming town squares, or simply take a scenic drive overlooking the rugged Pacific coast. Flee to Farmhouse Inn for a bit of relaxation and put everyday life on hold.
Location of Farmhouse Inn
Farmhouse Inn
7871 River Road Sonoma County
95436
Forestville, California
Nearest Airport: STS
Amenities for Farmhouse Inn
General Information
25 Guest Rooms
Handicap Accessible Rooms
On-Site Amenities
Concierge
Spa on Property
WiFi
Gardens
Outdoor Heated Pool
In-Room Amenities
Direct Dial Telephones
DVD Players
iPod Docks
Marble Bathrooms
Flat-Screen Televisions
Whirlpool Bathtubs
Luxury Linens
Luxury Bath Amenities
Heated Floors
Individually Designed Rooms
En-Suite Bathrooms
Activities
Bicycling
Hiking
Wine Tasting
Art Classes
Wine Tours
Nearby
Shopping
Wineries
Art Galleries
Interests
Food & Wine
Luxury Hotel Games
Summer Getaways
Reviews for Farmhouse Inn
---
Room received is not as depicted online, falls short of expectation. Poorly decorated, but does have fireplaces on property and in each room. We hope the dining experience exceeds the $630 stay in a small room.
annblanner - Saint Louis, Missouri
---
Upon arrival, my wife and I were greeted with a chilled glass of rose, our choice of bath accessories, including soaps and scrubs and ultimate level of comfort and care. I immediately knew that this was a high class property, The inn has perfectly manicured plants and walk ways and has a "campy" type feel on the facade of each building. The room was far from camp-like. Our room (Room 11) must have been recently updated. The bathroom was mostly all carrara marble, with heated floors, jetted tub and steam shower. The room had wonderful rustic charm, each detail so perfectly executed. We had a two-sided fireplace that made for great morning coffee and early evening/pre-dinner glass of wine settings. At night, we let the fire burn, which put me in a complete state of relaxation. I slept like a baby in the feather beds, which both my wife and I needed as we are parents to two boys, ages 3 and 1. Each night, the inn provides turn down service and leaves cookies that are indescribably delectable - maybe the best cookies I've ever eaten. Don't forget to take the complimentary locally produced milk from the fridge for dipping :-) The room came with a wine fridge containing wine for purchase, but had complimentary drinks and bites, including locally produced almonds, salsa, chèvre and fig and olive spread to go with complimentary crostinis. Each day we visited the front desk for advice on wine tasting through Healdsburg. The staff called each winery in advance and set up tastings and charcuterie plates. The staff members made themselves available via text which was extremely helpful as you drive through the canyons and hills with, at times, poor cell service. Since the hotel has relationships with many of the local wineries, the tastings and charcuterie plates were free (approximately 60-100 dollar saving per couple at each winery). We were also treated like royalty at each vineyard because we were Farmhouse guests. The hotel is conveniently located near many wineries and were easy to find. We really enjoyed the "family" style wineries in Healdsburg/Russian River compared to the more "commercial/corporate" options in Napa. There is just something different getting to meet the family members, their history and their love for winemaking. Many of the vineyards were tucked in the hills of Healdsburg, making for storybook settings. Overall, my wife and I enjoyed every moment at the Inn and can't wait to return. Like a fine wine, my memories of our weekend at Farmhouse will mature with age.
---
It's hard to understand why the Farmhouse is rated so highly. In my opinion, it deserves not better than three stars. And given the room rates, it's a terrible bargain. We stayed here over a three night period, under the "Stay two nights, third night free" offer. But the two nights cost us well over $1,000. What did we get? A large room, but noisy. A terrible location, in the middle of nowhere. And a DisneyLand like experience of "Faux Farm". We were given the ground floor of a two storey, 8 unit structure. We heard the people above us each time they climbed the stairs, and every time they walked across the floor. What was worse, the very noisy ACHV units just outside the door to the unit. All night long, the mechanical equipment would cycle on and off, raising a racket when it did. We've had quieter rooms at the Motel Six! In addition, our room was equipped with both a refrigerator and your very own wine cooler! Imagine that! They're located near the bed, so we could enjoy the units cycling on and off all night. We finally unplugged them. Everything in the room is for sale, and the price sheet is conveniently placed do you can know what it will cost. The skin lotion, body wash, shampoos, and conditioner are $25 each; the robes are $135; coffee mugs - $20; and the "milk bottle" water carafes - $15. You get the picture. The multi star restaurant was closed two of the three nights we stayed there, so we didn't bother going to it on the third night. I must say, the service staff are quite attentive and very helpful. But they don't have much to work with. The location is literally half an hour drive from Healdsburg - even further from the two main wine growing valley of Anderson and Dry Creek. So, you can't walk to anywhere. There's a high, steep slope on one side, and the highway on the other. We regret our decision to give this place a try, but with the "pay in advance" and a seven day cancellation policy, it's not easy to back out of it. I suppose if you're a haggard couple, wanting some relief from Silicon Valley or a San Francisco hi tech company, this would be a good place to veg, and leave more than a week's salary behind. But otherwise, you would be well advised to try elsewhere.
---
I was in desperate need of a weekend away with my girlfriends for some pampering and relaxation and the Farmhouse delivered! From the side of the road, it's unassuming but as soon as I walked on the property, I knew I was in the right place. A warm indoor/outdoor fireplace greeted us as well as a glass of wine and bath soaps and scrubs for our selection. Our rooms had the charm of farmhouse but with luxurious features. The ambient heated floors in the bathroom made me feel so cozy and to my delight, our room had its own indoor/outdoor fireplace, connected to our own private patio. The room was stocked with yummy goodies drinks. All I had to worry about was where was I going to make myself comfortable. Dinner at the Michelin Star restaurant was lovely, as well as breakfast the next day (I managed to snag the last Macro Bowl and it was delicious). We also got spa treatments and despite my best efforts to stay awake during my massage, it was so relaxing I dozed off for a little bit! Topping it all off was the gull wing Tesla and driver that picked us up from a local winery. Thomas, the hotel manager, made sure our entire stay was perfect. I can't wait to come back again. This time with my husband so he doesn't feel so jealous. :)
leastlack - San Francisco, California
---
A few friends and I were in desperate need of a weekend full of pampering and wine. Local to the Bay Area, we didn't need to go far to find this gem. As soon as we arrived, the staff greeted us with a delicious glass of Pinot Nior and our choice of handcrafted soups and scrubs. The staff continued to provided exemplary service throughout our stay, including booking our very own Tesla driver for one of the evenings. A few other highlights, include: - Beautiful property grounds tucked away from the main road - An intimate farm-to-table Michelin restaurant - Rustic-chic rooms with heated floors, spa tub and indoor/outdoor fireplaces - Tranquil spa with the top of line products (I recommend the Honey Ginger massage and facial) An unforgettable experience to say the least. I plan on bringing my fiancé here in the Spring.
---