Please select your dates to see prices:
---
Quinta Las Acacias in Guanajuato, Mexico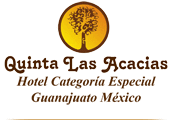 Genteel hospitality, historic origins and tranquil views sum up the quiet charm of one of Guanajuato's best hotels. The 19th century Quinta Las Acacias, located three hours northwest of Mexico City in picturesque Guanajuato, offers nine elegant suites that balance European luxury and Mexican beauty. Enjoy the splendor of yesterday with all of today's comforts as you lounge beside the garden pool or savor Mexican nouvelle cuisine in the dining room.
The inn's setting in one of the city's finest neighborhoods makes walking a pleasure. You will be delighted by the rich history, quaint streets and medieval atmosphere of this UNESCO World Heritage city undisturbed by traffic. Visit in October and attend the Cervantes Festival, the most important artistic and cultural event in Mexico, or enjoy a day trip to the nearby artists' colony of San Miguel de Allende.
Location of Quinta Las Acacias
Quinta Las Acacias
Paseo de la Presa 168
Guanajuato, Mexico
Nearest Airport: MEX
Amenities for Quinta Las Acacias
General Information
10 Guest Rooms
Nearby
Historic Sites
Shopping
Interests
City
Culture & Arts
Inns
Summer Getaways
Reviews for Quinta Las Acacias
---
This is a wonderful and magical hotel that will transport you to another time. The staff, Javier, Jessica and Aranza are incredible. Location, service with the sophistication too match, 5 stars all the way. A dream, thank you for an incredible two nights that my partner and I will never forget. The only place too stay in Guanajuato.
Gerrysun - Los Angeles, California
---
We stayed for three nights during Cervantino season and got an upgrade to the spectacular Frida Kahlo suite. The room is extraordinary but you´ll have to be able to climb some stairs. It is a great place to make stunning photos for example for a wedding. The restaurant must be among the best in town and very reasonably priced as well. The young crew attending the hotel did its very best to make our stay very comfortable.
RudolfMB - Mexico City, Mexico
---
The hotel is an old building that is maintained well. Very clean. Got the attic room which was quite large. Only one window in there but that was probably a blessing. For some reason, many cars would blast music when they drove by. We kept the air condition on all night so not to hear them. The wood floor creaks but I think that's part of the charm of an old hotel. Breakfast was cooked to order from a menu. More than enough food. Staff was very helpful and tried hard to take care of any problems. If you are coming from the Guanajuato airport, they can arrange a van to pick you up for 900 pesos one way (there was a mistake on the Travelocity website that says round trip). I think getting a taxi from the airport would have been a lot cheaper. There were plenty of taxis available at the airport. Going into town will cost about 60 pesos. Make sure you ask for the price before you get in the taxi. There are not a lot of food place near the hotel, but the one that's within walking distance was excellent.
---
It was an amazing experience. First of all our room was upgraded without us asking for it. The room was all the way to the top and had an incredible view, also had a garden of its own, reclinable chairs outside to admire the view and a small pool. The room was cozy and super clean jacuzzi included. The furniture was according to the old times rustic. The service provided by everyone was incredible. The food at the restaurant was delicious, we tried the chile en nogada, pierna en chile, and many more items that were super delicious. The bar was small by romantic. For sure next time I'm in Guanajuato Quinta Las Acacias will be my first choice of staying.
---
This small hotel is beautiful! I have two comments for which i didn't give the full 5 points however i would totally come back: 1- internet never worked for us and 2- our room (angel, at the front) was quite noisy: street noise plus you could hear everything being said at the reception which is right below the room. Nevertheless we were on vacation thus not needing so much internet, and noise is not a huge deal for us... the hotel is very pretty. Grounds well kept. The people who work there were super nice. My son loved the chickens and the small pool. Breakfast (included) was very good (except the enjococadas). I personally like a firm bed so i loved it, hubby didn't, this is a matter of tastes. Location very beautiful, only problem here is that for some reason there are cars with super loud music running till late at night... my reco is to get one of the rooms at the back...
Stuttgal - Stuttgart, Germany
---