Please select your dates to see prices:
---
Quinta Las Acacias in Guanajuato, Mexico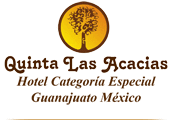 Genteel hospitality, historic origins and tranquil views sum up the quiet charm of one of Guanajuato's best hotels. The 19th century Quinta Las Acacias, located three hours northwest of Mexico City in picturesque Guanajuato, offers nine elegant suites that balance European luxury and Mexican beauty. Enjoy the splendor of yesterday with all of today's comforts as you lounge beside the garden pool or savor Mexican nouvelle cuisine in the dining room.
The inn's setting in one of the city's finest neighborhoods makes walking a pleasure. You will be delighted by the rich history, quaint streets and medieval atmosphere of this UNESCO World Heritage city undisturbed by traffic. Visit in October and attend the Cervantes Festival, the most important artistic and cultural event in Mexico, or enjoy a day trip to the nearby artists' colony of San Miguel de Allende.
Location of Quinta Las Acacias
Quinta Las Acacias
Paseo de la Presa 168
Guanajuato, Mexico
Nearest Airport: MEX
Amenities for Quinta Las Acacias
General Information
10 Guest Rooms
Nearby
Historic Sites
Shopping
Interests
City
Culture & Arts
Inns
Summer Getaways
Reviews for Quinta Las Acacias
---
Romantic, friendly, quite spot. Can't wait to go back. Close to everything you would want to see, yet it seemed far away that you could relax. Pool was a plus and garden like setting, black berries growing, fruit trees, along the beautiful mountains surrounding you. Walking areas close by, wonderful breakfast every morning. A place to have a drink and enjoy, the beautiful setting.
---
We took a spur of the moment trip to Guanajuato and couldn't be happier that we did. Chose Quinta Las Acacias for a couple of reasons, mostly because it is very quiet, which it was. What we didn't expect was the level of comfort and hospitality it offers. First off - the room. We had a room with jacuzzi tub (which worked!) with a great view of the hills. Very large, beds comfortable with loads of pillows. Second, the complimentary breakfast is HUGE - really enough to last you until dinner if you eat it late enough. You have a full menu to choose from and it starts off with the most amazing fruit salad - so delicious. The staff are great - very gracious and accommodating. We requested a private Spanish conversation lesson and it was arranged for the next morning no problem! They are truly - a sus ordenes, as they say in Spanish - at your service. There is a small bar behind the check in area where they serve an ice cold Corona - delicious. The restaurant for dinner is VERY good. We had the salmon with side salad one evening and it was excellent. There is a very small and pool that is perfect for a quick dip in the late afternoon. Quite refreshing. We had cocktails, scrabble poolside each day we were there. Just perfect. Yes, it is a bit far from the central historic district, but we walked it. I think upon return, we would walk down and take a taxi back (60 pesos). There are restaurants within walking distance to the hotel and a park directly across the street, so not being close to town is okay - you are not super isolated. So thank you to everyone at Quinta Las Acacias for making our trip to Guanajuato one that we will remember for a long time. Muchas gracias!
cookiecArlington - Arlington
---
My family needed a little escape, this was the perfect place. We used the jacuzzi tub everyday, the kids especially after jumping in the cool pool. The grounds were beautiful, the view was nice and the staff was superb. They helped us plan out a couple very successful days ( the little boats were a big hit). Thank you
---
I've stayed at Quinta las Acacias alone, with my husband and with friends 7 times in the last 10 years, most recently this month. Rooms are spacious, so comfortable and artfully decorated in Mexican style. Outdoor spaces include huge and ancient prickly pear cactus overlooking a stone patio, a very blue large jacuzzi, Mexican pots filled with succulents. The staff is exceptionally gracious, in particular the concierge, Karina. The walk to the center of town is about 20 minutes, past coffee and chocolate cafes, local bakeries, a market, school children. If your hope is to be transported into the best of Mexico while retaining comfort, this is your place.
186NCB - New York City, New York
---
This is a wonderful and magical hotel that will transport you to another time. The staff, Javier, Jessica and Aranza are incredible. Location, service with the sophistication too match, 5 stars all the way. A dream, thank you for an incredible two nights that my partner and I will never forget. The only place too stay in Guanajuato.
Gerrysun - Los Angeles, California
---